Attracting and retaining top sales talent is a huge challenge for many companies.

If you want to take your sales results to the next level, your organization must have the right people in the right roles, performing at a high level day in and day out. You also need the right management team with an effective process in place to ensure this all happens.

This is why Talent Management is one of the 8 categories in the Sales Performance WheelSM, our framework for sales performance analysis.


The Talent Management category focuses on overall strength of talent, the competencies of sellers and sales managers, recruiting, selection and assignment, and onboarding.

As part of our Top-Performing Sales Organization study, we analyzed the following 5 components related to Talent Management within an organization:
Talent Strength: Exceptional sales performance is predicated upon having the right people in place at the organization, yet only 28% of The Rest say "the quality of people in selling roles is as high as it should be." Elite and Top Performers? 66% and 45% respectively.
Competencies: Only about one-third of The Rest have well-designed sales roles and competency models for each role. That means about two-thirds of The Rest hire people without a profile of the skills, knowledge, and attributes needed for success. It's difficult to effectively recruit, hire, and assign sellers to roles when you don't know the profile of the right person for those roles.
Recruiting: Sales organizations of any size need to be able to source qualified candidates. Under-performing sales organizations seem to struggle universally when it comes to finding candidates who are likely to shine. Elite Performers get it right nearly 2.5x more than The Rest.
Selection and Assignment: Choosing whom to hire and in which role to place them confounds many a sales organization. People are hired based on interviews—mostly focused on whether the managers "like" someone. Too many organizations lack effective assessment instruments or fail to vet a seller's sales history.
Onboarding: Both the effectiveness and the speed of onboarding at Top Performers is better than The Rest. Results from our Top-Performing Sales Organization research revealed that only 31% of The Rest have effective onboarding processes for new sales hires compared to 44% of Top Performers. Onboarding is the launch pad for success or failure in sales roles, so it's critical sales organizations get it right.


Talent Management Factors by Sales Performance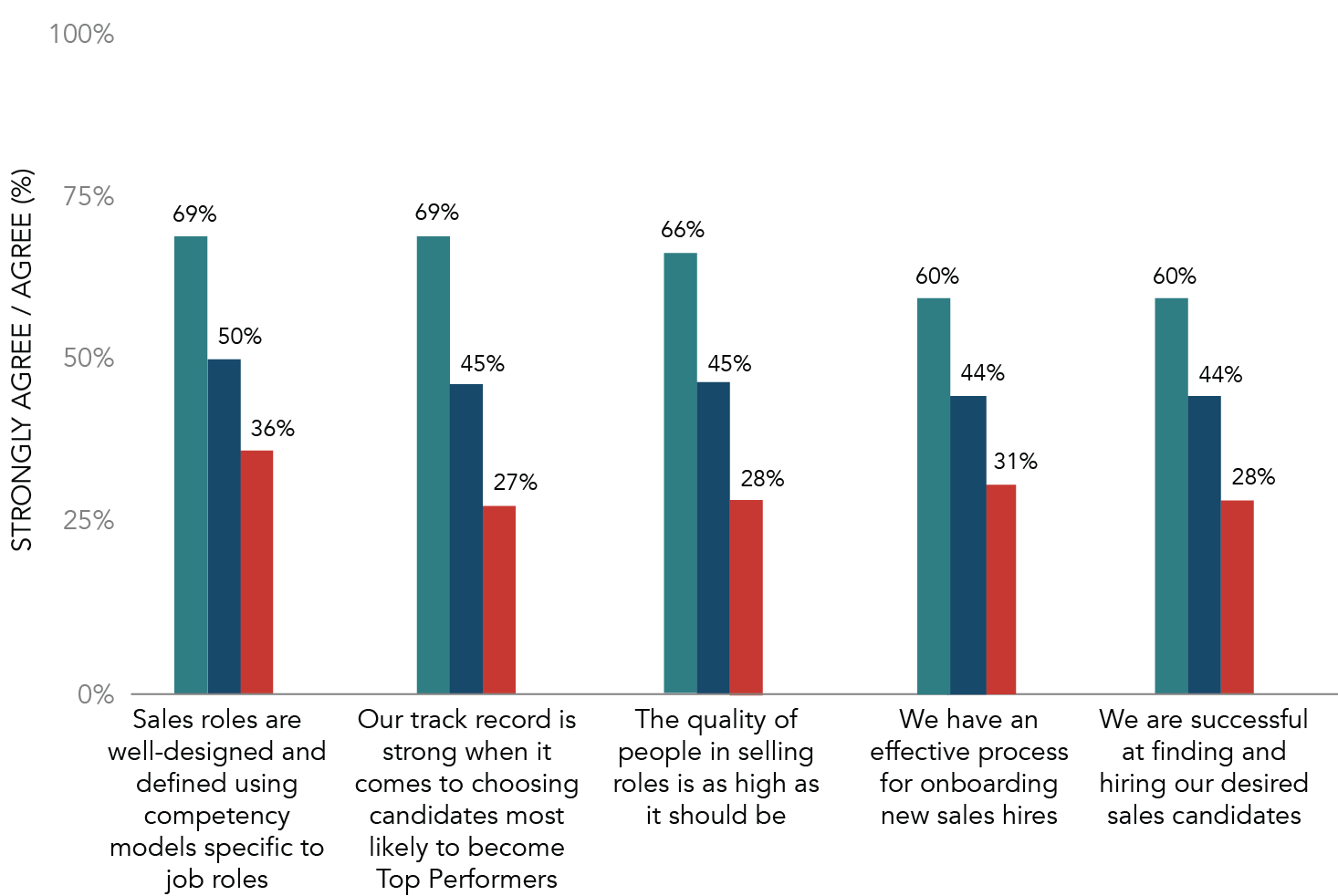 Top Performance is an achievable goal for any sales organization, but you must make Talent Management a key focus if you want to optimize your team's sales performance.
Read: 8 Drivers of Sales Performance
If you know what sellers are supposed to do, which skills, knowledge, and attributes (competency models) are needed to do it, and have an effective process for choosing the right people and getting them up to speed (onboarding), you'll get the right people in the right roles with the right skills doing the right things.