The cliché of clichés to open an article like this is to say change is afoot. So I won't open with "change is afoot."
In the world of sales training and enablement, change is explosive.
There's a revolution going on in training and sales enablement that organizations can no longer ignore.
It wasn't always like this. From the 1990s into the 2000s, sales training was a pretty sleepy area at most companies. (Apologies to you '90's sales training rock stars, but, in general, it was a quiet time.) Everyone was trying to get their sellers to pitch less, ask more questions, and present offerings as solutions.
In the 2010s, people started to recognize that sellers who drive ideas and shape buyers' points of view are more likely to succeed at selling than those who don't.
Looking into the 2020s, our entire world has changed. Training has shifted to virtual and it's more important than ever to have sellers who are multi-skilled change agents.
Sales training has struggled to keep up. Organizations that only recently established sales training and enablement programs now expect them to drive competitive advantage, do it fast, and do it with a geographically dispersed team. At the same time, sales enablement teams must drive seller learning even more rigorously, and do it with fewer resources.
In addition, sales training topics matter. Identifying areas of performance improvement and how to address them is a necessary first step to undertaking any sort of training initiative.
How Has Sales Changed?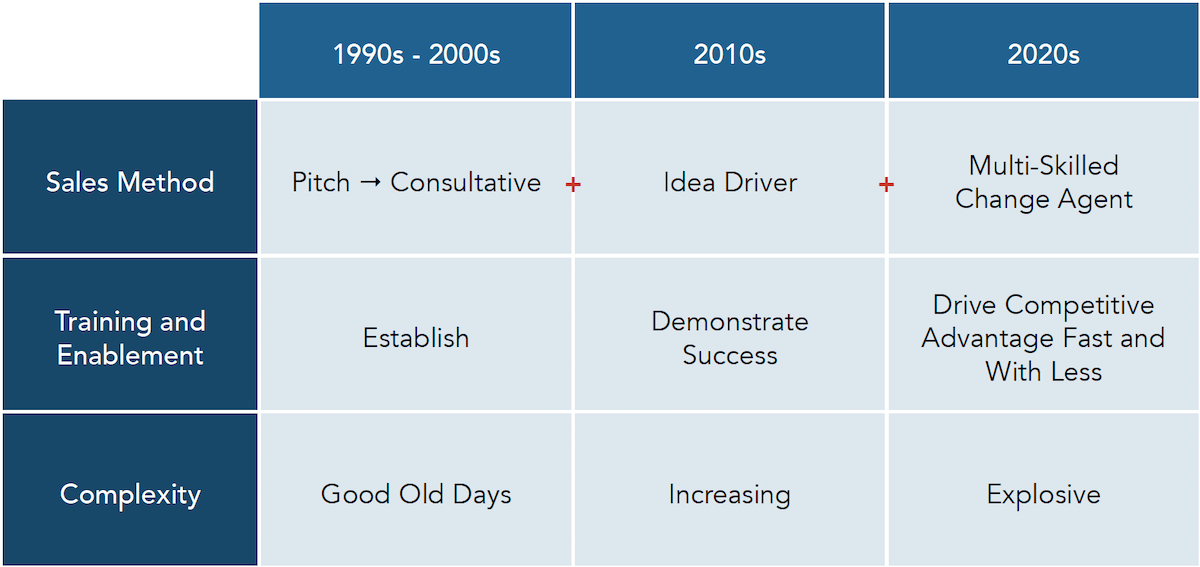 Given the explosive technology-driven environment, conflicting advice from sales pundits, hiring freezes, stay at home orders, and current economic uncertainty, unleashing the potential of the sales force has never been more complex.
At the same time, sellers themselves are notoriously focused on the sale and target right in front of them. Many sellers tell us they are too busy trying to achieve target this quarter, and don't have time to focus on their own capability development. So, they push it off. And off. And off.
With these headwinds, sales training fails much more often than it succeeds.


Sales Training Works Wonders—When it Works
In our research, The Top Performing Sales Organization, we studied 472 mid-size and large sales organizations, analyzing factors including sales training efficacy and investment, and comparing them with sales force effectiveness.
Organizations with stronger sales training effectiveness and stronger investment were much more likely to be Top and Elite Performers vs. The Rest.


Sales Training Effectiveness by Performance

Investment and Focus on Sales Training Performance
With The Rest representing 80% of sales organizations, it's no wonder so many training initiatives fail!
In recent years, when sales organizations have tired of failed training initiatives, they've said something like, "This time we're going to train the sales coaches, reinforce the material properly, and make sure we get results." Here's the flow we often see:
Mandate: We need better sales results, so we need sellers to be better!
Program to Build Specific Skill: Let's get them the skill. If our sellers can just be better at consultative selling, prospecting, or negotiation, everything will be better.
Program Delivery and Reinforcement: Sellers gain and use skills… for a while.
When this happens and it's done well, skills go up and we see better results. Over a number of months, results and ROI come to life.
Consultative Selling Program Example—Short Term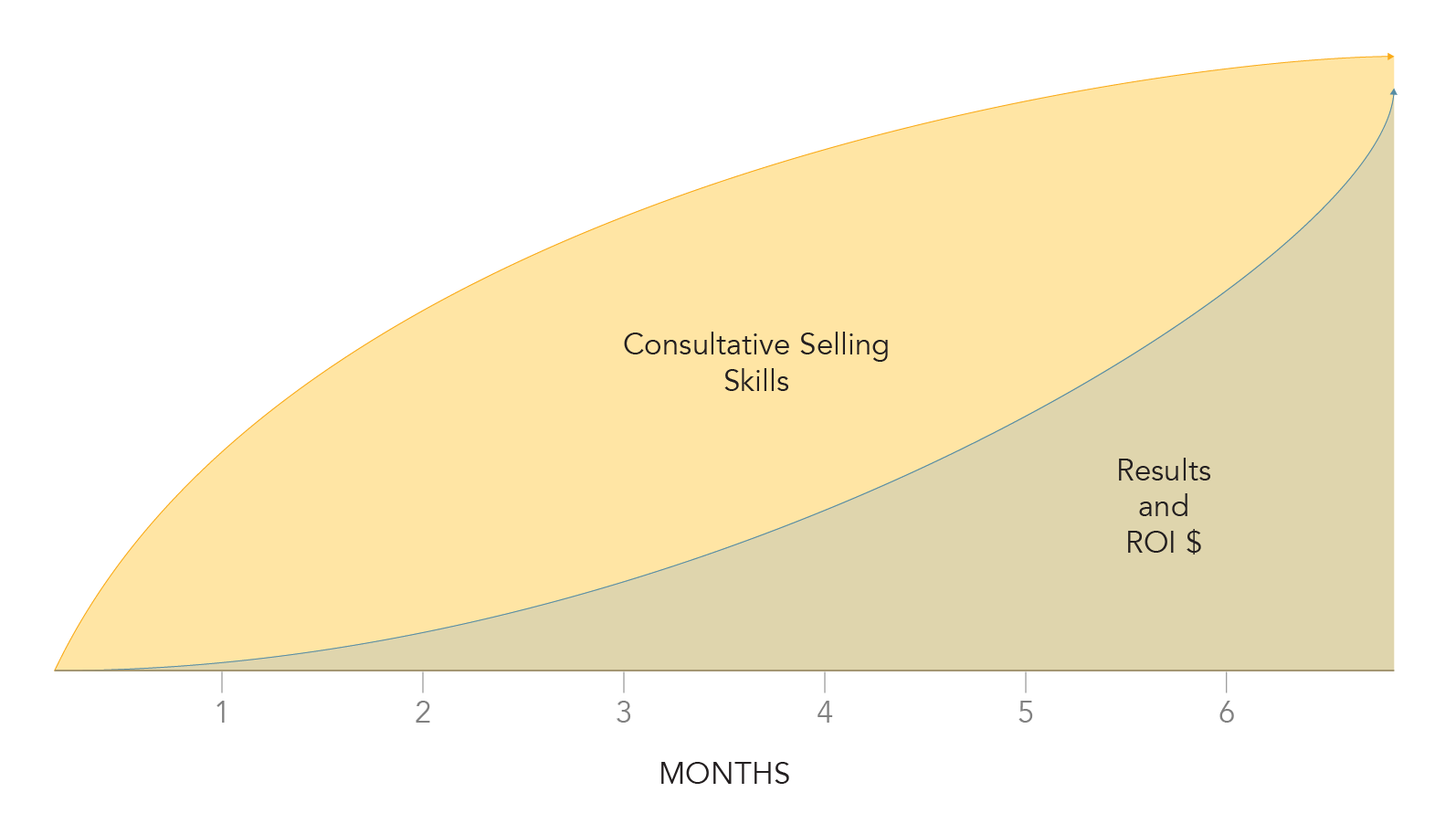 The program is considered a success!
But, over time…
Trained sellers and coaches leave
New hires are not trained on the skills
Skills are not reinforced after initial enthusiasm wanes
Sellers are not held accountable over time to continue to apply the skills
Sellers don't learn the next logical skill
While the program looks successful initially, results tend to fade over the next year or two.
Consultative Selling Program Example—Long Term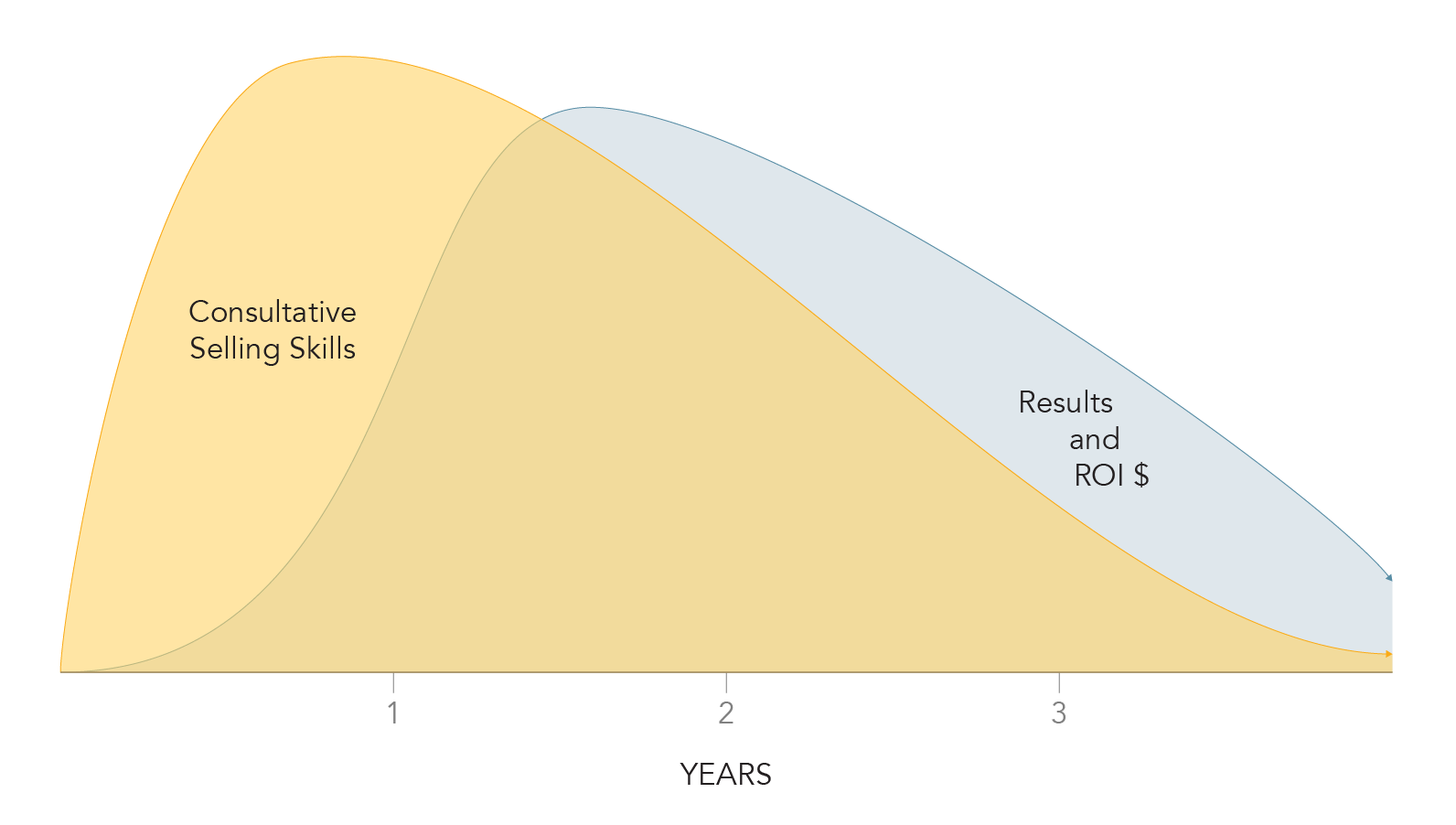 However, results and ROI continue to grow for years to come when:
The skills continue to be reinforced
Sellers learn the next logical skill
Sellers are held accountable over time for applying the skills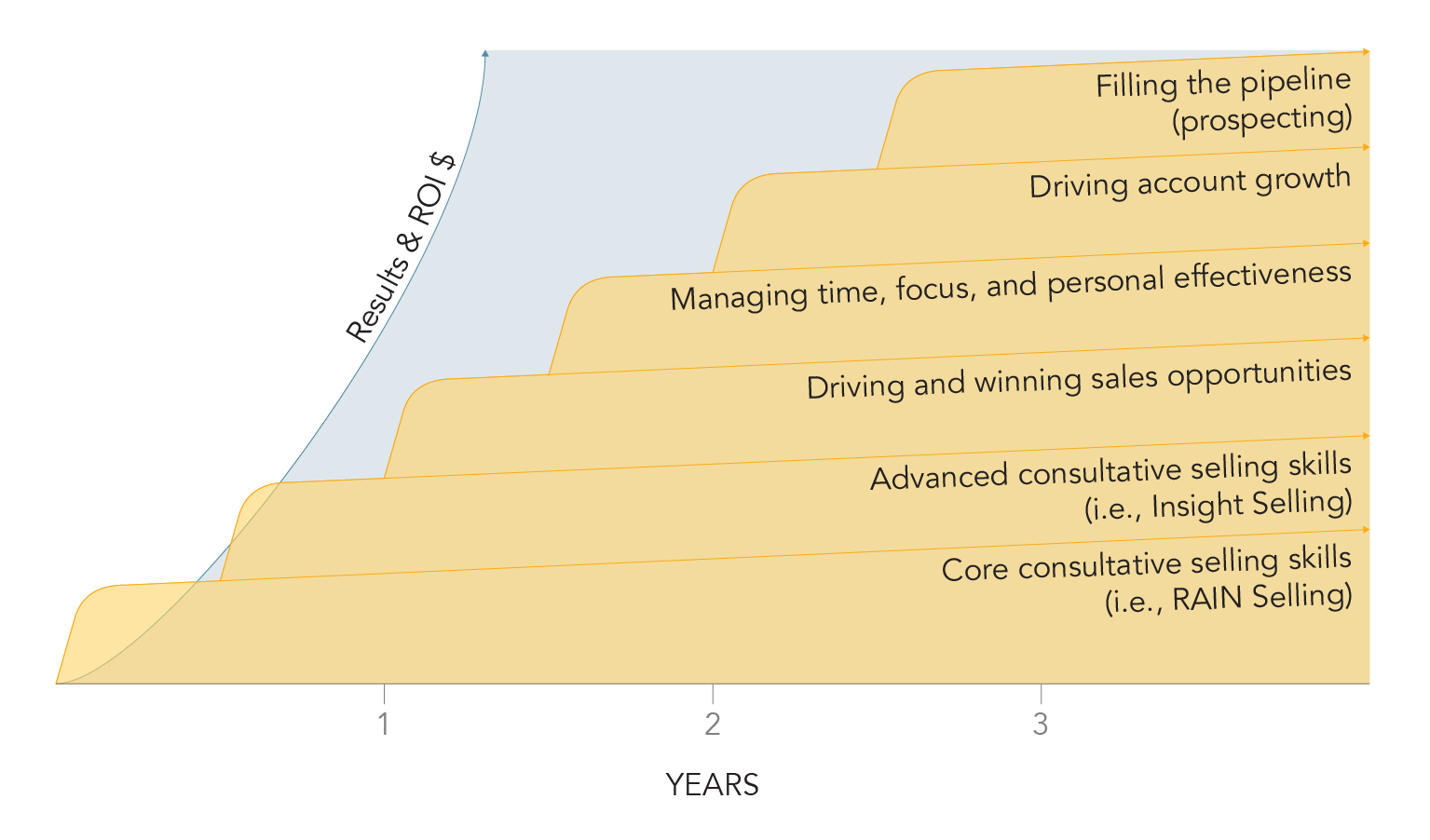 In fact, this actually happens at Top Performing Sales Organizations. Across the board, Top Performers are more likely to have the sales skills they need to find and win business consistently and at a high level from sales negotiation skills and sales management skills to consultative selling skills and prospecting skills.
These top sellers at Top Performing Sales Organizations drive results, including:
+22 percentage-point increase in win rate over The Rest
100% sales goal attainment
58% are able to maximize value and price
3.1X more likely to grow revenue in strategic accounts compared to The Rest
With such strong training and support, Top Performers are also less likely to lose their top sellers.
However, training too often fails.


Sales Training Designed for Learning and Change
Sales training is often approached with a car wash mentality. Pull in when needed and come out the other side shiny, new, and ready to be a top seller. This approach might be fine for learning basic tasks.
Selling is not a basic task.
Not only is there a large body of sophisticated skills and knowledge to master, but sales training often involves changing the behavior of adults who are set in their ways.
Discrete-event training simply can't mirror the effectiveness of a well-planned strategy executed with concerted effort over time. Given that the car wash approach is the standard for most organizations, it's no wonder that most training fails and billions of dollars are wasted each year. (Read "What is Sales Training?" to learn about the most effective approach.)
Leading organizations don't see sales training as an event. They view it as an ongoing process.
They develop a sales education system where they not only build sales team capabilities, but also design training that enables sellers to apply those capabilities to transform the way they sell. If sales management and enablement don't have the resources to build their own system, they choose a third-party training provider.
Leading organizations approach sales training like building a sales university. Our report, The Complete Guide to Sales Training Success, shares how they go about doing this.
If you're looking to do the same, ask yourself, "If we were to set up our own <Company Name> Sales University, what would that look like?" This will drive a strong vision for what sales education and sales results can and should be.
In the end, it will help you manage all the change in the world of sales training and enablement and ultimately succeed in your efforts.
Don't just take our word for it. Here's what one of our clients had to say:
"RAIN Group provided an exceptional and leading-edge virtual learning experience for our national sales channel. We were struggling with a geographically dispersed sales team that was time poor and had found that self-directed e-learning did not give us the same benefits as pre-set, collaborative learning sessions that the channel was used to in traditional classroom training. RAIN Group's response to our challenge was exceptional; they conceived, designed and deployed a best-in-class Virtual Sales Academy using a mixture of virtual live delivery, interactive digital reinforcement, and eLearning, and it proved to be a great success. I would not hesitate to recommend RAIN Group as a partner to deliver sales capability uplift to a remote and dispersed sales team."
- James Hourigan, National Sales Director, Optus SMB