LinkedIn can be a powerful sales tool for connecting and building relationships with buyers, but many sellers don't know where to start when it comes to using LinkedIn for sales. To help you optimize your LinkedIn profile, and get started using it as a sales tool, we offer these 31 tips.


Optimize Your LinkedIn Profile
Use a high quality, professional picture with good lighting and background
Use a professional background image that brands you well
Communicate messages that depict you as you want to be perceived
Write your headline and summary for your audience, including appropriate keywords buyers might search for
Maximize your credibility with appropriate background, content, videos, etc.
Avoid common mistakes with grammar, punctuation, and spacing
Share content regularly that your followers will find interesting
Use tools like Hootsuite to post to multiple social media sites (LinkedIn, Facebook, Twitter, etc.) at the same time
Complete your profile, but don't include irrelevant information (e.g., high school activities)


Get and Make LinkedIn Connections
Get at least 500 connections
Accept connections liberally that are plausible to maximize 2nd and 3rd level connections (the more people you are connected to the more likely it is you will appear in other people's searches)
Regularly reach out to make new connections with customized messages to individuals
When reaching out to make a connection, spend a few minutes to find commonalities and mention them; 3 commonalities is ideal
Use trigger events to generate conversations with connections
Connect with all of your clients and colleagues
Connect with buyers in your pipeline
Recommend and endorse others
Ask friends at companies for referrals and introductions
Reach out to target contacts and make offline meeting requests compelling and valuable
Follow your clients' companies
Follow potential buyers you don't know; communicate before you connect


Improve Your LinkedIn Profile with RAIN Group's LinkedIn Checklist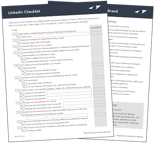 Use LinkedIn Groups
Join full limit of 50 groups
Think about industry groups, title/role groups, and special interest groups
Group members can send messages to other members even if you are not connected
Listen before you start commenting, and start commenting before you start posting
Don't spam or post messages that will be perceived as heavily commercial or self-serving


Make LinkedIn a Habit
Use LinkedIn regularly for at least 15 minutes per session (here are 15 ideas for selling with LinkedIn)
Respond to triggers quickly—buyers may be on their computer
Say "I'll send you a connection" live, via social media, and via email
Connect when networking and at trade shows within 24 hours and don't forget to personalize the connection request
Ask for recommendations at a high point


LinkedIn Questions
While social selling is a core part of selling these days, it's important to remember that LinkedIn is just one of many sales tools. As you evaluate your selling efforts, ask yourself these questions:
How can LinkedIn benefit me?
What results do I want from LinkedIn?
What key actions should I take on LinkedIn?
What objectives or targets do I have?
What habits for using LinkedIn will I adopt?
You can work out the answer to most of these questions in our new LinkedIn for Sales Guide, which also includes our LinkedIn Checklist and 15-Day LinkedIn Challenge.
Once you determine that LinkedIn is right for you, start implementing these 31 tips and you'll be well on your way to effectively using LinkedIn for sales success.