When it comes to solving what may appear to be an intractable problem, sellers and sales managers are often at a loss for how, exactly, to lead the problem-solving process.
In sales, you'll frequently find yourself in situations where you're:
Problem-solving with colleagues
Strategizing to win a sale
Working to increase your own sales results
Addressing

questions

that require strong thinking and innovative ideas
The issues you're dealing with may be thorny and complex, but the problem-solving process doesn't have to be. 
What Is Problem Solving?
When you use our 4 Stages of Structured Problem Solving, you'll be better equipped to resolve problems and lead discussions—internally with colleagues and externally with buyers—for the best results.
The structured format simply means you're approaching the issue systematically and, with only four stages, it's easy to use the process for all types of issues.
4 Stages of Structured Problem Solving

The four stages of leading an effective problem-solving discussion are:
Download: This is where you name the issue you're tackling and summarize key points about the current status of the issue.
Exploration: This is where you make sure you get all the relevant assumptions on the table.
Ideation: This is where you explore ideas and possibilities for actions you might take.
Action: This is where you decide what to do to solve the problem.
4-Step Problem-Solving Process
Let's walk through each step and explore some common problems and issues you can tackle using this approach.



1. Download

When you start any problem-solving discussion, you need to name the issue you're tackling and summarize the key points about its current status.

This covers the reason you're meeting. You want to be very clear about the issue you're addressing so everyone's on the same page.

To do this, ask others in the group, "How do we solve [the problem]?"

Examples of common problems and issues you can tackle include:

How do we win this important sales opportunity?

We call these deal-review discussions "Win Labs." You might do a Win Lab with your internal team or sales manager.

How do we grow this account from $3 million to $8 million?

This is what we call an internal "Value Lab," a discussion to generate ideas to grow an account based on driving more value for the account.

How do I double the size of my pipeline? OR How do I increase my win rate on proposed sales from 40% to at least 55%?

These are great questions to tackle with your manager or sales coach, especially in the framework of reviewing your annual goals.

How do we increase the value you're getting from what you already do with us? OR How do we increase your success in X area by 20%?

As a key account or strategic account manager, these questions are great to ask directly of your buyers. These are the kinds of strategic account management discussions—external "Value Labs"—that can increase your account retention rate or grow the account.

Based on your needs, what should the solution look like that'll work best for you?

This is a great way to state the issue when leading a discussion with your buyers to collaborate on solution-crafting.

Your role here is to facilitate the discussion. Coming into the meeting, you've already done a lot of pre-work, but don't lead with this. This meeting is a working session and not a presentation.

The most productive session is one in which you guide the team through the stages, so everyone is engaged and collaborates. This makes the solution more powerful and compelling because the ideas will be not just yours, but theirs, as well.

Often, it's better to wait and introduce your own thinking, or what you've uncovered in the course of your pre-work, until you hear from everyone else.

In any case, a clear problem statement is needed to lead a productive discussion in any context.

Once you state the issue or problem, give a summary of the status quo so people have context for your starting point. Here, you might take a few minutes to share critical points to frame the discussion.




2. Exploration

This is where the team examines the issue. Asking the question, "What else?" will help flesh out the issue, get all the relevant assumptions, information, and points of view on the table, and make sure you don't jump quickly to actions without considering the complete picture.

At this stage, encourage debate about the key assumptions. For example, a colleague in a Win Lab might say, "There's no way we can get this part of the business. They have an existing supplier and they're happy with them."

Someone else might say, "My contact in the account told me that provider recently made some major mistakes. They might have been happy with the provider a little while ago, but that point is debatable now. So maybe we can get that part of the business too."

Before you leave this stage, make sure you continue to state new or different—but relevant—assumptions until nobody has anything critical to add that might affect the actions you take.




3. Ideation

Explore ideas and possibilities for actions you might take. This is where you ask, "What's possible to do?"

Encourage people to share their ideas in the form of questions such as, "Why not consider…this…or that…?"

In stage 3, don't argue about the relative merits of one idea versus another. Just get all the suggestions out in the open, regardless of how crazy or unhelpful you think they might be. This is important for robust and effective problem-solving.

You don't want to shut down anyone's ideas at this point. Think of saying, "Yes, and…" to be supportive, versus "No, because…" or "No, but…," which might hamper the flow of the discussion.

Once you have all the possible actions brainstormed, you can consolidate them into an actual action plan or solution set.




4. Action

Your task now is to organize a subset of the possibilities into a draft action plan.

In stage 3, Ideation, you don't argue about the relative merits of options for actions, but here in stage 4, you have to make decisions about what to do and what not to do. Healthy debate here is fine, but take care to focus on the idea, not the person who suggested it.

At this point, some ideas will surface as more compelling than others. If you don't like an idea, state why you think it might not be the best option and give other people the opportunity to defend the idea.

Once you have a plausible action plan outlined, the next task is to ask two questions.

First, "If we do this, will it solve the issue?"

In a Win Lab, for example, will taking these actions substantially increase your chances of winning the sale?

In a discussion with a buyer about solving their problem, ask whether taking these actions increases their confidence the problem will be solved.

If it won't solve the problem, keep working on the action plan.

Second, if everyone agrees it'll solve the problem, ask, "Will we implement this?"

Action plans come with good intent, but not always the best execution. By talking about the implementation, you can discuss whether you or the team have the resources, time, and will required to get it done. If you have major doubts, it's time to keep working on the plan until you reach one where your actions will solve the problem and you have confidence you can get it done.
Problem-Solving Tips to Make Your Sales Discussions Most Successful
Take One Stage at a Time
This is a somewhat linear process. You might go backwards here and there, but the common missteps in discussions stem from jumping from problem statement right to ideation and action without exploring the issue more fully. Don't ideate until you finish exploring. Don't explore until the problem or issue statement is clear. Same goes for each stage.
Balance Advocacy and Inquiry
You don't want this to become an exercise in a bunch of people simply stating their positions. When you ask questions—or inquire—as well as make statements—or advocate —you'll get better results and build better relationships.
Clarify the Meaning
People often say and mean one thing that others interpret to mean something else entirely. If you're at all in doubt about what someone means, ask a clarifying question such as, "Can you expand on that?" "Tell me more about..." "Did I understand when you said…?" And encourage others to ask clarifying questions as well. These questions help clarify everyone's thinking and can keep the problem-solving discussion on track.
Encourage Diverse Points of View
This means asking the group for diverse points of view, but it also means inviting people to these meetings that have diverse points of view. Some people are better idea people than others. If you're looking for innovative ideas for how to do something, invite someone to the meeting who tends to be innovative and thinks outside the box.
When you use these 4 Stages of Structured Problem-Solving: Download, Exploration, Ideation, and Action, you'll immediately see the benefits of organizing these kinds of discussions.
And you'll add value to any discussion with your sales team or with buyers.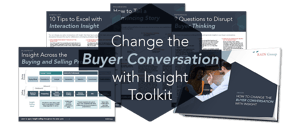 Change the Buyer Conversation with Insight Toolkit
Get frameworks and tools to share new ideas, ask incisive questions, and help buyers make better decisions.
Download now. >>