2020 has flipped sales on its head and driven unprecedented levels of virtual interaction. Sellers are faced with more challenges than ever.
You can't sell the same way you did before. You need to adapt, pivot, and change almost everything you did previously. If you want to thrive in sales today, it'll require you to transition to the new world of selling virtually, and take the "new norm" by storm.
Whether you've been in sales for years or you're just starting out, learning how to sell remotely can feel intimidating.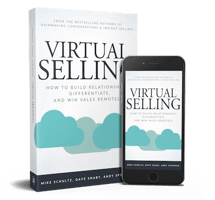 Our book, Virtual Selling: How to Build Relationships, Differentiate, and Win Sales Remotely, by bestselling author and RAIN Group President Mike Schultz, with colleagues Dave Shaby and Andy Springer, will take you step-by step through everything you need to master the medium and sharpen your virtual selling skills.
Virtual Selling is a crucial and timely read for sales professionals in all industries. It teaches sellers how to thrive in the new sales environment and is the first book to share groundbreaking research on virtual selling challenges from both buyers' and sellers' perspectives.
Make the transition to virtual selling—order your copy today!


Virtual Selling Chapters
Foreword by John Doerr
Introduction: Welcome to the new World of Virtual Selling
Section 1: Seismic Shifts in the World of Selling
Chapter 1: Great Selling, Done Virtually
Chapter 2: Consultative Selling Overall has Changed—How Sellers Must Adapt
Section 2: Leading Masterful Virtual Sales Conversations
Chapter 3: Mastering the Medium: Virtual Meting Mechanics, Setup, and Technology
Chapter 4: Building Rapport and Trust in a 2D world
Chapter 5: Leading a Virtual Needs Discovery
Chapter 6: Making the Impact and ROI Case
Chapter 7: Making the Case for Change
Section 3: Leading Specialty and Advanced Virtual Conversations
Chapter 8: Inspiring Buyers with New Ideas Virtually
Chapter 9: Delivering Powerful Virtual Proposal Presentations
Chapter 10: How to Collaborate with Buyers Virtually
Section 4: Crushing Your Sales Goals: Unlocking The Productivity Code
Chapter 11: Key 1. Manufacturing Motivation
Chapter 12: Key 2. Control Your TIME
Chapter 13: Key 3. Execute in the Zone
Praise for Virtual Selling
"Virtual Selling more than fulfills my high expectations. It is research-based, sound, practical, and nuanced. Another example of why the team at RAIN Group are the leading thinkers in the world of sales strategy and training." —Charles H. Green, Author of The Trusted Advisor
"Mike Schultz and his coauthors have written an excellent guide to virtual selling. Throughout the book they leverage the extensive research they have done with actual executive buyers, illustrating the large gaps between what clients and customers are looking for and what sellers are giving them. They weave many practical tips into the chapter on how to sell and build relationships virtually, while also sharing evergreen strategies for moving from a general conversation with a buyer to a sold contract. Whether you're early in your career as a salesperson or account executive, or a highly experienced professional, you'll find many valuable ideas here that you can implement immediately." –Andrew Sobel, Author of It Starts with Clients, Power Questions, and Clients for Life


Connect with Buyers and Win More Sales in the New World of Virtual Selling
Change isn't easy, and years after the shift to virtual selling, there's still a lot to learn. Virtual Selling helps you navigate these uncharted waters and thrive in an online sales environment.
When you purchase the book, you'll gain access to 20+ guides, checklists, templates, and tools to help you succeed in today's sales environment.