Want to take this article with you or share with a colleague?
.
With the rise of virtual training, hybrid workforces, and self-directed learning, what is the role of in-person training? Is in-person sales training dead?
Yes and no.
It's true the global pandemic radically changed how sales organizations think about live events, including salesforce onboarding, education, and SKOs that were once the norm. The pandemic challenged sales teams to try new and creative solutions for training, most of them digital-first.
Necessity once again proved to be the mother of successful innovation. Companies that adopted proven virtual learning models increased onboarding success, learning retention, and sales results. We now see the widespread adoption of digital learning, video training, mobile learning, and microlearning. More sellers work remotely on geographically dispersed teams than ever before.
Despite all these signals that virtual training is here to stay, in-person training isn't going anywhere, either. The persistence of both models is a phenomenon that modern sales training programs must account for to be effective.
How the Selling Environment Has Evolved
The knee-jerk reaction during the height of the pandemic was to say that the days were numbered for in-person work, let alone sales training. In-person events were sparse. Sellers were Zooming into webinars, remote conferences, and other training from their home offices.
While there's evidence that the pandemic shifted B2B selling heavily toward digital, the story is more nuanced. Just look at the recent work-location data from the RAIN Group Center for Sales Research's Skills and Behaviors of Top-Performing Sellers and Sales Managers study:
In the last 12 months, where have you worked in relation to your direct manager/direct reports?

The data show an even overall distribution between co-located, remote, and hybrid work locations. It's worth noting that it's the sales managers leaning more toward mostly remote or hybrid work locations.
As far as selling modes go, the results are similar, though the scales tip more in favor of virtual and hybrid modes for sellers.
Which statement best characterizes how your/your team's selling currently occurs?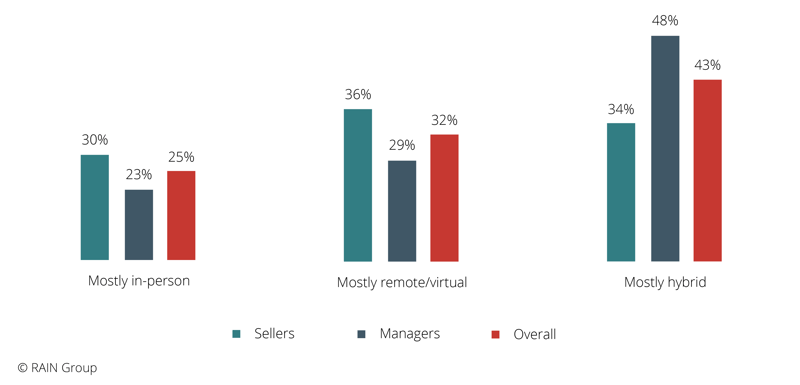 Given the distribution of work locations and overall prevalence of hybrid selling modes, it's no wonder hybrid sales training is gaining widespread acceptance.
Delivering a hybrid sales training program so that it's worth the investment is another story. While companies are spending billions on training overall, 85% to 90% of sales training fails.
How to Implement Hybrid Sales Training
Forget going through the motions and checking boxes only to deliver an average training program—whether it's in-person, virtual, or hybrid. Our research shows that 71% of Top-Performing Sellers report receiving extremely or very effective sales training. Sixty percent of Top-Performing Sales Managers report the same.
This means that, to guide your sales team to achieve top performance, your sales training initiative needs to be highly effective and efficient. Often, this means partnering with a sales training provider that's flexible and willing to adapt to your needs.
When an organization decides to host an in-person training event—be it an SKO, one- or two-day training, or other in-person sales meeting—it needs to guarantee that the time, budget, and effort are worth pulling sellers out of the field.
Increasingly, leading organizations are shifting to a hybrid sales training approach with a virtual wrap-around to their in-person training events. It's a powerful one-two punch that harnesses the best of both the in-person and hybrid world.
In terms of process, this hybrid sales training environment breaks down into three phases:
1. Before the Hybrid Sales Training Event
Learners complete critical knowledge transfer of new concepts, ideas, and definitions before the in-person training event. This gives sellers plenty of time to complete self-directed lessons, microlearning, and other activities on their own.
Sellers are also encouraged to begin using tools and implementing their learning before the event starts. This allows sellers to share the challenges of implementing the new learning in their sales situations, leading to much richer discussions.
Here's an overview of what that might look like, leveraging an LMS or sales enablement platform:


2. During the Hybrid Training Event
In-person time is reserved for high-impact activities. When you take the lecture out of the training with microlearning prior to the event, it opens time together to focus on practice and practical application, such as:
Role plays
Workshopping
Practice
Coaching
Feedback
Peer-to-peer learning and discussion
Collaboration
Brainstorming
The more in-person time can be used for activity versus lecture, the greater impact the hybrid training will have.
3. Reinforcement of the Training
After the in-person training event, core ideas and learning need to be reinforced for weeks and months through recurring virtual training sessions, a regular rhythm of coaching, self-directed online learning, and application assignments.
Benefits of ongoing support and coaching are tremendous and include:
Sales training reinforcement, along with regular accountability checks, supports sellers to put the new learning into action, resulting in more effective training that changes sellers' behaviors and impacts sales results.
A Real-World Example of Hybrid Sales Training
The hybrid sales training model wraps virtual activities around the in-person training event before and after the fact. As an example, let's take a look at what that process looks like. At RAIN Group, we have a modular approach to learning, where modules are grouped together to build programs most relevant to your team. The video below outlines our approach:
For example, we had one client whose sales team needed help improving their sales conversation skills. We developed a curriculum that included the following modules:
Module 1: Introduction to Consultative Selling
Module 2: Building Rapport
Module 3: Leading a Thorough and Impressive Needs Discovery
Module 4: Making the Impact and ROI Case
Module 5: Overcoming Objections
Module 6: Inspiring Buyer Action and Change: New Reality and the Buyer Change Blueprint
We took a hybrid approach to deliver these modules, including both virtual instructor-led training (VILT) and live, in-person instructor-led training (ILT) along with assignments and coaching related to each module. The delivery cadence looked like this:
Week 1: VILT of module 1 delivered before the event, including Application Coaching (see below)
Week 2: 1-day in-person ILT covering modules 2-5
Week 3-6: Application Assignments and Coaching for modules 2-5
Week 7: VILT of module 6, including Application Coaching
Week 8 and beyond: 90-days coaching
Each module also includes a mix of virtual and live training. Here's an example of what one module looks like:
Module Example: Leading a Thorough and Impressive Needs Discovery
Module Objectives
Know what questions to ask to discover needs, and how to ask them
Learn the #1 tip most sellers miss for making needs discovery most powerful
Visually and powerfully position, communicate, and confirm needs with buyers
Pre-Session Action
Prior to the in-person training, the learner watches the following videos:
Video: The Power of Aspirations and Afflictions
Video: Powerful Questions for Sales Meetings and Needs Discovery
Video: Creating Shared Understanding of Needs
Video: The Power of Why
Instructor-led Training
During the in-person training, the team completes a needs discovery case study and practice together.
Additionally, the instructor introduces the Sales Conversation Planner and demonstrates how this tool is to be used to prepare for a needs discovery meeting.
Post-Session Action
In the days and weeks following the in-person training session, the learner completes the following activities:
Video: Types of Needs Buyers Have
Video: The Key to Leading a Thorough Needs Discovery
Video: Tactical Tips for Leading a Thorough Needs Discovery
Application Assignment: Plan questions for an upcoming needs discovery using the Sales Conversation Planner and share with your coach (see Application Coaching below)
Action (optional): Plan and record a needs discovery meeting; share this recording with your application coach
Application Coaching
All training groups are assigned an Application Coach who meets with the team regularly to hold them accountable for applying learning and tools. Application coaching meetings focus on action, feedback, and accountability. A typical meeting might look like this:
The Application Coach reviews the needs discovery plans sent by sellers. Group discussion and feedback are provided in the coaching meeting.
As applicable, the Application Coach reviews and evaluates the recorded needs discovery meeting and provides guidance around areas for improvement.
Discussion with the group around what they'll change/do next to improve needs discovery conversations.
Hybrid Sales Training that Meets Evolving Demands
Ideally, hybrid sales training allows organizations to affect real changes in behavior while getting the most out of training budgets. These programs must account for the hybrid nature of today's workplace. The scales have not definitively tipped in one direction or the other.
Above, I mentioned our research on working location and selling modes. Look closely: 41% of sellers are still co-located in the same physical location, while 36% sell in mostly remote modes. And 35% of sales managers work in mostly hybrid environments, while 48% of their teams sell mostly remote.
Both in-person and remote sales are alive and well.
It's time to prepare sales teams accordingly. Many of the world's leading sales teams are turning to both in-person and virtual instructor-led training to train their sellers.
Here's what Nicole Roach Louderback, Director Commercial Sales at SAGE Publishing, had to say about about their hybrid training experience with RAIN Group:
"Enhancing salesmanship is always a top priority but gathering a field team in-person isn't always practical. By hosting virtual coaching sessions, we continued our discussions, made sure the changes and improvements everyone made were put into practice, and kept all of us accountable."
As an extension of in-person sales training, virtual components can significantly enhance a sales training program. Moving forward, we expect this hybrid sales training approach to continue paying dividends for top-performing teams.
70%
of B2B sales reps forget what's learned within a week of training.
80%
of information is retained after 60 days with spaced repetition.
65%
of information is retained after 3 days when using video.

Discover how hybrid training can engage your team and make learning worth your time.