Many sales managers and coaches are never taught how to lead effective sales coaching conversations.
So they start with, "What's up?"
Then they listen to sellers for an hour with a bit of back and forth about this opportunity or that one. They may talk about the need to fill the pipeline or come up with an idea to move one of the opportunities forward. And then the hour is up.
Coaching is checked off the to do list.
From the seller's perspective, they may have left with an idea or two they can apply, but this is a significant lost opportunity. There's no process. No action planning. No accountability. Meandering in the middle from topic to topic.


The Most Effective Sales Coaching Conversations
So how do you lead effective sales coaching conversations?
It's as simple as: Did, Doing, Do.
Did: Review commitments from last session. Touch on any areas that need addressing, such as lack of execution or time working on unproductive activities.

When you follow the Did, Doing, Do process, you already have an agreed upon list of what the coachee committed to do between the last session and now. Go through one-by-one. Discuss any challenges that inhibited them from doing what they committed to.

Doing: For the bulk of the session, discuss the most important sales topics on the coachee's plate (major opportunities, prospecting, challenges).

Use this time to coach and advise for maximum sales success. If the seller is working on a major opportunity, ask them to walk you through their opportunity pursuit plan. Ask questions. Find the holes. Give them ideas for next steps. Suggest leading a Win Lab to really dig in if the opportunity is important enough.

Do: What is the coachee going to do between now and the next session that will put them on the path to the greatest success?

Get specific. If they need to fill the pipeline, what exactly do they need to do? How much should they prospect each day? When will it happen? What are the expected activities and metrics? Who else needs to be involved? Are these activities the best to help them achieve their quarterly or annual goals? The coach should suggest actions as appropriate and provide guidance.

You should close each session with shared commitments for action. Have the coacheee write them down and send them to you. Review the commitments and make adjustments if necessary. At the start of your next session, use this list to guide the "Did" part of the conversation.

Commitment making and a commitment review process increases action and serves as an informal accountability. Even if they don't report to you, people are more likely to meet their commitments when they make them public, written, and reviewed.


The 5 Roles of a Sales Coach
With Did, Doing, Do, you give yourself a framework to cover the 5 roles of a sales coach in each of your coaching conversations:
Motivate: The act of setting actions weekly, reviewing actions weekly, and seeing progress is motivating.
Focus: By setting weekly priorities, you help sellers align their time with their priorities.
Execute: If you find sellers don't meet their weekly priorities, you can help them sort out why and help them turn it around.

Advise: While "Doing," you can work with them to succeed in their most important priorities.

Develop: Also while "Doing," if you see the seller needs a skill, you can coach them. But you can also set a "Do" item, such as "take our sales negotiation training program by the end of the year."
In this article, we'll cover a bit more on the frequency of meetings, and the "Did" and "Do" sections.


Impact of Coaching Conversations on Sales Success
Two-thirds of Elite-Performing Sales Organizations agree their sales managers have the skills to effectively manage and coach sellers compared to less than one-third of The Rest. At the same time, Elite Performers are 2.2X more likely to agree their sellers manage their time and day effectively.
Sales Skills by Performance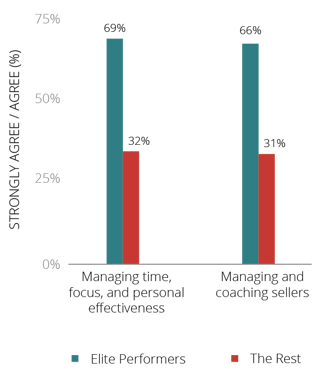 The impact sales coaching has on seller skills, productivity, and results cannot be overstated.
Ideal Meeting Frequency for Sales Coaches
When starting out, conduct your sales coaching conversations weekly. The consistency of the review process does a few things. It:
Decreases derailment
Allows you to adjust derailment quickly
Turns behavior into habit
Sets the precedent of accountability and low tolerance for missed commitments
Once sellers are preforming at a higher level, you can scale back to fortnightly. However, when scaling back, be sure to at least check in via email weekly with commitments. Set a time with each coachee where they report on:
Previous week: Priorities and GIA (greatest impact activity for the week), what got done, and self-grade.

Upcoming week: Priorities
It might look something like this:


Pat,
Here are my priorities for the previous and upcoming weeks.
Last week priorities:
Grade: B, travel delay interrupted my week.
GIA: Conference and follow up: The conference was good and made some solid connections. Follow up has not happened in a timely manner due to travel, so I knocked myself down a grade
Pipeline movement: Move ACME to contracting: Done, other movement in pipeline is encouraging but not enough. Knocked myself down a grade here, need to do a round of follow up
Sprint for 2 hours of prospecting M-Thurs: Done, secured 3 new meetings
This week priorities:
GIA: Conference follow up: 35 personalized prospecting emails and calls

Close ACME

Account growth plan for Alpha Manufacturing

Win Lab for ABC Co. and push forward

Round of follow up on all pipeline opportunities
Jordan

Guidelines for Coaching Check-Ins
Here are a few guidelines for the weekly "Did" and "Do" check in:
Limit priorities: Keep it to 3-5 core priorities for the week. It's important to note that this is not a laundry list of every email response and meeting the coachee is participating in that week. It's a run down of the most important activities, that if they complete them, will drive them towards their goals.
Schedule a time: Whether it's a meeting or an email check in, ask for it at a consistent time each week. It tends to work best to on either a Monday, as the coachee is planning their week, or Friday, as the week is winding down. Either way, pick a time and hold the coachee accountable to it.
Ask for a self-grade: Ask for a self-grade and why they've given themselves the grade for that week. If they are being too easy or hard on themselves, ask why.

Keep coachees on track: The intention of this exercise is not to simply inform the coach or manager of what a seller is working on. It should be used to:

Adjust priorities and ensure sellers are working on the right things

Hold sellers accountable to their commitments

As the coach, spend time reviewing these emails, assessing priorities, and advising coachees as necessary. Push back on priorities. Ask questions. Keep the seller engaged.
Leading effective sales coaching conversations is a key leverage area for many sales organizations. Follow this simple process and you'll have more sellers working on their priorities, producing more, and achieving greater results.