To succeed in sales, you need to have the right skills. You have to be able to lead masterful sales conversations, manage opportunities, uncover needs, negotiate the best deals, fill the pipeline, develop relationships, and manage sellers. And today, you need to be successful in doing all of this with no face-to-face interaction.
That's a lot to have to master.
With the laundry list of sales skills needed, which are most important?
Top 5 Essential Sales Skills
Driving account growth
Advanced consultative selling
Driving and winning sales opportunities
Filling the pipeline
Core consultative selling

In our Top-Performing Sales Organization study, the RAIN Group Center for Sales Research asked 472 sales executives and sellers representing companies with sales forces ranging from 10 sellers to 5,000+ if sellers have the skills they need to find and win business consistently and at a high level.
We then looked at the correlation between sales skills and whether or not a sales organization met its sales goal or quota. We didn't want to study just whether the organization met its goal, however, because goals can be easy to hit. We wanted to know if any particular skills stood out when sellers not only met their goals, but also believed their goals were challenging.
We were fascinated by what we found. Of the nine skills we studied, four rose to the top. These four represent the largest skill gaps between the sellers who meet challenging sales goals and those who don't meet their goal at all:

We would be remiss if we didn't add a fifth to this list: Core consultative selling. Core consultative selling skills are still considered the price of entry for success in complex sales, and it's the 3rd highest rated sales skill of those who meet challenging sales goals.
I share more about these five skills in the video below:

Sales Skills to Beat Even the Most Challenging Sales Goals
What About Virtual Selling?
These skills don't exist in a vacuum. As you transition to virtual selling, the way you approach each of these skills will be at least nominally different than pre-Coronavirus.
In fact, according to our Virtual Selling Skills & Challenges research, sellers are significantly challenged by selling in a virtual environment.
Top Virtual Selling Challenges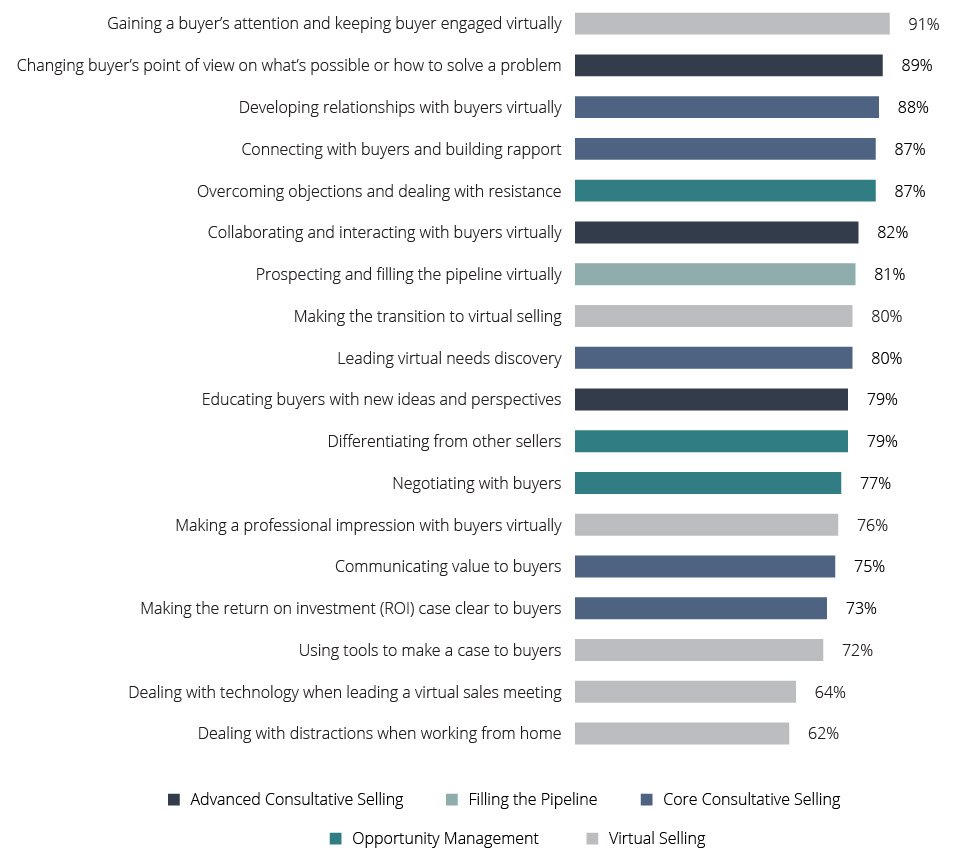 Note that selling virtually is, in itself, a challenging skill that shouldn't be overlooked.
If you're looking to not only meet, but exceed your sales goal this year, you can start by mastering these five sales skills and attending to how they're different when selling virtually.