In our Top-Performing Sales Organization research, our goal was to assess what the Top Performers do differently than The Rest to achieve the best results.
We analyzed data from 472 sellers and executives representing companies with sales forces between 10 and 5,000+ sellers. Top Performers represent the top 20% of our database. The Rest—the bottom 80%.
Top Performer Definition
Avg. win rate > 40%
Meets annual sales goals
Sales goals are challenging
Capture maximum prices in line with value provided
So what specific factors separate Top-Performing Sales Organizations from The Rest? What do they do differently to achieve superior results?
The performance-related factors we studied organize into the 8 categories of the Sales Performance WheelSM: Strategy, Structure, Operations, Enablement, Talent Management, Training, Capabilities, and Motivation.
Of 72 factors total, the following 12 factors were the greatest gaps we found.
1. Our sales organization is effective at maximizing sales to existing clients across capability areas.
Selling to existing clients is one of the biggest untapped opportunities for revenue. In fact, this is the factor with the greatest difference between Top Performers and The Rest.
When your sellers expand their accounts, most of the work has already been done—there's a baseline level of trust and you've had the opportunity to prove the value of your offerings.
But your clients might not realize how you can help them in other ways. If your sellers are building relationships and proactively selling clients on your full suite of products and services, they're more likely to come to you when they need something else.
A dedicated strategic account management process can drive more value and opportunities to your accounts while insulating them from the competition. However, many sellers lack an effective process to protect and expand their key accounts. But doing so is worth it: 60% of companies believe they should be generating 25% or more revenue from strategic accounts, according to our research on strategic account management.
2. Our company leaders prioritize developing sellers to be as valuable to our buyers as possible.
Sales organizations that prioritize ongoing seller development are 69% more likely to be Top Performers, according to our research. Investment in sales training is tied to organizational success, but sales training is not a fire-and-forget solution. Sales training must address specific capabilities and be reinforced to enact behavior change and improve seller performance. In addition, leadership buy-in is necessary to ensure on-the-job application.
Development is also delivered through coaching. In other research, we found that managers of Top-Performing sales teams are 51% more likely to conduct regular coaching sessions, 40% more likely to be skilled at leading valuable coaching meetings, and excel at playing 10 key coaching and management roles.
Note the distinction between coaching and management. While management is necessary to keep sales operations running smoothly, it's coaching that drives seller skill development and builds sales teams with competencies across the sales process.
Download How to Build a Sales Coaching Plan. >>
3. We are effective at assessing seller skills, knowledge, and attributes that support top sales performance.
Using a competency model for sales training provides an advantage in crafting effective sales curricula. By defining necessary skills and attributes, organizations can develop tailored sales training programs. You can use our research-validated Top-Performing Seller model to identify these competencies or another model adopted by your organization.


The Top-Performing Seller Model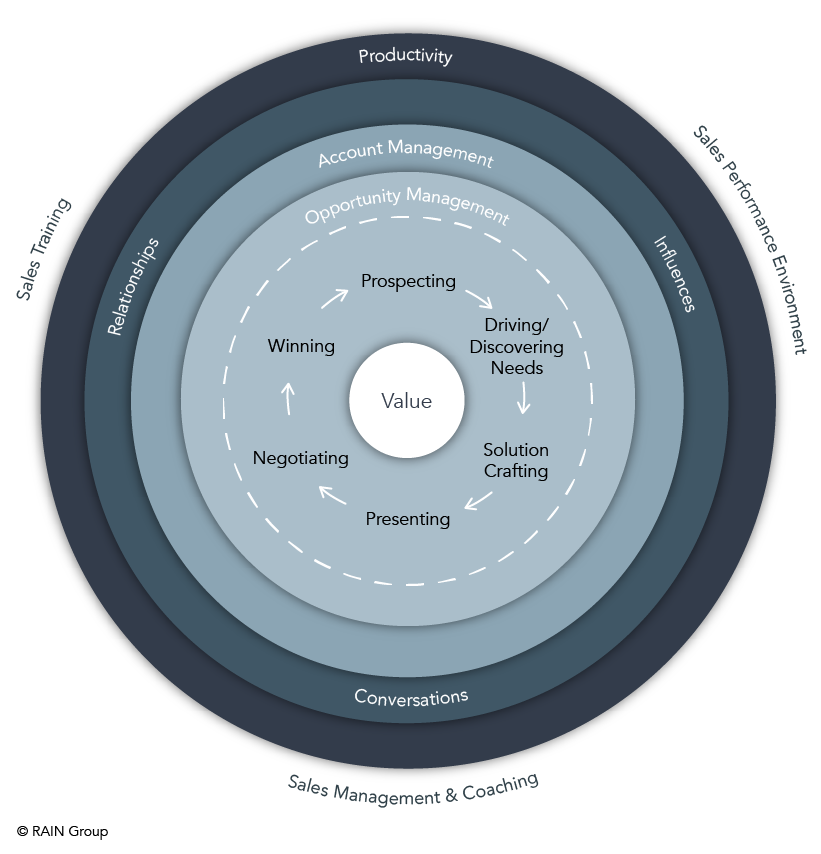 In any case, developing sellers around desired competencies with focused and consistent training ensures better results compared to impromptu training initiatives.
4. Sellers have core consultative selling skills.
Consultative selling is no longer enough to win sales, but it's still the price of entry. Top Performers are 59% more likely than The Rest to possess the core consultative selling skills needed to find and win business consistently and at a high level. Understanding buyer needs, educating them on new possibilities, and leading valuable conversations are necessary to get buyers on board.
The best consultative sellers are skilled at leading thorough needs discoveries, sharing new ideas and perspectives, and influencing buyer agendas. Sellers who do this drive value and build lasting buyer relationships.
5. Accounts are assigned to people best suited to succeed with them.
Effective sales territory planning aligns sellers with the right targets and provides them with the specifics of how to achieve their sales targets.
Despite the name, territory planning is more than just geography. A sales manager can assign accounts based on size, growth potential, industry, offerings, and many other factors. When sellers are aligned to the right accounts, they spend more time working on deals that yield the best results for them and their organizations.
Download The Sales Territory Planning Toolkit. >>
6. Our sellers consistently forecast their own pipelines accurately.
When sellers don't proactively plan out their pipelines, their performance suffers when leads run dry. By working consistently to fill their pipelines, they ensure a consistent stream of new business.
This area is a challenge even for Top-Performing Sales Organizations. Only 43% of Top Performers believe their sellers forecast pipelines accurately. However, this much better than The Rest at 19%.
Encourage sellers to collaborate with managers on forecasting. Sellers are more effective at pipeline planning when they receive coaching and have a better idea of the bigger picture.
Download the Sales Prospecting Meeting Calculator. >>
7. Sellers have fluent, expert-level knowledge of customers.
Winning opportunities, expanding accounts, and even prospecting are all much easier when sellers know and understand their buyers.
There's no single way sellers attain this level of knowledge. It starts with research into the buyer, their company, and their industry. From there, sellers should look to conduct an effective needs discovery and identify the buyer persona they're working with. What decision roles are represented on the buying team? Is anyone missing who should be involved before the process is too far along?
Finding opportunities to collaborate with the buyer on potential solutions also contributes to understanding buyers and identifying the value your solution can deliver.
8. Sellers have the skill of driving and winning individual sales opportunities.
Once a seller has captured the attention of a lead, there's no guarantee that they keep it. Top sellers are well-versed in moving buyers through the sales funnel and aligning with the buying process.
Each stage of the sales funnel comes with its own necessary activities to move the sale along. In addition, the buyer is going through their own buying process in parallel. The best sellers think buying first, selling second. Sellers should work to deepen buyers' understanding of their needs and collaborate with them to uncover value.
Looking at the biggest differences between Top-Performing Sellers and The Rest, we see that the best sellers excel in several key areas across the sales cycle. When sales organizations work on building these capabilities across their teams, they see better overall results.
9. Quoting and proposal support is strong and prioritized based on opportunity attractiveness.
If organizations set pricing guidelines and their sellers don't adhere to them, it can be harmful to revenue and margins. While this can be an operational issue, it's up to sales leadership to communicate and enforce these guidelines.
For this to be effective, sellers and sales managers need a strong grasp on the appropriate Pursuit Intensity. When teams can align on the amount of energy and effort that fits a sales opportunity, they can prioritize more attractive opportunities and avoid wasting time on dead ends.
10. Managers and leaders are effective at creating and sustaining maximum selling energy from sellers.
Motivation may differ from seller to seller, but when sales managers invest in sellers and help them achieve their goals, it's much more likely that they sustain long term motivation.
There are many more factors that contribute to seller motivation, but managers are responsible for creating a culture and environment that drives productivity and energy. Top Performers are 72% more likely to have sales managers who are effective here. Sellers need to adopt healthy time-management habits to sustain their energy, and management can help them stay accountable and give them a starting point.
11. Sellers have the skill of driving account growth.
As previously mentioned, many sellers lack an effective process for managing their key accounts. Given the outsize returns on revenue associated with retaining accounts, it's no surprise that sellers who build relationships and expand accounts contribute significantly to organizational success.
Don't leave this up to chance—your organization should provide tools, training, and coaching to help sellers grow their accounts. Not every account is a good fit for expansion, but with an eye for opportunity, sellers can maximize revenue from their portfolios.
12. Our management and tracking of key performance indicators and metrics allow us to improve performance, address problems, and inform decision making.
Similarly to #3, knowing which sales metrics to track contributes to organizational strategy. Having a good handle on the metrics that matter to your organization allows for better forecasting, better territory planning, and better development initiatives.
Tracking KPIs should be a key part of your operations. No organization can—or should—track every single metric possible, but when you align your metrics with your priorities and monitor them consistently, you'll be better prepared to address problems and identify key opportunities for improvement.
A Snapshot of a Top-Performing Sales Organization
Think about the picture this paints: a Top-Performing Sales Organization prioritizes value (#2). It has a team with core consultative selling skills (#4) that can drive and win sales opportunities (#8) and grow accounts (#11). The organization also has a way to determine seller competencies (#3), tracks metrics with key performance indicators (#12), and has accurate pipeline forecasts (#6). Moreover, managers and leaders create and sustain maximum selling energy (#10).
With all of the above in place, it's no wonder the #1 factor—effectiveness at maximizing sales to existing clients across capability areas—is so much more effective for Top Performers than The Rest.
Read: 5 Keys to Maximizing Sales with Existing Accounts >>
It's worth noting that the smallest gap between the Top Performers and The Rest relates to the potential revenue growth of their offerings (with practically no difference—#72 of 72 factors studied). It's not like the Top Performers simply have more attractive products and services to sell. The difference is that they're better at selling.