More than ever, sales teams are struggling with unqualified leads, missed sales goals, and lost opportunities. Increasingly, company and sales leaders are turning to coaching as a solution.
And why not? Executive and personal-effectiveness coaching have historically yielded great results. According to the International Coaching Federation, the average company can expect a return of 7 times the initial investment in coaching.1
Shouldn't the same be expected from sales coaching?
Yes. Even more. But approaches to sales coaching and their results can be erratic.
The Essentials of Sales Coaching
We commonly see sales managers and leaders who:
Don't have time to coach
Aren't sure what sales coaches are supposed to do
Don't have access to the tools and resources that can help them get the most of coaching
Don't establish consistent rhythm of coaching conversations
Can't lead a great coaching conversation
What Is the Difference Between Sales Management and Coaching?
Managing and coaching are two different, but complimentary, responsibilities:
Managing is where managers organize, execute, and monitor structurally to drive performance. Sellers affect managers' vision, decision making, and actions in these areas, but management is primarily the responsibility of the manager.
Coaching is collaborative; it's a two-way interaction in which both manager and seller share responsibility for helping the seller succeed.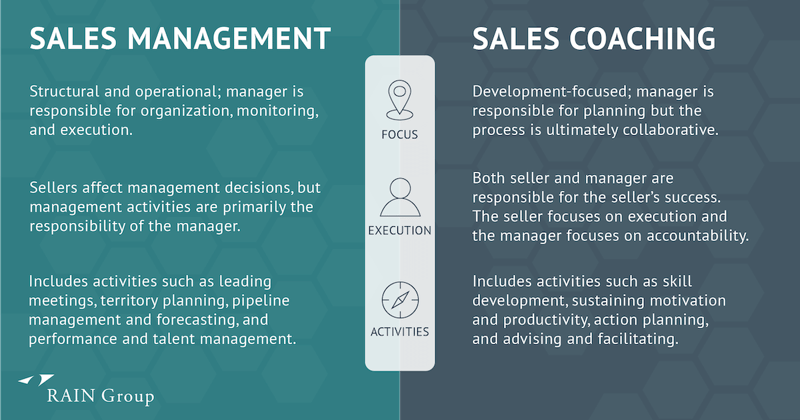 Why Do You Need Sales Coaching?
It's in your organization's best interest to provide sellers with coaching and training support to help them become Top Performers. Our research shows that Top Performers meet challenging sales targets, achieve premium pricing, and see higher win rates on proposed sales.
In a RAIN Group Center for Sales Research study of 472 mid-size and large sales organizations, we learned that Elite and Top-Performing Sales Organizations had significantly more effective sales coaches than the organizations that don't meet these standards.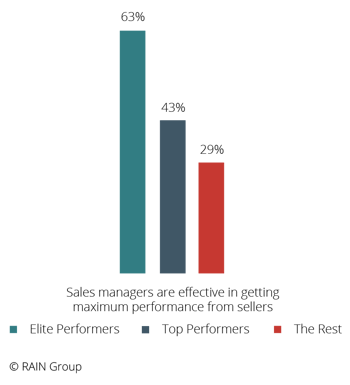 In fact, sales managers at Elite and Top-Performing Sales Organizations are much more likely to maximize the time they spend coaching.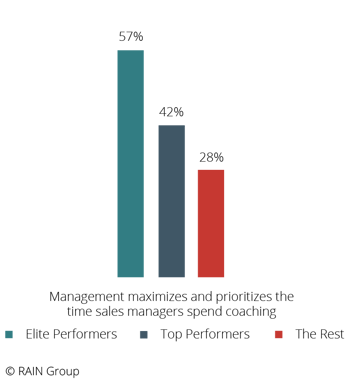 In another global study, this time surveying 1,004 sellers and sales managers, we found that sellers are 63% more likely to be a Top Performer when they have the trifecta of:
An effective sales manager
Regular ongoing coaching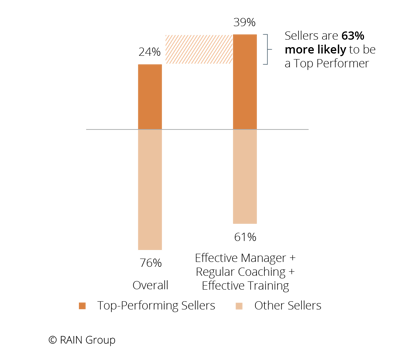 Take any of these away—manager effectiveness, coaching frequency, and training effectiveness—and the likelihood of Top Performance drops drastically.
In our global sales skills research, we studied 85 skills and behaviors across six core selling skills categories (Relationships, Needs Discovery, Conversations & Communication, Solution Crafting, Value Case Making, Advancing the Sale), four additional categories applicable to some sellers (Negotiating, Prospecting, Account Management, and Virtual Selling), and Productivity (not how they sell, but how they work).
We analyzed the differences between sellers who receive ad hoc or intermittent coaching versus a regular, ongoing schedule of coaching and found that:  
A regular, ongoing schedule or rhythm of coaching sessions is positively correlated with higher seller skill ratings in all categories.
When managers of Top-Performing teams deliver regular, ongoing coaching, the seller skills ratings are even higher. 
These high skills ratings make sense because, according to Top Performers, their sales managers: 
Are more likely to focus on coaching sellers to build their selling skills  
Are more likely to coach on a regular schedule and address specific areas including: 

Helping sellers solve problems and challenges  
Coaching sellers to grow accounts
Providing deal coaching to maximize selling wins  
Coaching to lead masterful sales conversations  
Coaching on virtual/remote selling  
Which Sellers Need Sales Coaching?
Chances are even the best sellers on your team have some opportunity for improvement and greater success. And for those sellers who aren't currently among the best, what should they do differently to improve and become a Top Performer? Should they:
If you can think of any areas where the sellers on your team need to do something differently, then you, as a sales coach, are in a prime position to help.
In fact, sales coaching makes a huge difference to organizations and sellers. The average company that invests in coaching sees a return of 700%.
Unsurprisingly, each seller will need a different method of sales coaching. The best sales coaches:
Know sales well enough to give advice
Are willing to give direct advice
Know the appropriate way to deliver advice
Know when to share advice and when to let sellers work out their own solutions
Sales coaching requires balance. It's ideal to ask sellers questions and let them draw their own conclusions to take ownership of their growth. However, there's no need to lose deals just so sellers can learn.
Sometimes, sellers need direct advice and ideas to create an opportunity, move a sale forward, and win.
And they need advice now.
They either can't work it out for themselves because they don't have the context or experience, or taking the time could cause them to lose the opportunity.
When a seller has less experience and a lower skill level, the sales coach should be directive, giving the seller every chance to succeed with each sales opportunity. When a seller has more experience and skill, they can take a lighter touch and be more facilitative in their approach.
An easy way to think about it:
Lower-Skilled Seller: Use a directive approach. They can still be asked questions, but ultimately, these sellers require a firmer guiding hand, specific advice, and to be dissuaded from taking ill-advised paths.
Highly-Skilled Seller: Use a facilitative approach. The sales coach should play a supportive role, allowing coachees to define possible actions. They can lend ideas, but firm direction should be used more sparingly.
Make sure you're guiding sellers in the most effective way: with successful sales coaching that aligns with your sales approach and culture and balances giving direct advice with being facilitative.
Sales Coaching Gone Wrong
But when many sales managers see areas where their sellers can get better results, what do they do?
They try to help. They point out the problem areas and simply tell sellers what they should do.
It's something we commonly observe sales managers do.
As shared in an article about performance feedback and coaching in the Harvard Business Review, when thousands of managers were asked to coach someone, they "simply provided the other person with advice or a solution. We regularly heard comments like 'First you do this' or 'Why don't you do this?'"2
But is this helpful?
Other research tells us, "Telling people what we think of their performance doesn't help them thrive and excel, and telling people how we think they should improve actually hinders learning."3
Yes, there's a time for direct advice, but by and large, our experience with thousands of sales coaches supports a different approach.
Ask yourself this: if you were selling to a buyer and saw something they needed, and your primary communication and persuasion process was to simply tell them, "You're not really getting the performance you should. To solve your problem and get better performance, buy this.", how well do you think that would work?
Probably not so well.
Just like with selling, the more experience you have with coaching, the more you see all the pieces that need to come together to be great at it.
GET THE LATEST SALES TIPS, TOOLS, AND RESOURCES
Subscribe today to get the latest on virtual selling, insight selling, strategic account management, sales conversations, and more straight to your inbox.
What Does a Good Sales Coach Do?
Like with sales, coaching is an exercise in communication, persuasion, and change management. To be great at these, you need to be able to lead masterful and nuanced conversations.
As with sales, good coaching is more than leading masterful conversations. There's a sales process where you have a series of conversations—and take a series of actions between conversations—that results in wins.
Sales coaching is the same. There's a process, and if you follow it systematically, you can be sure to hit all the important areas to advance the process and not miss something critical due to a lack of planning and discipline.
There are also different roles you need to play and different skills you need to use at different times to suit the situation and drive success.
This is how we built the RAIN Sales Coaching method to bring it all together.
While there are several areas to master to be great at sales coaching, there aren't that many areas. You can learn them one by one to become a master at sales coaching.
As an overview, let's look at RAIN Group's The Top-Performing Sales ManagerSM model, which has everything you need to become both a Top-Performing Sales Manager and a Top-Performing Sales Coach.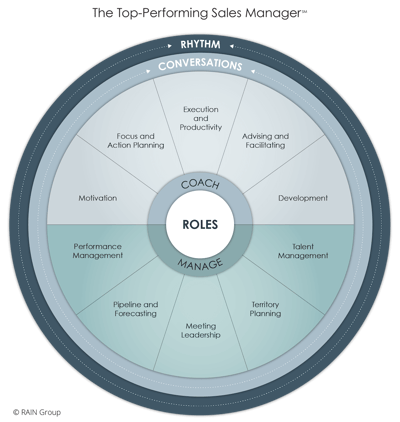 First there's Rhythm. It's the process or cadence you follow across a variety of types of coaching meetings and conversations with each seller and the team to bring all the pieces together and build your sales coaching program.
Second is Roles. There are 10 roles, or hats, that sales managers need to play—five of which are directly related to sales coaching. Those roles are:
Motivation: You get maximum effort and proactivity from the team day in and day out
Focus and Action Planning: You help sellers target the right areas to spend their time and effort and help them steer clear of distractions and time wasters
Execution and Productivity: You help sellers get the maximum success and the best outcomes during the time they spend working
Advising and Facilitating: You help sellers in the trenches fill their pipelines, win major sales, grow accounts, negotiate the best agreements, define and achieve their goals, and so on
Development: You help sellers over the course of months and quarters to become better, more talented, more capable sellers than they might have been six months or a year or two earlier
In short: Motivate, Focus, Execute, Advise, and Develop. More on these 5 roles later.
There are also 5 management-related roles:
Accelerating performance when onboarding sellers or helping them through performance issues
Planning and reporting on pipelines and making forecasts
Defining and tracking metrics and managing accountabilities
Analyzing and planning territories
Managing talent, from hiring the right team members to exiting those who, after trying to support their success, might not be a good fit
Finally, there's Conversations. Like with sales, the magic happens in the interactions. If you lead the conversations and communications the right way, you can:
Build trust
Help sellers take the right actions and avoid issues and mistakes
Make them look good
Have them want to work with you over a long period of time
Help them learn and improve
Help them improve performance and achieve success
Of course, like in sales, it would be nice to just point out problems we see, tell people how to fix them, and have them love us for it. But it doesn't work that way; it takes time and forethought. But sales coaching is learnable and adaptable to any team, and doing it well is essential to creating top-performing sellers.
5 Roles of an Effective Sales Coach
Let's take a closer look at the 5 sales coaching roles in more detail, as each is essential for the coaching process to succeed. For each of these roles, ask yourself:
What do I do to play this role?
Are there any ways I could play this role better?
In this video, Erica Schultz, Chief Marketing Officer at RAIN Group, introduces and explains the 5 sales coaching roles.
1. Motivate Sellers
Sales coaches understand the underlying motivators of each individual seller on their team and take action to maximize them.
Some sales leaders believe that a quota and compensation plan are enough to motivate their sellers, but that's simply not true. People are motivated by all number of factors (not always money!), and it's the sales coach's job to determine what that is from seller to seller.
When operating at sustained peak motivation, sellers challenge themselves to achieve. They focus on their sales efforts and results. With motivation support from a good coach, a seller can sustain high levels of energy and action over longer periods of time.
2. Focus Sellers' Actions
Sales coaches help sellers define goals and strategies that tap into their purpose and lead to maximized sales energy, focus, and engagement.
Defining the right goals and strategies is crucial for seller success. If sellers feel a strong enough desire to accomplish the goals, purpose will drive them forward to reach their full potential.
When a sales coach can pinpoint a seller's motivation, the seller becomes dedicated to action plans, perseveres in the face of obstacles, and takes ownership of achieving goals.
Remember, you're not just providing them with an immediate solution: you're giving them the tools to change their habits and improve their skills.
3. Help Sellers Execute
Sales coaches help sellers develop habits that will allow them to reach their goals and get the most from their time.
Developing and changing habits sometimes feels like it requires superhuman effort. This is one reason sales coaches meet frequently and regularly with sellers. The effort pays off. Top-Performing Sellers are significantly more likely to be highly rated for productivity.
As referenced in point #2 above, sales coaches also help sellers draw connections between actions and goals in focused action plans. These action plans define both what sellers will and won't do, allowing sellers to use their time most effectively and achieve the best results.
4. Advise Sellers to Win
Sales coaches provide guidance by asking sellers exploratory questions and allowing them to find their own answers, but they also know when to offer direct advice about specific opportunities.
In this respect, sales coaching differs from other types of coaching. Direct, immediate advice is sometimes acceptable and, in some situations, necessary.
Delivering advice the right way is the trick. Depending on the seller's level of expertise, a coach must determine whether to be more directive (do this) or facilitative (let's work out next steps together). The less experienced the seller, the more directive advice helps. The more experienced the seller, the more a facilitated approach works well.
5. Develop Sellers' Skills
Sales coaches assess sellers' needs for skill, knowledge, and attribute development, and encourage 'seller ownership' of their own development potential.
When coaches help sellers understand the current state of their capabilities and their possible New Reality (where they would be if they reached their potential), developmental gaps often become obvious. In these cases, coaches can recommend additional training and help build seller development plans.
And while sales coaching often focuses on immediate sales effectiveness, it's important to remember that change does not happen overnight. Success takes effort and development over the long haul.
If you want to get the most from your sellers in sales coaching, take these 5 roles to heart. Ask yourself how you're doing in each. Do them well, and you'll see the results in your top line.
10 Sales Coaching Tips
The idea of building and executing a sales coaching plan can be overwhelming—often, managers insist they don't have time to coach or that their sellers are already competent. However, only 32% of sales managers are effective in getting maximum performance from their sellers.
Proper planning is half the battle, but it's just as important to stay on track and adjust your approach as you go. For that, adopt these 10 tips to make sales coaching meaningful for your sellers.
1. Set a Rhythm
Top Performers are 51% more likely to have regular, ongoing coaching.
To set a rhythm to coach your team, break down the necessary tasks into the time they'll take. These tasks can include:
Quick check-ins
Accountability checks
Deal reviews
Sales meetings
Pipeline reviews
Upskilling
Team building
You may find that the amount of time you need to spend per week with each seller is less than you think. Estimate the length and frequency of each task so you can better plan around operational responsibilities and create a consistent coaching plan for each member of your team. You can refine as you gain experience with the process.
My Sales Coaching Rhythm

Develop or refine your sales meeting coaching rhythm.

Hours Per Week
Daily Meetings

Quick checks and huddles: 10 minutes per day

1
Weekly Meetings

Accountability checks (individual): 10 minutes per week
Win Lab deal reviews (individual): 1-2 per week / average 30 minutes each
Sales meeting (team): 1 per week / 60 minutes

2.5
Bi-Weekly Meetings

Pipeline review (individual): 1 hour
Core coaching (individual): 1-on-1 check-in / 30 minutes

.75
Monthly Meetings

Review plans, results, accountabilities (individual): 1 hour

.25
Quarterly Meetings

Quarterly summary and strategy (team): 1.5 hours
Team building meeting / training: 1.5 hours

Less than .25
Average time in meetings per week per seller
Approx. 5 hours
2. Lead Valuable Coaching Conversations
Top Performers are 40% more likely to be skilled at leading valuable coaching meetings.
You have a plan for when and how long you plan on meeting with your sellers. What does each of these meetings look like?
Strong coaching conversations include three key components: Did, Doing, Do.
Did: Review commitments from the last meeting. Where do things stand? Are there any issues that require follow-up, such as lack of execution or time spent on unproductive activities? You already have the list of items the coachee committed to during the last meeting. Go through the list and discuss any challenges that prevented them from doing what they committed to.
Doing: Spend most of the conversation here, discussing the coachee's most important sales topics. For example, perhaps they have challenges around how to pursue a major sales opportunity or prospecting outreach. This is where you can coach to help them succeed. Ask questions. Identify gaps.
Do: Finally, what is the coachee going to do between now and the next session to set themselves up for success? How can you support them?
Be as specific as possible. For instance, if your seller is looking to fill their pipeline, you might consider the following questions:
How much should they prospect each day?
When will it happen?
Who else needs to be involved?
What are the expected activities and metrics?
Are these activities the best to help them achieve their annual or quarterly goals?
Wrap up the coaching conversation by having the seller write a list of shared commitments for action for you to review and adjust if needed. Use this list as the starting point for the next meeting.
3. Sustain Seller Motivation
Motivating sellers for high productivity and performance is the #1 skill of Top Performers and the greatest difference between Top-Performing Sales Managers and other managers.
Companies might use compensation, bonuses, and incentives to motivate, but it often takes more to drive sellers to achieve at their highest level. More importantly, motivation needs to last to keep sellers invested and performing at their best.
In our Extreme Productivity research, we found that extremely productive people are more likely to be driven, but the exact source of this drive varies. This is because motivation isn't static—it can be developed and enhanced. When your team's motivation is high, you get maximum effort and proactivity from them daily.
Sellers may be motivated by many different factors, including compensation, incentives, achievement, altruism, advancement, creativity, recognition, or leadership. Once you learn what motivates an individual seller, you can build a coaching plan with that in mind. Wherever possible, focus less on short term incentives and more on building healthy habits to sustain motivation.
As a sales coach, you're in a prime position to motivate sellers for productivity and performance by helping them visualize how they can achieve their goals and providing resources and support for them to get there.
4. Help Sellers Build a Goal and Action Plan
Top Performers are 41% more likely to excel at helping sellers build meaningful goal and action plans.
One of the five coaching-related roles of sales managers is to coach sellers for focus and action planning: helping sellers target the right areas to spend their time and effort and avoid distractions.
Goal and action plans provide the map to help sellers stay on track.
Most goals start to look a lot more achievable when broken down into smaller ones and linked to specific actions. Start with the big-picture goal, 3-year goals, and annual goals. Then, create an action plan by breaking out the specific activities that will help achieve those goals.
Use our Goal Setting Worksheet to help you and your sellers build meaningful and achievable goals and action plans which include the following steps:
Set Your Goals: First, what is your long-term, big-picture goal? Next, what is your three-year goal? Finally, your annual goal?
Plan Your Actions: Identify the actions you need to take to reach your goals. Break this down by quarter, month, week, or even day. Identify quarterly priorities, monthly objectives, and related success metrics. Identify your Greatest Impact Activity, the task that will give you the biggest return for the time spent.
Change Habits: What habits will help you achieve your goals? Identify habits you want to change and the steps you'll take to change them.
Master Your TIME: You can think about the time you spend in four levels. Map out where your time is being spent: minimize the time spent on mandatory or empty tasks. Maximize time spent on investment activities that generate outsized returns and treasured time spent doing what makes you happy.
Set Boundaries and Avoid Distraction: What behaviors interfere with your ability to complete the task? Identify what distracts you. Don't get drawn into other people's priorities. Complete a "to don't" list to hold yourself accountable.
5. Prioritize Productivity
Sellers who work for Top-Performing Sales Managers are significantly more likely to be stronger across all nine productivity factors studied.
Building a culture of productivity on your team starts with you as a manager: you can't prioritize coaching if you're struggling with your own productivity. Assess yourself on the following nine factors to learn where you can improve.
Do you:
Get the most done and produced in the time available?
Sustain energy for long periods of time?
Focus on your own agenda without getting derailed by those of others?
Change your habits when needed?
Maximize time spent on activities that drive the best results?
Hold yourself accountable to your commitments?
Stay proactive?
Not allow yourself to be distracted?
If not, you'll have a difficult time coaching your sellers to get the best outcomes from the time they spend working.
While all these factors are important, I'd like to highlight accountability, especially when it comes to the consistency necessary for a sales coaching plan to work. Top Performers are 1.3x more likely to have a manager who excels at holding them accountable to their stated goals.
6. Advise on Specific Situations
Top Performers are more likely to excel at coaching sellers on a variety of tasks, such as leading great sales conversations (52%), winning sales opportunities (45%), growing accounts (47%), and filling their pipelines (30%).
While coaching is often proactive rather than responsive, it's sometimes necessary for coaches to turn situations into learning opportunities.
Any advice given should be prompt, specific, and tied into an existing area of development if possible. For instance, if a seller excels in a specific part of a sales call, focus on it immediately. What did they do well? Brainstorm actionable steps the seller can take to repeat their success.
Sellers might also need guidance on how to solve a problem, such as closing a deal or negotiating with a persistent buyer. In these cases, give your sellers the opportunity to talk to you about what they're experiencing. You don't have to interrogate them about their issues, rather, encourage conversations in which they feel comfortable being honest about the challenges they're facing.
7. Create a Seller Development Plan
Top Performers are 37% more likely to excel at coaching sellers to build sales skills.
The Seller Development Plan outlines the seller's areas of development focus. Start broad and work your way in. Call out the skills, knowledge, or attributes you want your sellers to build. From there, note their current proficiency in these areas and where you'd like them to be at the end of this plan.
The plan for how to develop these areas doesn't have to be complicated, but it should at least include relevant programs, learning materials, or resources sellers can use to get there. Lastly, include how proficiency will be measured or determined.
| | |
| --- | --- |
| Seller Name: Tony Mann | Last Updated: October 22 |
Overall Areas for Development Focus
Lead more thorough and effective needs discoveries
Make the ROI case compellingly
Create and present highly-effective proposals
Become much better at large opportunity pursuit intensity
Skills, Knowledge, Attributes
Proficiency


Low 1 — 5 High

Plan to Develop


Including training and coaching

Testing for proficiency
Now
Target
Skills
Influencing Buyer Agenda
3
4
Advanced Consultative Selling skills training
Call Reviews
Knowledge
Insight about financial services industry
3
5
Weekly reading and discussion of industry news; get subscription to 2 leading magazines
Discussions during coaching; knowledge share to team at monthly meetings
Attributes
Motivated and productive
2
4
Attend 9 Habits of Extreme Productivity program
Weekly action plans and reviews; calendaring Investment time
8. Build Specific Sales Skills
Managers of Top-Performing teams are 1.5x more likely than other managers to strongly agree they excel at coaching sellers to build selling skills (48% vs 32%), but there's a big disconnect between managers and sellers. Only 33% of Top-Performing Sellers strongly agree their manager excels here, and just 25% of other sellers.
There's a lot of work sales coaches should be doing to foster skill development, but the results speak for themselves for coaches who do it well.
As mentioned above, we've studied 85 selling skills and behaviors across 12 categories. A regular, ongoing schedule of coaching sessions is positively correlated with higher seller skills in all categories:
Relationships
Needs Discovery
Conversations & Communication
Solution Crafting
Value Case Making
Advancing the Sale
Productivity
Negotiating
Prospecting
Account Management
Virtual Selling
Dig deep and identify the skills your sellers should focus on as specifically as possible. Two sellers may be struggling with negotiation but coaching to create better solutions will be very different than coaching to manage buyer negotiation tactics. In some cases, supplemental sales training can help bridge skill gaps and solidify your team's capabilities.
9. Support New Hires
Sellers with less than 5 years' experience are 240% more likely to be a Top-Performing Seller when they have an effective manager.
Every new seller represents a significant investment to train and develop. Because of this, hiring and retention are both important. Modern sellers are more likely to change jobs if they feel an organization isn't a good fit. Without strong training or coaching, skilled sellers often get frustrated by the lack of support and leave.
As a sales manager, it's up to you to shorten time to performance and maintain support throughout the tenure of a new seller. It's never too early to start thinking about a seller's development and how you can help them reach their goals.
10. Assess the Status Quo
Most sales coaching is conducted on an individual level but improving as a team is just as important. Take an honest look at your team's performance and summarize three to five areas your entire team needs to improve for overall success.
It's important to also assess yourself. Write out how your coaching strategy will be different, so you're not tempted to slip into old habits. Define success metrics for your team to measure progress and rethink your methods as necessary.
Sales Coaching That Matters
Strong management helps keep a team going, but it's sales coaching that drives sellers to achieve at their fullest potential. Don't make the mistake of neglecting your sales coaching roles—even your best sellers have areas where they'll benefit from sales coaching.
Every sales coaching plan will look different. Remember that coaching is collaborative: if something that worked with one seller doesn't work with another, talk to them about it. With a bit of effort, you can invest in your sellers, keep them engaged, and drive performance.
1. ICF, Association Resource Centre Inc. and PricewaterhouseCoopers LLP, ICF Global Coaching Client Study, 2009.
2. Harvard Business Review, https://hbr.org/2018/08/most-managers-dont-know-how-to-coach-people-but-they-can-learn
3. Harvard Business Review, https://hbr.org/2019/03/the-feedback-fallacy