This article was originally published on the Sales Enablement Society.


Sellers often complain that it's impossible to get through to buyers. Gatekeepers are tough. Buyers are busy. Calls go to voicemail. Email goes to junk. The list goes on.
While getting through certainly isn't easy, sellers who work at it do get through. In fact, 82% of buyers say they accept meetings at least sometimes with sellers who reach out to them.
In our research study on sales prospecting, we asked 488 buyers who represent $4.2 billion in purchasing power which factors influence whether or not they connect with a seller.
The most influential factor for a buyer to connect with a seller is their need for the product or service, whether it's now or in the future. This is something the seller can influence, but not control directly. The following figure shows other factors that influence buyers to connect:


Factors that Influence if a Buyer Connects with a Seller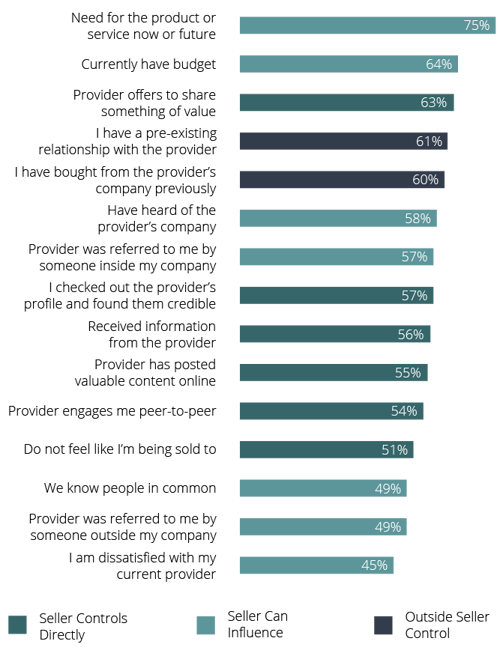 Factors You Directly Control
You can directly control many of the factors that get buyers to open doors. Make sure you:
Offer to share something of value: Lead with a value-based offer and a reason to connect.
Update your profile: Update and complete your LinkedIn profile, including a professional picture, recommendations, endorsements, awards your company has won, and examples of clients you've worked with. This will add credibility.
Send information to the buyer: Send relevant information to your target buyers through email and direct mail.
Post valuable content online: Share your organization's content, such as white papers and blog posts, on your own profile. Be active in LinkedIn Groups and other industry association forums.
Avoid making the buyer feel like they're being sold to: People want to connect with people. Build real relationships by focusing on the business value you can provide and not necessarily on what you have in the bag to sell to buyers today.
Factors You Influence
You may look at need, budget, or whether the buyer has heard of your company and think that many of these factors are out of your control. On the contrary, you can influence almost all the factors on the list by considering the following:
Need: Buyers might not perceive the need for your offering, but they may want the results your offering can bring. It's up to you to educate buyers and inspire them with what you can do. If you can connect their goals to what you offer, a need may arise.
Budget: Buyers usually have no budget for new possibilities and unseen challenges. Senior-level buyers often never have a budget; they invest when they see an opportunity. Inspire buyers with the opportunity you bring. Budgets will appear.
Awareness of your company: Don't leave this to marketing. Run multi-touch attraction campaigns, reaching out to buyers via phone, email, social media, and direct mail. Do this and you can create your own awareness with your ideal buyer.
Referrals: Find contacts in the buyer's company and ask for referrals. Make new contacts and do the same. Constantly seek ways to connect and build relationships with new people. You'll get introduced through your connections and effort.
Common connections: Make utilizing LinkedIn and relationship-building an ongoing effort. If you do, connections in common will be inevitable.
Dissatisfaction: Buyers may not know they should be dissatisfied until you show them a new reality exists. Our article, Overcoming 3 Common Cold Calling Objections, offers three ideas for how to respond when a buyer says they're already working with someone.
You influence much of what needs to happen to get on your buyers' calendars. Stop making excuses and start influencing buyers in these ways.