In What Sales Winners Do Differently, we studied over 700 purchases from the perspective of business-to-business buyers to find out what really happened in their buying experiences.
In our research, we looked at the factors that most separate sales winners from second-place finishers. These are the essential selling skills you need to find yourself in the winner's circle.
The 10 Essential Selling Skills



1. Educate

Sales winners educate buyers with new ideas and perspectives 2.9X more often than second-place finishers.




2. Collaborate

Top Performers rate their processes to work collaboratively with accounts to co-create value much higher than The Rest.




3. Persuade

Sales winners are much more likely to persuade buyers that they will achieve results.




4. Listen

Buyers report that 40.3% of second-place finishers didn't listen to them.




5. Understand needs

Buyers want sellers who "get it."




7. Craft compelling solutions

Buyers report that 7 out of 10 sales winners craft compelling solutions.




8. Build trust

Sales winners set and meet expectations and build trust with buyers. They also depict the purchasing process accurately.




9. Build relationships

62% of sales winners connect with buyers personally compared to only 45% of second-place finishers.




10. Differentiate based on value

Provide maximum value compared to competitors.
In the infographic, we share what you need to do to master each of these essential selling skills and boost your sales success.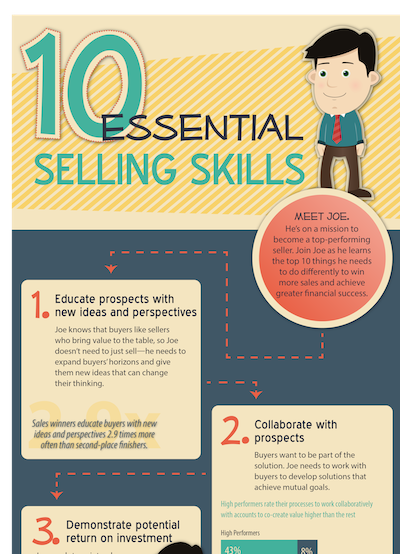 Do you want more tips, scenarios, and examples that will help ensure you're interacting with buyers the way they want? Download our Success Guide for Maximizing B2B Sales.