Sales Training Defined 
Sales training is the process of improving seller skills, knowledge, and attributes to drive seller behavioral change and maximize sales success. Effective sales training should be viewed, designed, and executed as a change management initiative.
Sales training has reached an inflection point. Typical sales training—tailor a program, deliver training—is failing to meet the needs of modern learners and organizations.
Companies are spending billions of dollars a year, yet 85% to 90% of sales training fails.
The fact is significant amounts of time, money, and effort are wasted on corporate training every year. Much of it fails to change habits, enhance skills, or create significant ROI. Think about the training you've invested in over the years. How effective has it truly been?
Here are some statistics on the shocking failure of traditional training:
70% of the information B2B sales reps learn is forgotten within a week of training (Gartner)
90% of new skills learned from corporate training are lost within a year (Human Performance)
An estimated 90% of training expenditures don't result in improved performance (International Journal of Training and Development)
Only 21% to 25% of executives report their company's training effectively prepares employees to drive business performance (McKinsey)
33% of leaders say their organization's learning strategy and business goals are aligned to a high extent, and only 16% are aligned to a very high extent (CTDO Magazine)
Only 38% of managers believe training programs meet their learners' needs (ATD)
Yet, at the same time, it turns out that Top Performers are significantly more likely to receive effective sales training.
Sales Training Effectiveness
| | |
| --- | --- |
| Source: RAIN Group Center for Sales Research, The Top-Performing Seller. | Source: RAIN Group Center for Sales Research, The Top-Performing Sales Manager. |
Which begs the question: How can you ensure your sales team gets effective sales training?
For today's sales training to be effective, we've found it needs to go beyond traditional training. It must be:
Crafted to drive business results (this includes first defining the specific results you want to drive)
Built for adult learners and delivered in specific ways so it's retained and applied
Designed so it supports sellers with ongoing coaching and enables organizations to realize results over the long-term
I'll dig into all three of these areas—part of what we call Execution Assurance—later, but I want to draw attention here to the learners. Who are the modern learners frequently overlooked in traditional sales training? How do their learning preferences differ from learners of the past?
Today's sales training participants are dominated by Millennials and Gen Xers, with plenty of Gen Zers and Boomers in the mix. But, across generations, what we're seeing is that modern learners don't want to sit for hours being lectured to—whether the training is onsite or virtual. Further, sellers and sales managers have a low tolerance for training that's not directly applicable to their needs, which means they'll disengage when training misses the mark.
Instead, modern learners want training that is:
Immediately accessible and mobile
An experience, not a presentation
Collaborative between the learners, not just experts
Personalized to their situation and circumstances
Easily applied to their specific role
For today's sales training to be effective, it must meet sellers and sales managers where they are.
The most effective sales training focuses on true behavior change. Skills need to be learned, absorbed, and applied on the job. When done right, training can help organizations achieve their growth goals, such as increasing win rates, growing strategic accounts, improving sales cycle time, building pipeline, increasing average deal size, and more.
The global market for sales training is approximately $4.6 billion, yet most sales training fails to deliver lasting results.
This is because most companies don't define and approach sales training properly. Often, training is treated as a 1- or 2-day program with no follow-up. Sellers are left to their own devices, expected to retain the information from training and recognize where to apply it.
When you consider that 70% of B2B sales reps forget the information they learn within a week of training, it's no wonder most sales training doesn't produce the desired results over the long term.
To deliver effective sales training, redefine what sales training is. Focus on changing sellers' behavior to drive sales results and support the effort as an ongoing change management initiative.
What Are the Different Types of Sales Training?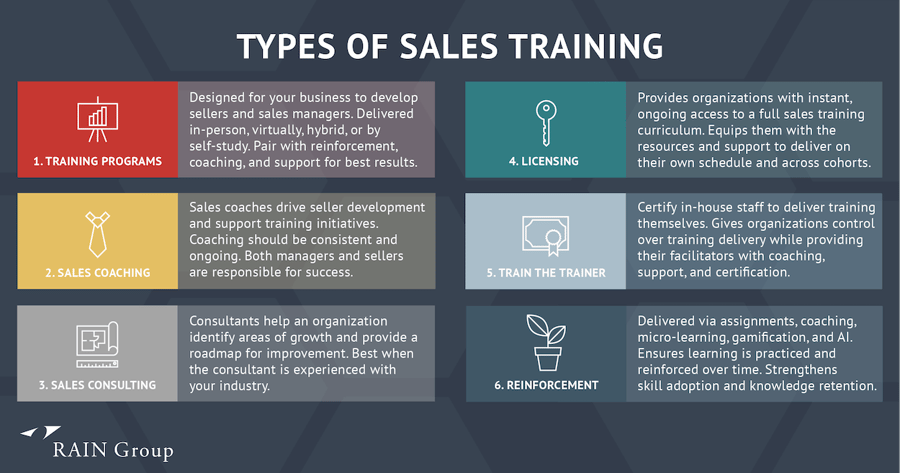 1. Sales Training Programs
Training programs are designed to develop the selling and sales management competencies of sellers and sales managers. The most effective sales training programs are more than one-hit-wonders: they provide the ongoing support teams need to create lasting behavior change. The best programs also align with the organization's key business metrics to ensure goals are met and measurable improvement is achieved.
Sales training programs are available in a variety of areas ranging from consultative selling and prospecting to negotiating, strategic and key account management, sales management, and personal productivity.
2. Sales Coaching
One of the best ways to make sure training sticks and is applied in actual selling situations is through sales coaching. Coaching can help sellers improve skills, win specific sales opportunities, grow accounts, achieve sales goals, and accomplish action plans.
But too often this critical component is skipped, frequently after a significant investment in training has already been made. Everyone—individual sellers, entire sales teams, and organizations—pays the price.
As our research shows, sellers are 63% more likely to be a Top Performer when they have:
An effective sales manager
Regular ongoing sales coaching
Effective sales training
Take any one of these away and the likelihood of achieving top sales performance declines.
Meanwhile, an effective sales coaching process helps individual sellers and entire sales teams to build skills, reinforces what they learn, and holds them accountable to achieve goals and plans.
3. Sales Consulting
Your leadership team likely has plenty of ideas about what could be done to improve sales. But with competing priorities around people, structure, process, compensation, management, and training, it's difficult to know where to begin and what to prioritize.
An experienced sales consulting partner can offer expert insight and analysis to help organizations identify opportunities for the greatest revenue growth potential. Moreover, they can provide a roadmap with specific next steps and a complete sequence of actions to ensure organizations achieve their potential.
4. Licensing
A license that gives your entire sales team access to an innovative and comprehensive sales curriculum can help you get the greatest results from your training investment.
For example, at RAIN Group, we offer clients the opportunity to embed our complete educational system into their sales organization. The RAIN Group Total Access license gives your team access to our complete suite of sales training programs, online learning, performance support tools, learning journeys, and other resources.
5. Train the Trainer
One of the most important factors for a successful training initiative depends on the quality of facilitation. Success hinges on the trainer's ability not only to fully engage participants, but also gain their confidence and be seen as an expert guide.
A train the trainer process allows organizations to have their own facilitators trained to deliver sales training programs. RAIN Group's Train the Trainer process, for example, can certify an organization's trainers to implement our sales methodology for their sales team. This gives the organization more flexibility and control over program delivery, while in-house trainers receive the coaching, support, and certification to deliver sales training that drives change and achieves goals.
6. Reinforcement
For all types of sales training, bespoke reinforcement is necessary to ensure sellers retain and apply new skills. Reinforcement can be delivered in a variety of ways, such as:
Assignments
Coaching
Gamification
Micro-learning
AI tools
Whatever the method, reinforcement should be designed to create new habits and help sellers integrate skills into their selling processes. In addition, for reinforcement to be effective, results should be rigorously tracked. Ongoing monitoring and follow-up gives structure to training reinforcement and allows you to benchmark your team's progress toward achieving goals.
The impact of reinforcement can't be understated—77% of learning is forgotten within 6 days if not reinforced.
What Are the Benefits of Sales Training?
When done right, sales training changes sellers' behavior and improves business results.
In fact, our research shows highly effective sales training is correlated with three key metrics: win rate, sales goal attainment, and premium pricing:
Respondents with extremely/very effective sales training report average win rates that are 7 to 11 points higher than those with less effective training
76% of respondents with extremely effective sales training met their sales goal compared to only 31% of those with the least effective training
91% of respondents with extremely effective sales training achieved premium pricing compared to just 43% of those with the least effective training


Average Win Rate by
Sales Training Effectiveness
Training Effectiveness
& Sales Goal Status
Training Effectiveness
& Premium Pricing

Source: RAIN Group Center for Sales Research, The Top-Performing Seller.
The best sales training can result in both strategic and financial benefits for the organization:
Increase win rate on proposed business
Increase average size of sale
Achieve premium pricing
Improve sales margins
Grow existing accounts
Win more business with new accounts
Build a culture of sales achievement
Increase effectiveness of sales leadership and management
And so on
But to achieve these outcomes, organizations must approach training with their business goals in mind, and work with their training provider or internal training and enablement teams to determine how best to achieve those goals.
The actual outcomes should be specific to the organization, but below are examples of some common benefits organizations can achieve from effective sales training initiatives. Use a framework like this one to reflect on the current state of your sales training and how can you achieve a new reality with an effective sales training initiative.
EFFECTIVE SALES TRAINING BENEFITS

What's the current state of your organization's sales training?

Current State east

New Reality

Current training initiatives fail to change the status quo and achieve results

Effective training is delivered by a training partner, driving change and delivering results.

Sellers spend too much time out of the field at an excessive travel cost to attend ineffective training

Effective sales training minimizes time of out of field by using an approach that combines in-person and virtual instructor-led training, along with additional modalities.

Training doesn't develop your sellers' skillset.

A competency-based approach to training includes certification and is easily tailored to your organization's and sellers' needs.

Training is boring and generic.

Training is engaging and easily tailored to be directly relevant to selling situations.

Sellers struggle with sales conversations across the board and struggle to provide maximum value to buyers.

Sales conversation training raises the bar on sales conversation success. Sellers can inspire buyers, tell stories, and sell ideas in a compelling way. Across the board, sellers build, communicate, and sell value consistently.

Sales managers do not inspire top performance from their sellers.

Effective sales management and coaching training helps managers maximize their sales team's motivation, focus, and results. Managers regularly coach sellers to drive significant wins and consistent account growth.

Training consists of a jumbled mix of methods or confusing programs.

Effective sales training ensures a durable method is embedded in the organization and results are achieved.
These are just a few examples. Ask yourself, "What's the current state of our organization's sales training?" Then, consider what the new reality would look like with an effective sales training initiative. An experienced sales consultant is a valuable resource here—they can help you do this analysis and develop the blueprint that will get you to your desired results.
Want to learn how RAIN Group has helped organizations achieve sales results? Read our client success stories. >>
Measures of Sales Training Success
Your sales training provider should work with you to identify what your sales training goals are and how these goals will be achieved, as well as work with you to determine how success will be measured. If your current provider isn't doing this, it may be time to search for a new one.
Key performance indicators (KPIs), identified at the outset of a training initiative, are used as measures of success. Common examples of KPIs, which will vary based on your objectives, may include any of the following:
Lead Measures
Weighted average pipeline size
Pipeline growth
Sales activity (e.g., outbound activity, meetings)
Sales productivity (e.g., time spent selling)
Sales method and process adoption
Deal reviews (Win Labs) conducted
Sales skill progress/certification
Satisfaction with training
Seller engagement
Seller action plan clarity
Lag Measures
Win rate on proposed sales
Average sale/order value
Time to productivity
Percent attainment of sales goal
Discounting/profitability of sales
Average account revenue
Average revenue per seller
Repeat business rate/churn
Length of sales cycle
Sales force turnover rate
Discover additional sales metrics that may be relevant for your business in our Essential List of Sales Metrics.
Who Is Sales Training For? 
Sales training isn't just for sellers. Where capability gaps exist, skills must be developed for all sales professionals and sales managers in an organization.
1. Sales Professionals
With titles such as sales rep, inside sales, field sales, business development rep (BDR), account manager, account or sales executive, customer service rep (CSR), seller-doer, professional or business service provider, and more—these sales professionals are responsible for some or all aspects of working with buyers in the sales cycle.
This means, depending on the role, they need to develop and maintain a high level of capabilities in a variety of areas. This could include sales conversations, advanced consultative selling, winning major sales, strategic and key account management, sales prospecting, sales negotiating, virtual selling, and personal productivity. Learn more. >>
2. Sales Managers
Managing a sales team is one of the more challenging, and more important, roles in any company. Your sales managers will make or break your sales team.
The manager's impact is especially strong among newer sellers. According to our research, newer sellers are 240% more likely to be a Top Performer when they have an effective manager. And those sales managers are 46% more likely to be effective when they themselves have received effective training.
240%

Sellers with less than 5 years' experience are 240% more likely to be a Top-Performing Seller when they have an effective sales manager.

71%

Top Performers are 71% more likely to have a manager who excels at motivating for high productivity and performance.

46%

Top-Performing Sales Managers are 46% more likely to receive extremely/very effective training.
Source: The Top-Performing Sales Manager Benchmark Report, RAIN Group Center for Sales Research
240%
Sellers with less than 5 years' experience are 240% more likely to be a Top-Performing Seller when they have an effective sales manager.
71%
Top Performers are 71% more likely to have a manager who excels at motivating for high productivity and performance.
46%
Top-Performing Sales Managers are 46% more likely to receive extremely/very effective training.
Source: The Top-Performing Sales Manager Benchmark Report, RAIN Group Center for Sales Research
Too many managers, however, don't get the support they need to be successful in the role. This frequently includes high performing sellers who find themselves promoted to manager and are expected to immediately excel at managing in the same way they did selling. Yet, the two roles require different skill sets.
Sales managers must excel in a variety of areas, such as knowing how to lead successful team and one-on-one meetings, coaching sellers to build skills and motivating them to consistently achieve sales targets, forecasting, and interviewing and hiring sellers who will become top performers.
Providing an effective sales management training program gives sales leaders the knowledge, skills, and tools they need to motivate sellers, hold them accountable, and coach them to top performance.
What Are the Skills You Can Learn with Sales Training?
Sales training can be focused on specific selling topics or skills development. Sales training programs are available that cover the spectrum of the sales process, ranging from finding new clients and winning sales opportunities to growing accounts and managing sellers.
Sales training topics that are core to driving the greatest success and improvements in sales competencies include:
1. The Power of Consultative Selling  
Consultative selling is a sales approach centered around understanding buyer needs and positioning offers as solutions to problems. Though the utility of consultative selling has changed over time, it's fundamental to uncovering needs, building relationships, and crafting solutions. Modern consultative selling takes this idea a step further by inspiring buyers with new ideas and changing their thinking and agendas in critical areas. This method of advanced consultative selling is known as insight selling. 
2. Filling the Pipeline with Qualified Buyers  
Sales prospecting training gives sellers a roadmap to improve their outreach and connect with buyers early and often so they maintain an active pipeline of buyers. Training includes topics such as how to create prospecting campaigns, craft offers, breakthrough to buyers, and set meetings. 
3. The Keys of Sales Negotiation   
Negotiation is critical for sellers to keep margins, customer profitability, and satisfaction high. Training aims to coach sellers to focus on value over price and create value on both sides. It also addresses common negotiation tactics used by buyers and how to overcome them.
4. Winning More Opportunities 
Strong selling isn't done in a vacuum—it's the result of a comprehensive sales strategy. Opportunity management training helps teams establish a systematic and repeatable process for creating winning strategies. It also encourages sales teams to approach each sale from a customer-centric point of view. 
5. Growing Strategic and Key Accounts
Selling to existing accounts is one of the biggest untapped opportunities for revenue growth. Strategic and key account management training helps sellers systematically review and grow their most important accounts. 
6. Succeeding with Virtual Selling
With the unprecedented level of virtual interaction happening in the world today, sellers face more challenges now than ever before. Modern sales teams need to be prepared for both in-person and virtual selling to succeed. Virtual selling training helps sellers adapt and thrive in this new sales environment.
7. Improved Sales Productivity and Accountability 
Mismanaged time doesn't just derail focus and productivity—it affects your sales results. Keeping your sellers motivated is essential to seeing consistent success. Most sales training misses this key element: a sales-focused productivity program that empowers sellers to get more done in the time they have.
8. Sales Management
The skills that make a successful seller are very different than those that make a successful sales manager. In fact, managing a sales team is one of the most difficult jobs in any organization. Sales management training helps managers unlock their team's potential and drive results. 
9. Sales Coaching
There is perhaps no greater leverage point—and perhaps no greater typically untapped leverage point—to increase sales performance than sales coaching. Yet, 66% of organizations don't believe their managers have the skills needed to manage and coach their sellers. Sales coaching training gives sales managers the tools they need to motivate their sellers to become more proactive and successful.
Best Sales Training Topics to Build Skills
Which topics should your sales training cover? It depends on the team's current capabilities and areas that need to be strengthened.
Below are just a few of the top areas where sellers often fall short. Consider adding one or more these topics to your sales training initiatives.
1. Leading a Thorough Needs Discovery
You might think your sellers have this core capability covered, but think again. Only 26% of buyers say sellers lead a thorough needs discovery. Training on leading an effective needs discovery process helps sellers craft solutions that deliver value to the buyer. (See the power of consultative selling above.)
2. Overcoming Objections
How sellers respond to buyer objections will determine the course of the sale. Consultative sales training helps sellers practice appropriate responses to the four types of objections. When they're prepared, sellers are more likely to overcome objections and move the sale forward to a successful outcome.
3. Qualifying the Sale
Sellers frequently have to make tough decisions about which sales opportunities deserve their time and attention and which they need to move on from. Having a process to rapidly qualify a sale allows sellers to separate the opportunities that warrant further pursuit from those that don't.
4. Winning Sales Opportunities
The #1 skill of Top-Performing Sales Organizations is the ability to drive and win sales opportunities. Training that teaches sellers to use a repeatable process—with the help of a sales opportunity planner—equips sellers to generate ideas that win sales.
5. Making a Powerful Impact and ROI Case
Sellers can close more sales when they're able to quantify the impact of their solution and make a strong business case to buyers. This is an area where most sales teams can improve.
6. Growing Strategic and Key Accounts
Top Performers in Strategic Account Management are 80% more likely to have a mature process for strategic account management, including strong processes to build account plans, identify value, and hold teams accountable.
7. Dealing with Common Buyer Negotiation Tactics
Sellers need to know how to respond to common negotiation tactics buyers use. Training can help sellers recognize the different types of buyer tactics and practice an effective response.
8. Maximizing Motivation and Productivity
Motivation and personal effectiveness are hallmarks of top performers. Indeed, our research found Top-Performing Sellers are more likely to be highly rated across nine major productivity areas compared to other sellers. Productivity training helps sellers and sales managers use their time effectively and maximize motivation so they achieve the best results.
9. Building Pipeline with Sales Prospecting
The best sales prospectors set 2.7x more meetings, meet their sales goals, and achieve higher win rates. Training here gives sellers the tools, techniques, and repeatable processes that allow them to build strong pipelines.
10. Train the Trainer: A Combined Sales Training Approach 
One way to improve the effectiveness of sales training for organizations with internal learning and development resources is to train and certify your in-house sales trainers and facilitators to deliver a world-class sales methodology.
For example, in RAIN Group's Train the Trainer process, trainers not only learn a world-class sales methodology, but also earn the certification to deliver that training to the organization's teams. Certification ensures trainers are proficient in training outcomes, preparation, delivery approach, and management.
RAIN Group's Train the Trainer process includes four key elements:
Setup and Kickoff: Trainers are provided self-study lessons, video walkthroughs, best practices, run sheets, facilitator notes, and other resources to set the table for success.
Study and Prepare: Trainers study learning modules, previous training deliveries, and other resources, while working with a master facilitator to prepare for their own delivery.
Observe and Certify: Trainers are certified after successfully delivering an internal session which is review, scored, and debriefed by a master facilitator.
Support and Elevate: Trainers receive coaching on facilitation, which includes pre- and post- review sessions and an ongoing partnership to improve quality over time.  
Read more about these and other sales training topics here: Sales Training Topics to Drive Results
How to Build an Effective Sales Training Program 
At RAIN Group, we believe that the best sales training is built on three pillars: Craft, Deliver, and Enable. We call this the Execution Assurance Framework.
Execution Assurance Framework
Craft
During the craft phase, think first about the business results and metrics you're seeking to drive and then develop a change strategy to achieve them. Define and agree on the measures by which the success of the initiative will be assessed. Next, develop a communication plan that clearly articulates expectations for all parties. Many transformation initiatives fail because the communication of expectations was not clear and not frequently shared.
Prior to delivery, the training must be perfectly aligned with the organization's world—your customers and selling environment must be deeply understood. Barriers to achieving top performance should be identified.
Finally, the training curriculum and programs should then be specifically tailored to drive the desired change.
When it comes to crafting sales training, consider the following questions, among others:
Which sales metrics are more likely to drive success?
What are your organizational goals?
What sales roles will be undergoing training?
What results are you looking to achieve with training?
What sales training topics are most relevant for your organization?
Who will carry out the training?
How will training be reinforced?
How will you monitor progress and results?
What is the desired timeline for training?
How will leadership be involved in training and reinforcement?
Are your sales managers willing and able to coach sellers?
What are your expectations for sellers undergoing training?
How will you keep training interactive and engaging?
How will the training tie into existing selling activities?
How is the training relevant for your industry?
Deliver
Sales training delivery should be:
Modular: Focused, standalone units (modules) of instruction that can be organized into curricula specific to learners' and the organization's needs
Multi-modal: Available in a variety of modalities, such as instructor-led (onsite and virtual), train the trainer, and licensing, and formats, such as micro-learning, video, and so on
Purpose-built for the modern learner: Practical, interactive, and impactful
In other words, sellers need training they can put to use immediately to achieve results. This means the training needs to ensure the development, adoption, and implementation of new skills.
For example, pre-work in advance of training sessions may include some combination of micro-learning, short videos, and interactive exercises. This would be followed by classroom sessions delivered virtually or in person, and which focus on practice, application, and coaching feedback. Don't think lectures; think hands-on learning.
To learn more about our approach to training, watch the video below.
Enable
A leader-led transformation—change management—is enabled through manager training and a coach-the-coach process.
Sales leaders are equipped with the skills and tools to motivate, focus, and ensure their sellers implement the new approach. A regular, ongoing rhythm of action-oriented coaching allows sales managers to provide direct feedback to sellers, reinforces the skills and knowledge learned during training, and holds sellers accountable to execute at high levels.
Reinforcement such as coaching, spaced repetition, ongoing access to a training library and tools, emailed scenarios to reinforce content or skills, and embedded technology combine to boost sales training effectiveness.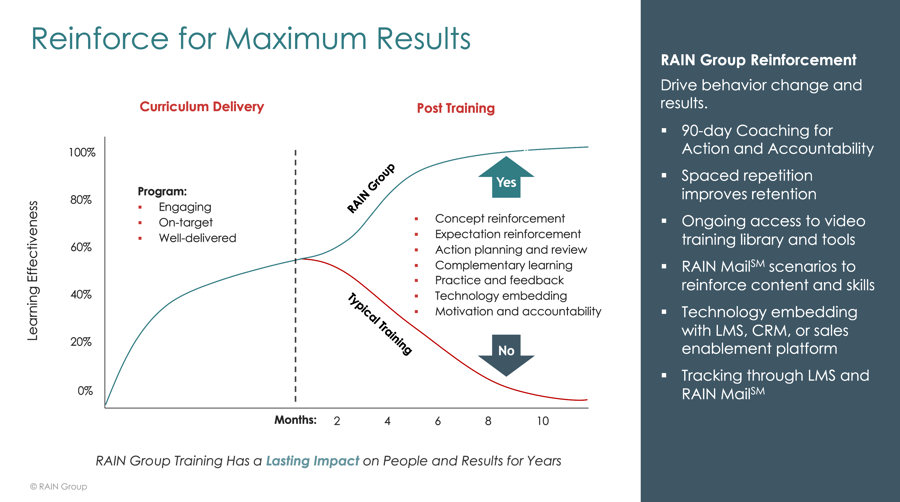 Sales teams build confidence week by week. Progress is monitored with ongoing measurement and reporting on metrics.
The result of this approach is that the training gets adopted, change happens, and business results get delivered—execution is assured.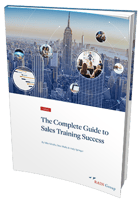 In this sales training guide, we walk you step-by-step through developing a sales education system that not only builds sales team capabilities, but also enables sellers to apply those capabilities and transform the way they sell.
6 Sales Training Ideas to Keep Your Training Fresh 
Move your sellers out of their comfort zone and into the learning zone by offering impactful training they'll actually retain and use on the job.
Here's a sampling of ideas you can incorporate into your training to keep it fresh and impactful.
1. Assess Sales Skills in a Self-Assessment
Allow sellers to take a sales skills self-assessment—it gives them the opportunity to honestly assess their selling capabilities. Which skills can be strengthened? Which are important to the seller's success? To be effective, be sure to assess on capabilities key to being a top-performing seller.
2. Build a Goal and Action Plan
Keep sellers on track and focused on the activities that'll allow them to achieve their goals by encouraging them to create their own goal and action plans. Our five-step goal-setting worksheet can be used by sellers to build their plan during the training session and as a point of follow up with subsequent coaching and one-on-one meetings.
3. Use a Sales Conversation Planner
Have sellers use a sales conversation planner to prepare for important buyer conversations. A completed conversation planner prepares sellers to get the best possible outcomes from their sales conversations with buyers.
4. Practice a Proposal Presentation
Sellers record themselves doing a practice delivery of a proposal and then get feedback from colleagues or a coach. Sellers gain perspective on the strengths and weaknesses of the presentation. They can also test out different openings, closings, or any presentation component before trying it in front of actual buyers.
5. Practice a Simulated Sales Negotiation
An online simulated sales negotiation, like the one RAIN Group offers, gives sellers the opportunity to practice their negotiation skills based on real negotiation scenarios. This prepares sellers to negotiate and interact with actual buyers so they achieve the best outcomes.
6. Complete a Prospecting Meeting Calculator
Give sellers a prospecting meeting calculator to determine how many new meetings they need to set on average, and each week, to meet their revenue goals. Walk through examples specific to your business so sellers can see how improving their pipeline and conversion rates can have a bit impact on results.
To learn more about these and many other sales training ideas, read 30 Sales Training Ideas for Top-Performing Teams.
 Sales Training Techniques for New Trainers 
The sales training techniques you incorporate into training can help sellers (and their managers) absorb new information and develop skills. RAIN Group's sales training incorporates a wide variety of such techniques to unleash sales team potential.
Here are just a few examples.
Deliver focused blocks of training modules: Too much training is theoretical, meandering, and impractical. Sellers have a low tolerance for irrelevant, unfocused training. Instead, deliver modular blocks of learning, focused on a specific area, and tailored to your team's selling situations.
Create customized content: Avoid generic training content. Instead, customize case studies, examples, tools, playbooks, and job aids to make the training directly applicable to the sellers' industry, company, offerings, and selling situations.
Create engaging assignments: Role playing scenarios, demonstrations, practice proposal presentations—assignments such as these and others can drive post-training reinforcement, as well as provide opportunities for coaching.
Use accountability partners: Have sellers pair up with a partner with whom they'll share their priorities and do progress check-ins on a weekly basis. Research has shown that being accountable to someone other than ourselves increases the chances of success.
Learn more about these and other sales training techniques.  
Why Does Sales Training Fail?
Sales training is a multibillion-dollar business. In the U.S. alone, it is estimated to be more than $5 billion (according to Dave Stein in Sales Training: The 120-Day Curse from ES Research Group). Yet, also according to Stein, between 85% and 90% of sales training has no lasting impact after 120 days. If we do the math, that amounts to somewhere north of $4.25 billion of unproductive training.
When sales training is ineffective—and much of it is, as highlighted earlier—you're not going to see your desired results because ineffective training won't drive behavior change in sellers.
Trainers and facilitators may share knowledge, but it means little if your sellers don't retain what they've learned and apply those skills in actual selling situations.
If sales training lacks accountability, isn't tailored for the cohort, or isn't retained, it won't be effective. Fortunately, each of these issues can be resolved.
1. Lack of accountability
If sellers aren't held accountable to follow through on their goals and action plans, it's less likely to happen. Instead, enable and empower sales managers to provide the coaching and support required to keep their teams accountable.
Without leadership buy-in, sellers revert to old habits and are less likely to integrate learning into their ongoing selling activities.
Driving accountability also means adopting an evaluation process. Implemented in the right way, sales performance evaluation analytics can be the source of significant competitive advantage. In fact, 67% more best-in-class companies have sales analytics than laggards, according to Aberdeen Group's Reaching Sales Quotas More Consistently.
Evaluation also allows for continual improvement well beyond training. When organizations monitor progress, they give themselves the ability to measure the effects of sales training, remove ineffective strategies, and roll out better ones. Plus, the insights gained from evaluation improve any future training, decreasing learning curves and even improving your seller onboarding process.
2. Lack of tailored training
Adult learners have little patience for generic training that's not tailored to their market, industry, customers, solutions, role, and specific selling situations. Instead, spend the time and resources to customize training so it's relevant to sellers and helps them address selling challenges. Irrelevant training won't get adopted and won't generate results.
3. Lack of retention
Go beyond knowledge transfer. Instead, show sellers how to apply what they're learning to their actual selling situations. Application exercises, a regular ongoing schedule of coaching, repetition of training content...these are all ways to boost retention and ensure training is actually applied.
What to Look for When Hiring a Sales Trainer 
By this point, you likely realize the heavy lift that sales leaders, learning and development, and sales enablement professionals face as they embark on selecting a sales trainer or sales training provider to deliver effective sales training that gets results.
Here are 13 factors to consider and evaluate when you're hiring a sales training provider.  
1. Transformational Experience 
The best and most effective sales training is approached as a change management initiative. Training is crafted, delivered, and designed to enable sellers and the organization to get results. For true behavior change to take hold, sellers need to go through a transformational experience. This means the training provider must understand how adults learn, how people work (and work together), and how behaviors change.
RAIN Group's Execution Assurance framework ensures this transformational experience: sellers adopt and apply what they learn and clients get results from sales training.
2. Coaching 
Coaching and support from first-line sales managers is critical for driving behavioral change. When applying new skills, sellers need to know exactly what to do, have support for when they're not in their comfort zone, need feedback to calibrate their behaviors, and need to be held accountable for taking action and being productive.
It's worth noting that sales coaching and sales management differ. Coaching is a proactive process meant to reinforce training, and not every sales leader or manager has that experience. In these cases, specialized sales coaching training can enable managers to take ownership of the skill development of their teams.
Does the sales training provider offer a coaching process that enables sales managers to support their sales teams?
RAIN Group offers a coaching process designed to help organizations build a team of top performers. Coaching helps develop the team's skills, reinforce training, and hold sellers accountable to achieve goals.
3. Leadership Support 
Conversely, sellers also need support on the day-to-day side of executing ideas learned in training. Leadership should be committed to working with the training provider and the sales training program to help execute training, as well as monitor its application.
You need a work culture that drives and supports top sales performance, and leadership that prioritizes sales success.
Are you confident the sales training provider can garner buy-in and support from your leadership?
RAIN Group actively engages with leadership during all phases of a training initiative, but especially during the initial crafting phase to ensure clarity, alignment, and a program perfectly suited to the organization.
4. Motivation 
Without  motivation, you won't change sellers' behaviors. It's why motivation is one of the key coaching roles played by sales managers. In fact, our research finds that Top-Performing Sales Managers are 71% more likely to be effective at motivating sellers for high productivity and performance. Yes, sales motivation goes beyond compensation.
Does the training provider explicitly build this critical success factor into their training?
RAIN Group has training modules that focus explicitly on motivation. For sellers, it's a core part of sales productivity and personal effectiveness training. For sales managers, it's one the 10 key roles we train for when developing top-performing sales managers.
5. Value 
When sellers create value and are valuable to buyers, they win. All sales training must connect to the value you can bring forth to your buyers. For the most successful sales training, and to achieve—and maintain—top performance, value must be the core focus.
How will this training help your sellers drive more customer value?
At RAIN Group, value is at the central to all sales training. Seller training revolves around developing sellers' skillsets so they can deliver value to their customers.
 6. Proven Results and Case Studies 
Sales training companies have a mixed record of implementation and client service.
Does the training provider have demonstrated experience and results in changing seller behavior and making training stick long term?
RAIN Group focuses heavily on excellence in these areas and has received accolades from clients for results achieved. As an industry leader, RAIN Group has also been recognized by Selling Power and Training Industries (Top 20 Sales Companies lists), the Stevie awards (Sales Training Practice of the Year and Sales Trainer of the Year), among others.
7. Industry Expertise 
Sales trainers lacking experience in the sellers' industry lose credibility with learners. Without industry experience, trainers will be hard pressed to keep sellers engaged and involved with the training. Make sure the training provider understands your industry deeply—it's challenges, business model, current issues and changes, and selling environment.
What experience does the sales training provider have in your industry?
RAIN Group has celebrated its 20th year providing training services to clients in banking and financial services, technology, manufacturing, business and professional services, life sciences, and other B2B complex sales.
8. Research-Based Training
By its nature, sales isn't static—to be successful sellers must be responsive to their buyers' current environment and adapt to market changes as needed. It's not enough for trainers to simply roll out a dated playbook to deliver sales training content.
Sales training providers that conduct their own research can share relevant insights and strategies for succeeding with buyers based on current, and anticipated, conditions.
What research backs the training providers' sales methods?
RAIN Group's Center for Sales Research conducts primary research to keep a finger on the pulse of what's working and what's not in sales today. Clients benefit from direct access to research and research-validated training for skills development, top performance, buyer perceptions, sales challenges, and more.
9. Variety of Delivery Methods 
According to research from Gartner, sellers forget 70% of the information they learn within a week of training; 87% forget it within a month. But when sellers are introduced to information over time using multimedia, 80% of the information is retained and learning improves.
Does your provider deliver training exclusively through one channel? For example, in-person classroom sessions alone? If so, sellers are less likely to retain what they learn. Look for a provider that delivers multi-modal training to boost retention and application.
Typical training modalities include:
Instructor-led training (onsite and virtual)
Elearning (online, asynchronous)
Mobile and email
Video and micro learning
Simulations
Gamification
Coaching
RAIN Group delivers training using a blend of modalities. Instructor-led virtual sessions, as well as in-person sessions, are highly interactive and discussion-based. Video, mobile, and email channels are used for pre-work and reinforcement. Application assignments and coaching help sellers know when, where, and how to apply the skills they've learned. When paired with our coaching process, the training sticks, is applied, and gets results.
10. Breadth and Flexibility of Offerings
Sellers have a variety of skill development needs based on their roles, gaps in existing capabilities, and the organization's needs.
Does the training provider offer training in the specific and focused areas your sellers need?
RAIN Group takes a modular approach to curriculum development, which means we can quickly customize training curricula to meet the specific needs of sellers and organizations. Our comprehensive library includes portable modular blocks of training that align to provide sales training that sticks, changes behavior, and gets results.
11. Customized Training
It's no secret that sales training that's tailored to an organization's industry, market, offerings, and selling situations will be more than engaging to sellers. When knowledge and insights are directly relevant to their real-life selling experiences, sellers will be more likely to retain and use what they learn. Customized examples, templates, planners, and so on will prove useful in the course of their work. Skills learned will be adopted and used because they actually help sellers get results.
Does the training provider you're considering support and encourage customization?
RAIN Group believes partnership is the best path to success. We're able to customize and tailor sales training across a wide range of areas, from content contextualization to delivery, and execution assurance process.
12. Sales Enablement Technology
Does the training provider offer a robust sales enablement platform that's:
Easy to use
Optimized for sellers
Provides easy-to-access resources for sellers (e.g., tools, templates, planners, checklists)
Offers practice and reinforcement
Reporting
RAIN Group has partnered with Allego to offer clients a world-class sales enablement technology.
13. Global Capabilities
Sales organizations span the globe. Is the training provider experienced and equipped to meet the challenges of crafting, delivering, and enabling sales training across the globe with attention to language, culture, and more?
RAIN Group's global capabilities include: 12 global offices, delivery in multiple languages, materials translation support as needed, experience delivering sales training in 75 countries, and ongoing success with global, large-scale roll outs.
Sales Training That Drives Results
Are you ready to meet your sellers and sales managers where they are? Ready to provide your sales team with effective sales training that boosts performance?
Then go beyond traditional sales training. Instead, provide training that's crafted to drive business results, built so it's retained and applied, and designed to support sellers and enable organizations to realize long-term results.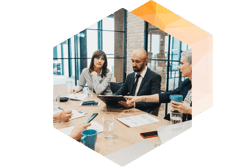 Ready to transform your sales team?
RAIN Group offers a suite of sales training programs that can be delivered virtually, in person, or in a hybrid model to enable behavior change and improve your results.