To find and win business consistently, your sellers need to have the right mix of sales skills across the sales process, from filling the front-end of the pipeline to growing accounts. Too many sales teams have significant skill deficits preventing them from turning their potential for sales growth into reality.
In The Top-Performing Sales Organization research initiative, we looked at the differences between Top Performers and The Rest across sales skills and knowledge needed to drive sales performance. The gaps in skills are eye-opening.
Top Sales Skills by Performance Group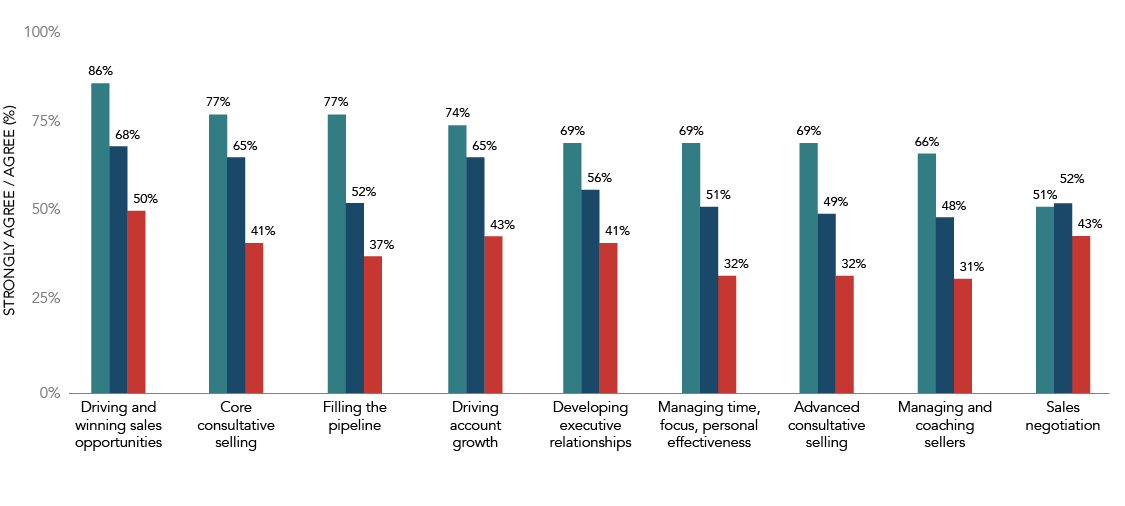 Top Sales Skills
Driving and winning sales opportunities
Core consultative selling
Filling the pipeline
Driving account growth
Developing executive relationships
Managing time, focus, and personal effectiveness
Advanced consultative selling
Managing and coaching sellers
Sales negotiation
These skills roughly fall into 5 distinct categories:
1. Filling the Pipeline
One of the most common areas of stress in a sales organization is generating new opportunities. Even now in the age of inbound marketing, most sellers are expected to prospect and generate a certain amount of their own leads in order to succeed. Filling the pipeline represents one of the largest skill gaps between Elite Performers and The Rest.
2. Driving and Winning Sales Opportunities
This area includes both the strategy and understanding of how to win sales opportunities, and the skills needed to do so. Sellers need to be able to sell if they want to succeed. Seems obvious, but many sellers don't have these skills, including the negotiation skills necessary to bring major opportunities across the finish line.
3. Consultative Selling
Nearly two-thirds of Top Performers have core consultative selling skills compared to less than half of The Rest, and nearly half of Top Performers have advanced consultative selling skills compared to less than one-third of The Rest.
Consultative selling has changed more in the last 5 years than it had in the previous 30. You need to keep up if you want to survive and thrive in today's sales world.
Read: The Future of Consultative Selling
4. Key Account Management
Most companies agree there is significant opportunity to grow existing accounts. The biggest difference between Top Performers and The Rest is "our sales organization is effective at maximizing sales to existing clients." Only 32% of The Rest agree, compared to 61% of Top Performers and 77% of Elite Performers. It's important to note that The Rest represents 80% of the companies surveyed.
5. Sales Management
Less than 50% of even Top-Performing Organizations have sales managers with the skills they need to manage their teams. The Rest come in at 31%. This means if you line up 10 sales managers at these companies, seven of them don't have the skills they need to do their jobs well.
Inside the Top 9 Sales Skills
1. Driving and Winning Sales Opportunities
Sellers who keep their sales cycles short and can move opportunities from one stage to the next are more likely to be Top Performers. These sellers know how to differentiate, drive urgency with their buyers, and negotiate for favorable outcomes.
It may sound redundant to hear that the best sellers drive sales, but these sellers understand the stages of the sales funnel and how to align to the buying process to make the sale as seamless as possible for the buyer.
2. Core Consultative Selling
Consultative selling has long since been the traditional approach to selling, but it's no longer enough to succeed in the current sales environment.
Even so, consultative selling skills are the foundation to learn buyer needs, build rapport, and deliver a compelling value proposition. If sellers can master these skills, they can build on them and learn new methods to attract buyer attention and drive value for them.
3. Filling the Pipeline
Top sellers are proactive about filling their pipelines and don't wait until their leads dry up to prospect. Many sellers don't prospect as much or as consistently as they should. The best sellers put systems in place to attract potential leads, harness the power of referrals, and dedicate time for prospecting activities.
4. Driving Account Growth
Existing accounts represent a major untapped source of revenue for many sales teams. Top-Performing Sellers actively strategize and drive value for existing accounts.
Account growth requires a thorough knowledge of offerings, a strong needs discovery process, and alignment with a buyer's strategic agenda. However, repeat business and retention has an outsize impact on sales results and shouldn't be overlooked.
5. Developing Executive Relationships
Selling to the C-suite is intimidating, but many sellers lose out on opportunities by not doing so. The truth is, selling to executives is doable but requires a different approach than normal selling. It's a common misconception that it's near-impossible to get face time with key executives, so the sellers willing to put in the work to do so gain a key advantage over others.
6. Managing Time, Focus, and Personal Effectiveness
It's as important for sellers to spend their time well as it is to excel at key skills. Top-Performers spend their time effectively, maintaining their focus and devoting their time to activities that yield the best results for them.
Time management has its own skills and behaviors and can be mastered just like any other sales capability. The sellers that do so don't just do more—they're often healthier and happier with their jobs.
7. Advanced Consultative Selling
Good sellers sell solutions; great sellers introduce new ideas that solve the root of the buyer's problem. This process of leading valuable conversations that uncover needs and educate buyers on new possibilities is known as advanced consultative selling, or Insight Selling.
Today's buyers are flooded with information and choices, and Top-Performing Sellers are able to guide them through endless possibilities and share new ideas that drive change and fit their needs.
8. Managing and Coaching Sellers
When organizations invest in management, sales results become stronger and more consistent. However, only 3 in 10 sales managers are effective at sustaining maximum performance from their sellers.
From building seller capabilities to driving operational consistency and seller confidence, sales organizations live and die on the strength of their management teams. While numerous factors contribute to the success of Top-Performing Sales Managers, any organization can optimize and train their managers to better lead their sales teams.
9. Sales Negotiation
Even when a seller successfully closes a deal, it's all too easy to drop margins in negotiations. 59% of buyers receive pure price concessions from buyers. This is often because buyers aren't prepared to lead negotiations and respond to common buyer tactics.
When you consider the amount of lost value across all of your deals closed, developing your team's negotiation skills becomes a must to keep margins high.
Sales Knowledge
You can't sell what you don't know. Sellers need to know their offerings, customers and their context and needs, competitors, the marketplace and industry trends, and much more to be successful.
Capability Factors by Sales Performance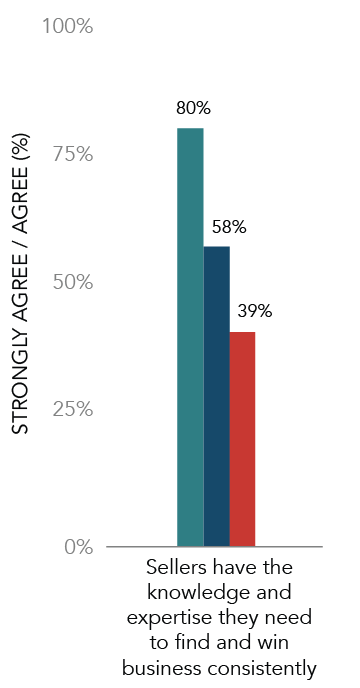 Elite and Top Performers score higher in every area we studied. However, no single sales skill or knowledge area was a key driver of Elite or Top Performance. This is similar to sports. In basketball, dribbling does not make for team wins. Nor does passing, or shooting, or defense, or good coaching. But together in the right mixes, the right skills add up to wins.
Improving the right mix of sales skills across your team will no doubt help you win more business consistently and propel you towards top sales performance.


Are You Looking to Improve the Skills of Your Sales Team?