To find and win business consistently, your sellers need to have the right mix of sales skills across the sales process, from filling the front-end of the pipeline to growing accounts. Too many sales teams have significant skill deficits preventing them from turning their potential for sales growth into reality.
In The Top-Performing Sales Organization research initiative, we looked at the differences between Top Performers and The Rest across sales skills and knowledge needed to drive sales performance. The gaps in skills are eye-opening.
Top Sales Skills by Performance Group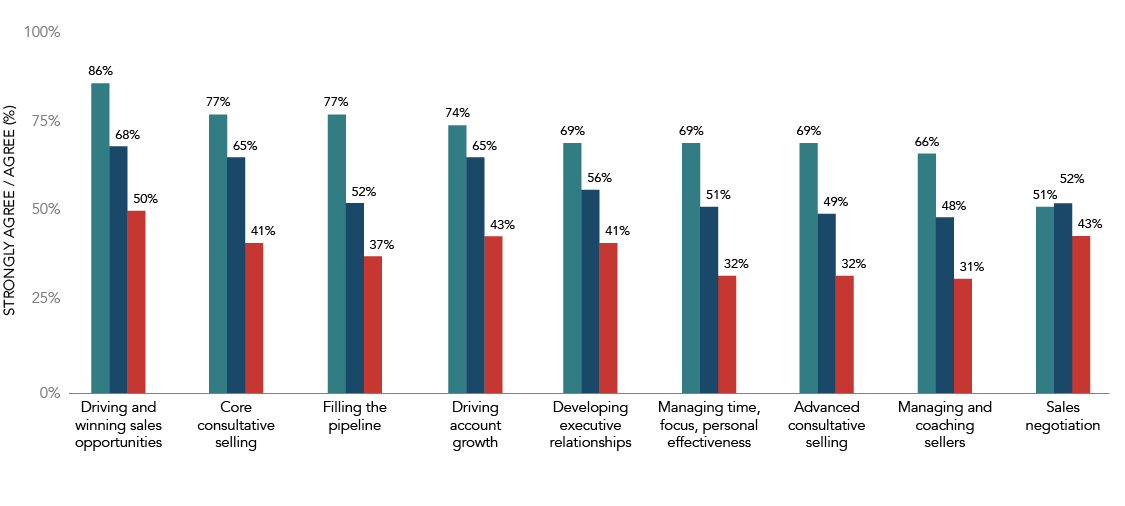 Top Sales Skills
Driving and winning sales opportunities
Core consultative selling
Filling the pipeline
Driving account growth
Developing executive relationships
Managing time, focus, and personal effectiveness
Advanced consultative selling
Managing and coaching sellers
Sales negotiation
These skills roughly fall into 5 distinct categories:
Filling the Pipeline: One of the most common areas of stress in a sales organization is generating new opportunities. Even now in the age of inbound marketing, most sellers are expected to prospect and generate a certain amount of their own leads in order to succeed. Filling the pipeline represents one of the largest skill gaps between Elite Performers and The Rest.
Driving and Winning Sales Opportunities: This area includes both the strategy and understanding of how to win sales opportunities, and the skills needed to do so. Sellers need to be able to sell if they want to succeed. Seems obvious, but many sellers don't have these skills, including the negotiation skills necessary to bring major opportunities across the finish line.

Consultative Selling: Nearly two-thirds of Top Performers have core consultative selling skills compared to less than half of The Rest, and nearly half of Top Performers have advanced consultative selling skills compared to less than one-third of The Rest.

Consultative selling has changed more in the last 5 years than it had in the previous 30. You need to keep up if you want to survive and thrive in today's sales world.

Key Account Management: Most companies agree there is significant opportunity to grow existing accounts. The biggest difference between Top Performers and The Rest is "our sales organization is effective at maximizing sales to existing clients." Only 32% of The Rest agree, compared to 61% of Top Performers and 77% of Elite Performers. It's important to note that The Rest represents 80% of the companies surveyed.
Sales Management: Less than 50% of even Top-Performing Organizations have sales managers with the skills they need to manage their teams. The Rest come in at 31%. This means if you line up 10 sales managers at these companies, seven of them don't have the skills they need to do their jobs well.
Sales Knowledge
You can't sell what you don't know. Sellers need to know their offerings, customers and their context and needs, competitors, the marketplace and industry trends, and much more to be successful.
Capability Factors by Sales Performance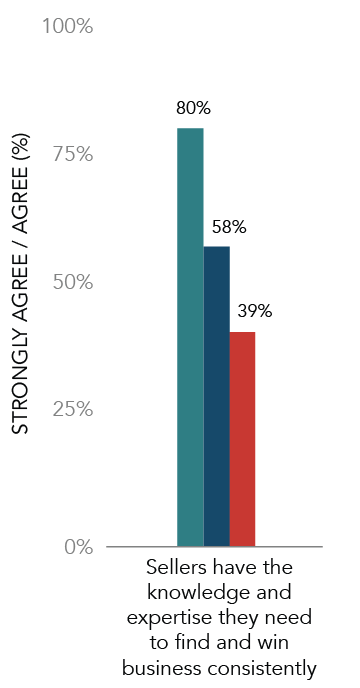 Elite and Top Performers score higher in every area we studied. However, no single sales skill or knowledge area was a key driver of Elite or Top Performance. This is similar to sports. In basketball, dribbling does not make for team wins. Nor does passing, or shooting, or defense, or good coaching. But together in the right mixes, the right skills add up to wins.
Improving the right mix of sales skills across your team will no doubt help you win more business consistently and propel you towards top sales performance.


Are You Looking to Improve the Skills of Your Sales Team?