In The Benchmark Report on High Performance in Strategic Account Management, we analyzed data from over 370 companies that engage in formal strategic account management. We asked about the top challenges that limit account growth and found the number one difference between high performers and the rest is: having an effective strategic account planning tool.
Only 19% of high performers reported having an effective account planning tool as challenging compared to 53% of everyone else (see graph below).
The challenge of having an effective tool does not, however, exist in a vacuum.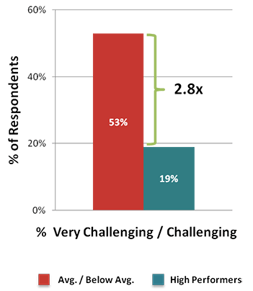 Average/below-average performers are 2.8x more likely to find having an effective strategic account planning tool challenging/very challenging.
Companies that don't have an effective tool often don't have one because they're not committed to account growth as a systematic process, and they don't commit to account planning as a necessary component of account growth success.
In any case, if you don't have an effective tool you use across all accounts, it's virtually impossible to make real progress in growing accounts systematically.


Elements of an Effective Account Planning Tool
The elements of an effective account planning tool are:
Stakeholders
Account goals
Research
Opportunities
Strategies and actions
Competitive positioning
The categories themselves are not earth shattering, but they don't need to be. The key is getting the right information in each area, complete information in each area, and calibrating the rigor of planning with the total opportunity available in the account.

And it's the detail that's important. In each category, there is a series of questions you should ask yourself. For example, related to strategies and actions, you should know:
What is the overall measure of our relationship with this account? What does it need to be?
What do we need to do to get to a stronger relationship level?
What are our overall strengths with this account?
What vulnerabilities exist with our current relationship with this account?
Across all buying centers in this account, where can they benefit from our existing offerings?
How can we co-create value?
What will surprise and delight this account?
Who's responsible for executing these strategies, and when will key actions be completed?
What are the "Big Play" strategies we are pursuing for:


Strengthening and building relationships?
Creating new relationships?
Expanding value offered to relationships?
Unseating competitors, or preventing their inroads?
"Big Play" strategies are the types of approaches that will separate you from the competition and embed you with the client. When considering strategies for developing relationships and expanding value, you must make an investment to:
Create opportunities where they don't currently exist
Gain buy-in from the account to engage in a specific way
Improve relationship strength
You must also ensure the initiative meets the following criteria:
Outside the norm, or untouchable by competitors
Client would see it as a big investment from you in partnership with them
Bold, enterprise-worthy, or otherwise "big"
Risk involved on your side
In order to be most successful at penetrating your accounts, your strategies within each element of your account planning tool should be as granular as possible. We provided examples from within the strategies and actions element here, but you should ask as many questions, if not more, for each of the other five elements.

Whether you use an existing account planning framework (as many RAIN Group clients use ours), or you customize it to suit your needs, it's important to have a tool that works for you. Make sure your tool is used as a standard across your organization and make sure your team has the skills to create a plan that will identify and capture the greatest potential growth.
57 Questions to Help You Build Your Key Account Growth Plan