Now is the perfect time for sales leaders to analyze their results from the past year and plan priorities for the year ahead.
In our RAIN Group Center for Sales Research study, we asked 472 sales executives and sellers about what they considered to be their top priorities.
From the results, we pulled the following top 10 sales priorities for the year ahead.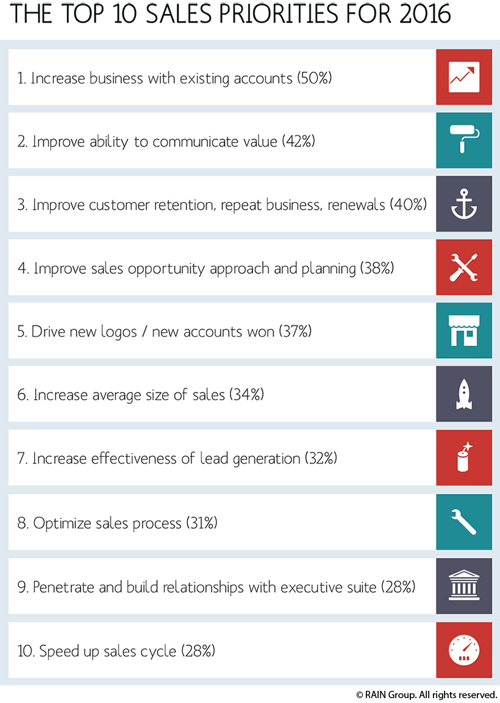 To work toward addressing all 10, give special attention to the following core initiatives. If you can make strides in each, you'll see improvement across the 10 top priorities.


Growing Existing Accounts


Sales leaders are keying in on the fact that growing existing accounts is one of the biggest untapped opportunities for sales growth. It's much easier to sell to buyers you already have a relationship with than to find and convince new buyers to work with you.
While many companies say they want to grow existing accounts, few actually make this a reality. Only 38% of companies agree they are effective at maximizing sales to existing clients.


Only 38% of companies agree they are effective at maximizing sales to existing clients.


It's not enough to say you want to focus on growing accounts—you need to have a plan in place to do it. Consider these 10 steps for growing your key accounts. The trick to getting this right lies in the next initiative.


Communicating Value


One of the key insights we found in our research is that Value-Driving sales organizations are significantly more likely to experience higher revenue growth, higher win rates, and lower undesired sales turnover.
At the same time, buyers are looking for sellers who can provide new and valuable ideas.
Of all the priorities on this list, increasing value is the one thing you can do to help you achieve the other priorities. You need to communicate value to both your:
Existing accounts: through evaluating additional value you can provide to them
New accounts: through making the value case for why they should buy, and buy from you
You can start by answering these 4 questions for each sale.


Optimizing Sales Opportunity Approach and Planning


Having a systematic process to managing all sales opportunities—from everyday sales to the most important opportunities—is critical for sales growth and success. Even better is an opportunity approach focused on building and communicating buyer value (see initiative #2). When value is infused throughout the opportunity management process, and prompts for uncovering and providing value are included in opportunity planning tools, sellers are much more likely to win.
While much goes into optimizing this process, there are 12 critical questions you must ask to improve sales opportunity management.
What are your sales priorities for the year ahead? How do you stack up compared to other sales leaders?