Negotiations are everywhere. From negotiating important sales opportunities to negotiating with our kids at bedtime, we're constantly working to reach agreement with others. In this game of give and take, it's too easy to get stuck, make mistakes, and lose big.
Are you...
... getting beaten up in negotiations?
... dealing with savvy corporate purchasing departments?
... getting pushed to focus on price over value?
... losing deals you should have won?
... unsure how to respond to common buyer tactics?
... making an effort to "win-win" and still losing?

Test Your Negotiation Skills
Find out if you have what it takes to negotiate a winning deal. Test out your negotiation skills by playing a sample of our RAIN Sales Negotiation Simulation. You'll receive specific feedback on the choices you make as well as how your choices affected the overall outcome of the negotiation.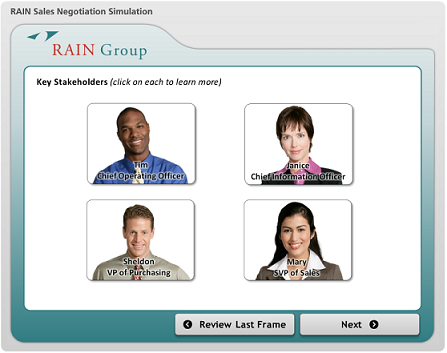 In the full version of the simulation, a part of the RAIN Sales Negotiation program, participants receive scores on the major concepts covered, in addition to finding out the size of the deal negotiated, the length of agreement, status of their relationship with the buyer, and more.
Click here to test your negotiation skills in the sample simulation.