Think for a minute about your sales team. Is everyone doing everything they possibly can right now to succeed at their maximum potential?
Is everyone on the team completely dialed in, doing everything they should and nothing they shouldn't? Do they have all the right skills across the sales cycle? Have they completely taken the lead on their own development? Are they motivated and productive?
Who Needs Sales Coaching?
Chances are even the best sellers on your team have some opportunity for improvement and greater success. And for those sellers who aren't currently among the best, what should they do differently to improve and become a top performer?
If you can think of any areas where the sellers on your team need to do something differently, then you, as a sales coach, are in a prime position to help.
In fact, sales coaching makes a huge difference to organizations and sellers.
Why Sales Coaching Matters
Our research shows that Top Performers meet challenging sales targets, achieve premium pricing, and see higher win rates on proposed sales. It's in your organization's best interest to provide sellers with coaching and training support to help them become Top Performers.
In a RAIN Group Center for Sales Research study of 472 mid-size and large sales organizations, we learned that Elite and Top-Performing Sales Organizations had significantly more effective sales coaches than the organizations that didn't meet these standards.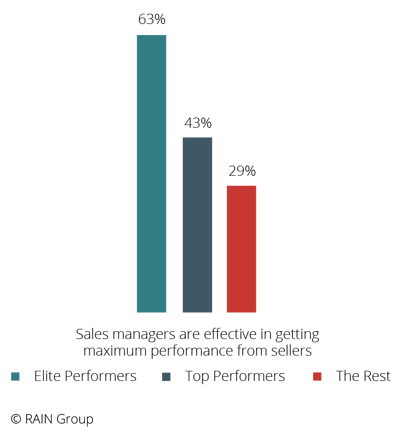 In fact, sales managers at Elite and Top-Performing Sales Organizations are much more likely to maximize the time they spend coaching.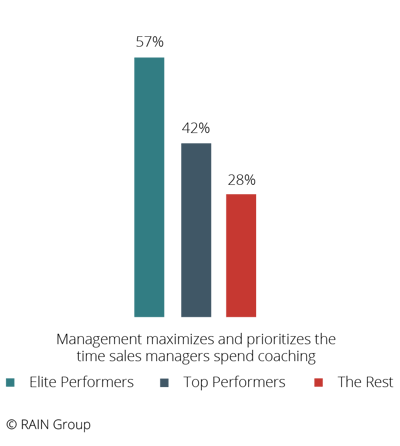 In another global study, this time surveying 1,004 sellers and sales managers, we found that sellers are 63% more likely to be a Top Performer when they hit the trifecta of:
An effective sales manager
Regular ongoing coaching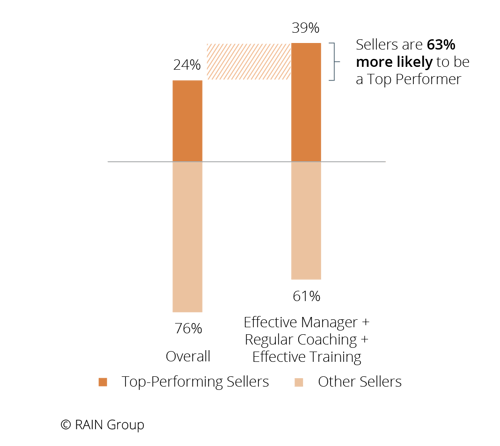 Take any of these away—manager effectiveness, coaching frequency, and training effectiveness—and the likelihood of top performance drops drastically.
In our global sales skills research, we studied 85 skills and behaviors across six core selling skills categories (Relationships, Needs Discovery, Conversations & Communication, Solution Crafting, Value Case Making, Advancing the Sale), four additional categories applicable to some sellers (Negotiating, Prospecting, Account Management, and Virtual Selling), and Productivity (not how they sell, but how they work).
We analyzed the differences between sellers who receive ad hoc or intermittent coaching versus a regular, ongoing schedule of coaching and found that:  
A regular ongoing schedule or rhythm of coaching sessions is positively correlated with higher seller skill ratings in all categories.
When managers of top-performing teams deliver regular, ongoing coaching, the seller skills ratings are even higher. 
These high skills ratings make sense because, according to Top Performers, their sales managers: 
Are more likely to focus on coaching sellers to build their selling skills  
Are more likely to coach on a regular schedule and address specific areas including: 

Helping sellers to solve problems and challenges  
Coaching sellers to grow accounts
Providing deal coaching to maximize selling wins  
Coaching to lead masterful sales conversations  
Coaching on virtual/remote selling  
Sales Coaching Gone Wrong
But when many sales managers see areas where their sellers can get better results, what do they do?
They try to help. They point out the problem areas and simply tell sellers what they should do.
It's something we commonly observe sales managers do.
As shared in an article about performance feedback and coaching in the Harvard Business Review, when thousands of managers were asked to coach someone, they "simply provided the other person with advice or a solution. We regularly heard comments like 'First you do this' or 'Why don't you do this?'"
But is this helpful?
Other research tells us, "Telling people what we think of their performance doesn't help them thrive and excel, and telling people how we think they should improve actually hinders learning."
Yes, there's a time for direct advice, but by and large, our experience with thousands of sales coaches bears this out.
Ask yourself this: if you were selling to a buyer and saw something they needed, and your primary communication and persuasion process was to simply tell them, "You're not really getting the performance you should. To solve your problem and get better performance, buy this." How well do you think that would work?
Probably not so well.
Just like with selling, the more experience you have with coaching, the more you see all the pieces that need to come together to be great at it.
What It Takes to Coach for Top Performance: Rhythm, Roles, and Conversations
Like with sales, coaching is an exercise in communication, persuasion, and change management. To be great at these, you need to be able to lead masterful and nuanced conversations.
Like with sales, good coaching is about more than just leading masterful conversations. There is a sales process where you have a series of conversations—and take a series of actions between conversations—that result in wins.
Sales coaching is the same. There's a process, and if you follow it systematically, you can be sure to hit all the important areas to bring the process along and not miss something critical due to a lack of planning and discipline.
There are also different roles you need to play and different skills you need to bring forth at different times to suit the situation and drive success.
This is how we built the RAIN Sales Coaching method to bring it all together.
While there are several areas to master to be great at sales coaching, there aren't that many areas. You can learn them one by one to become a master at sales coaching.
As an overview, let's look at RAIN Group's The Top-Performing Sales ManagerSM model, which has everything you need to become both a Top-Performing Sales Manager and a Top-Performing Sales Coach.



First there's Rhythm. It's the process or cadence you follow across a variety of types of coaching meetings and conversations with each seller and the team to bring all the pieces together and build your sales coaching program.
Second is Roles. There are 10 roles, or hats, that sales managers need to play—five of which are directly related to sales coaching. Those roles are:
Motivation: You get maximum effort and proactivity from the team day in and day out.
Focus and Action Planning: You help sellers target the right areas to spend their time and effort, and help them steer clear of distractions and time wasters.
Execution and Productivity: You help sellers get the maximum success and the best outcomes during the time they spend working.
Advising and Facilitating: You help them in the trenches to fill their pipelines, win major sales, grow accounts, negotiate the best agreements, define and achieve their goals, and so on.
Development: You help sellers over the course of months and quarters to become better, more talented, more capable sellers than they might have been six months or a year or two earlier.
In short: Motivate, Focus, Execute, Advise, and Develop.
There are also five management-related roles, and those include:
Accelerating performance when onboarding sellers or helping them through performance issues
Planning and reporting on pipelines and making forecasts
Defining and tracking metrics and managing accountabilities
Analyzing and planning territories
Managing talent, from hiring the right team members to exiting those who, after trying to support their success, might not be a good fit
Finally, there's Conversations. Like with sales, the magic happens in the interactions. If you lead the conversations and communications the right way, you can:
Build trust
Help sellers take the right actions and avoid issues and mistakes
Make them look good
Have them want to work with you over a long period of time
Help them learn and improve
Help them improve performance and achieve success
Of course, like in sales, it would be nice to just point out problems we see, tell people what to do to fix them, and have them love us for it. But it doesn't work that way; it takes time and forethought. But sales coaching is learnable and adaptable to any team, and doing it well is essential to creating Top-Performing Sellers.
If you put your mind to it, you'll unleash your sales coaching potential and become the best sales coach you can be.