If you're a sales or enablement leader charged with training sales managers, you've likely been asked, or asked yourself, "What are the core skills and competencies our sales managers need to effectively coach and develop our sellers?"
As you dig into this question, developing effective sales managers can seem like a daunting challenge.
In fact, only about 3 in 10 sales managers are effective in getting maximum performance from sellers, have the necessary skills to manage and coach sellers, and prioritize coaching their teams, according to our Top-Performing Sales Organization research.
With that in mind, we conducted a global study through the RAIN Group Center for Sales Research to identify what the best sales managers do differently than others and which sales manager skills correlate with top performance. The resulting Top-Performing Sales Manager model, which we share in this post, is a framework you can use to develop effective sales managers whose sales teams achieve their potential and get results.
Learn more about the sales competencies of top sellers. >>
Developing effective sales managers is the objective because, as the research reveals, Top-Performing Sellers are 83% more likely to say their sales managers are effective in supporting their ability to achieve top performance.
Sales Manager Effectiveness According to Sellers
% Extremely/Very Effective
In this post, we break down the sales manager role and highlight areas where Top-Performing Sales Managers do things differently and better than others.
Download the Top-Performing Sales Manager Research Report. >>
Roles and Responsibilities of a Sales Manager
3 Conditions Set the Stage for Top Performance
What exactly do Top-Performing Sales Managers do differently? How do they approach sales management systematically and confidently, knowing they're doing the right things to get top performance from their teams? 
And, by extension, how should you approach it? 
Based on our research and decades of fieldwork with clients, we've found that Top-Performing Sales Managers are better than other managers at:
Delivering a regular rhythm, frequency, and types of coaching. Top Performers are 51% more likely to have regular ongoing coaching.
Leading masterful sales management and coaching conversations. Top-Performing Sales Managers are 40% more likely to be skilled at leading valuable coaching meetings.
Playing 10 sales management- and coaching-related roles well. All 10 roles are statistically validated by the research as critical areas where Top-Performing Sales Managers excel compared to other managers. 
When these conditions are met, sales managers gain the respect and confidence of their team and get results.
Why You Want Top-Performing Sales Managers Leading Your Sales Teams
In our study, the criteria for top performance included: 
Annual sales goal: Top-Performing Sellers met their annual goal. For sales managers reporting for their team, 75% or more of team members met their goal.  
Challenge: Sales goals must have been challenging. 
Win rate: Average win rate on proposed sales was greater than 50%. 
Pricing: Premium pricing was achieved.  
Overall, Top Performers achieved superior sales results compared to The Rest, including 2.4x more likely to meet their sales goals and 1.7x more likely to achieve premium pricing.
Average Proposal Win Rate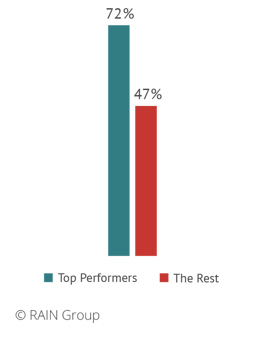 And the average win rate on proposed sales reported by Top Performers is dramatically higher than The Rest: 72% vs. 47%.
Moreover, Top-Performing Sales Manager skills correlate significantly with better sales performance results. Take the impact of deal coaching on win rate for example.
In our study, all sales managers provided deal coaching at statistically similar frequencies (44% of Top-Performing Sales Managers provided it compared to 42% of other managers), but Top-Performing Sellers were 63% more likely to report their manager excels at providing deal coaching to maximize wins.
While a regular coaching schedule matters, Top Performers get better deal coaching.
Takeaway: Top-Performing Sales Managers have better skills in the areas that lead teams to achieve higher win rates on proposed sales.
Source: The Top-Performing Sales Manager Benchmark Research Report, RAIN Group Center for Sales Research.
What Is Coaching versus Managing?
Sales managers play two different types of roles: coaching and managing. What's the difference between a "coaching" role and a "management" role?
Coaching is done, and can only be done, directly with sellers. It's a two-way interaction that happens collaboratively. Coaching topics are the shared responsibility of the seller and manager.
For example, the sales manager is the linchpin in making sure motivation and productivity happen systematically across the sales team.
Motivating sellers to be extremely productive is a primary coaching-related role of sales managers. The importance of this role can't be overstated. Motivation is not only highly correlated with top performance, but also the biggest difference between Top Performers and The Rest.
In terms of productivity, Top-Performing Sellers are highly productive. But do these sellers bring intrinsic motivation and productivity to the table themselves, or does the manager play a significant role in motivation?
Resoundingly, it's the latter. Sellers who work for Top-Performing Sales Managers are significantly more likely to be stronger across all productivity factors studied.
I/My Manager Excel(s) at Motivating Sellers for High Productivity and Performance
% Strongly Agree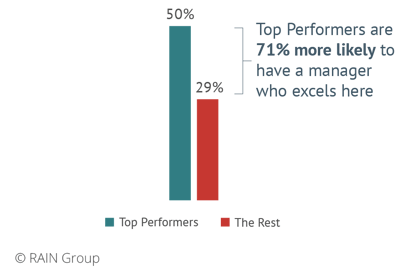 Ultimately, Top Performers are 71% more likely to have a manager who excels at motivating them for high productivity and performance.
Management is the area where managers organize, execute, and monitor structurally to drive performance. Sellers affect managers' vision, decision-making, and actions in these areas, but management topics are primarily the responsibility of the manager.
The coaching and management roles work together synergistically. Sales managers have to wear both manager and coach hats and play the roles in each area well if they want their teams to achieve top performance.
Let's take a closer look at the specific roles and the competency model that serves as a roadmap to developing sales managers' capabilities.
A Roadmap for Sales Managers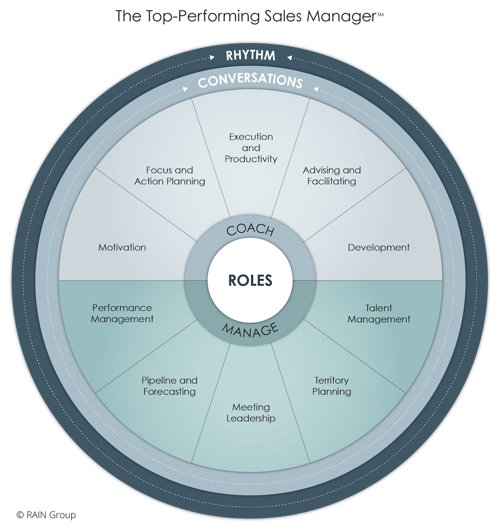 When people see this model for the first time, most say it's helpful just to see it all in one visual. But other people say, "Isn't this a lot for someone to be good at to succeed as a sales manager?" 
But think about it this way:
To be a great seller, you have to know your offerings inside and out, know how you solve problems for others and the results you've achieved, lead great needs discoveries, learn to craft solutions, present persuasively, negotiate, win deals, manage opportunities and outsell the competition, prospect and build pipeline, lead masterful sales conversations of different types, grow accounts, and more.  
The point is: being a great sales manager doesn't mean you need to learn more than sellers do, rather you need to learn a different set of capabilities as a sales manager. 
RAIN Group's Top-Performing Sales Manager model is the guide to get you there.
5 Coaching-Related Roles of Sales Managers
In the Top-Performing Sales Manager model, five coaching-related roles form the crux of everything sales managers need to do to become great sales coaches.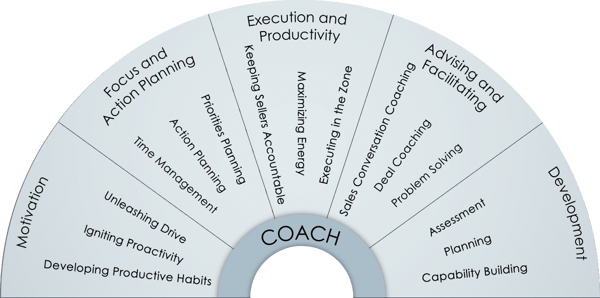 The 5 coaching-related roles are:
Motivation
Focus and Action Planning
Execution and Productivity
Advising and Facilitating
Development
We'll touch on each of those in a moment, but it's important to note at the outset that, at a high level, you should think of them simply like this: if you have a motivated team focused on the right activities that's productive as they work, you'll be well-positioned to have a top-performing team.
If you can give sellers advice on how to succeed at whatever they're working on—for example, on winning major sales, driving account growth, planning a sales conversation, building their pipelines, and so on—you'll help them win sales and drive results daily.
And, finally, if you take the lead on developing your team to be better sellers over time, your team's performance will rise over time.
Do well in all five coaching-related roles, and it's almost impossible not to succeed.
The magic, of course, is in how you get there.
1. Motivation
This is the #1 skill of Top-Performing Sales Managers. Sales managers must unleash the motivation within each seller on their teams to maximize seller energy, effort, and success outlook.
Many people believe that someone is either motivated and driven—or not. What's fascinating about motivation is that much research has shown it's less like an attribute that defines you (or doesn't), and more like a skill you learn.
In fact, at RAIN Group, we've learned that even if a seller isn't feeling motivated, by teaching them strategies and tactics to become motivated, sales managers can literally help sellers manufacture motivation and build it like a muscle that gets stronger and stronger over time.
The 3 key components of motivation are helping sellers:
Unleash their drive
Ignite their proactivity
Develop productive habits that help them succeed, thereby reinforcing overall motivation and positive attitude
2. Focus and Action Planning
Sales managers help sellers define what they need to achieve in any given period—such as a quarter or a month—plan their weekly actions and accountabilities to get those actions done, and manage their time so they stay focused on what's important and don't get distracted by what isn't.
Top-Performing Sales Managers are 41% more likely to excel at helping sellers build meaningful goal and action plans.
3. Execution and Productivity
Sales managers guide sellers to get the greatest production from every hour they work. This means helping sellers execute in the zone, or achieve flow, where work output is 5x higher than when not in the zone, according to research by McKinsey & Company.
It also means helping sellers maximize their energy so they can focus for the greatest period of time and feel good as they do it—and help them get back on track when they get derailed.
As mentioned earlier, Top-Performing Sellers are significantly more likely to be highly rated across all major productivity areas. Furthermore, Top-Performing Sales Managers are 71% more likely to be effective at motivating sellers for high productivity and performance.
4. Advising and Facilitating
Sales managers help sellers win deals, drive account growth, and solve problems that are hindering their success. For example, Top-Performing Sales Managers are more likely to excel at coaching sellers to:
Lead great sales conversations (52%)
Win sales opportunities (45%)
Grow accounts (47%)
Fill the pipeline (30%)
It's important to reinforce that this isn't just Advising, it's also Facilitating. Helping sellers arrive at their own answers by asking questions and coaching them also enables them to take greater psychological ownership of the solution. If you want to teach sellers, and improve accountability for action, facilitating instead of telling is key.
5. Development
Development is the #1 key driver of sales manager effectiveness. Sales managers need to:
Assess the areas where sellers can improve
Create plans to help them develop the skills, knowledge, and habits they need to improve
Again, this requires facilitating instead of simply telling them how to do it.
Get a Sales Coaching Plan + Checklist. >>
After considering these five coaching-related roles of sales managers, many people tell us two things:
"If you can do well in all five of these roles, sales team success will be virtually assured."
"I'm good in some areas but not as much in others, so there's a lot to learn."
This is where an effective sales training and enablement initiative comes in. It gives sales managers the knowledge, skills, and tools they can use to motivate their teams, hold them accountable, and coach them to top performance.
5 Management-Related Roles of Sales Managers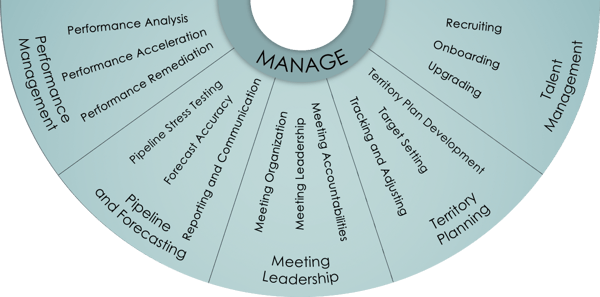 The 5 management-related roles of the sales manager are:
Performance Management
Pipeline and Forecasting
Meeting Leadership
Territory Planning
Talent Management
1. Performance Management
As mentioned above, we know that Top-Performing Sellers are 83% more likely to report their managers are very or extremely effective at helping them achieve strong performance. This is central to the sales manager role.
Performance Management includes three core areas:
Performance analysis, where sales managers figure out, for their sellers and their team, progress against the plan, including what's working and what's not
Performance acceleration, which focuses on helping sellers get to the next level of performance, whatever that is for each person
Performance remediation, which focuses on turning around sellers who are falling behind, or finding a way to help them gracefully exit the role
2. Pipeline and Forecasting
Sales managers must also help sellers build and manage pipeline and forecast results for themselves and their sellers. Both to stay on the path to outperforming their goals, as well as to share with senior management.
Top-Performing Sales Managers are 52% more likely to excel at planning and analyzing how sellers should manage their pipelines.
Pipeline and Forecasting focuses on three areas:
Pipeline stress testing, where sales managers separate truth from the fiction of what's really happening in seller pipelines, and how strong—or not strong—they are
Forecast accuracy, focusing on being the best guesser of what will actually come out of the pipeline as wins and for how much money
Reporting and communication, which is focused on just that: sharing clear and defensible information on the strength of team pipeline
3. Meeting Leadership
In the Harvard Business Review, business guru Peter Drucker famously outlined eight areas where effective leaders excelled. One of them was that they ran productive meetings. The same is true for sales managers. Top-Performing Sales Managers are 42% more likely to excel at leading valuable sales meetings.
Meeting Leadership includes: meeting organization and agenda setting, leading and facilitating meetings successfully, and holding people accountable for commitments made at meetings.
4. Territory Planning
Territory Planning is an often-misunderstood role of a sales manager, sometimes because of the name. The name "Territory Planning" seems to suggest assigning sellers a geography, but that's really not it.
Territory Planning is about creating a solid, defensible plan for a seller to achieve their sales target. This might focus on geography, but it could also be defined by industry, account types, offering areas, or something else.
In any case, Top Performers are 52% more likely to excel at planning and analyzing how sellers should manage their territories in order to achieve their sales goals.
Territory Planning includes three areas:
Territory plan development
Target setting, both for overall targets and interim targets, and milestones that are lead indicators of success
Tracking and adjusting, making sure that plans stay actionable and relevant, and get updated as conditions change
5. Talent Management
Finally, sales managers need the right people on their teams in order to succeed. Indeed, Top Performers are 42% more likely to excel at hiring sellers who become top performers.
Talent Management includes recruiting sellers to your team, onboarding sellers successfully, and upgrading the team when it becomes clear that a seller is unlikely to succeed.
Again, as mentioned earlier, it may seem that sales managers must excel at a lot to achieve top performance, but it bears repeating that sales managers need to master a different set of capabilities compared to sellers.
A Roadmap to Crafting a Sales Management and Coaching Curriculum for Top Performance
At RAIN Group, we help our clients identify the capabilities and gaps in their sales management teams using the research-validated Top-Performing Sales Manager model as a guide. We design focused and relevant curricula so sales training initiatives will be highly effective, resulting in lasting behavior change and generating desired results.
The Top-Performing Sales Manager Model in Action
Your organization can use The Top-Performing Sales Manager model as you craft your sales management and coaching training curriculum. For more help, contact us or learn more about how RAIN Sales Management can help you build an elite team of managers.