Sales negotiation is a critical part of the sales process. It moves the deal to a close, and it's where both parties come to agree on the terms of the initiative, including the price. However, many sellers and organizations struggle with negotiating successfully.
Seventy-seven percent of sellers report that negotiating with buyers virtually is challenging, and only 27% of buyers say that sellers are very effective at negotiating with them (from our Virtual Selling Skills & Challenges report). That means that less than one in three sellers does well in their virtual negotiations.
So what do the most effective sales negotiators do differently?
For our Top Performance in Sales Negotiation research, we studied 713 buyers and sellers. We found that the best sales negotiators approach their negotiations with a certain mindset, and take specific actions, that contribute to their success.
Top Performers were universally more likely to follow what we've termed The 6 Essential Rules of Sales Negotiation. These rules are based not only on our research, but also on two decades of observing, and analyzing sales negotiations, and training and coaching sellers in negotiation.


6 Ways Top Sales Negotiators are Different
Be willing to walk: This is a mindset the best sales negotiators take. You can want the sale, but you can't need the sale.

You need to 1) know when to walk away, and 2) be willing to do so. In fact, this rule is the #1 factor most separating Top Performers—those who are more likely to achieve target pricing and be satisfied with the outcome of the negotiation—from The Rest.

Walking away from a sale is hard, and it's even harder in the tough economic conditions we face today, but you can't be held hostage by your buyers. If it's not in your best interest to continue a negotiation, be ready, and willing to walk.

Focus on building value: Sellers who build value over the course of the sales cycle enter negotiations a step ahead of their competitors. You need to be ready to build value by brainstorming possibilities for coming to an agreement during the negotiation.

Top Performers build value 2.6X (260%!) more often than The Rest. They also outperform The Rest nearly twice as often when it comes to articulating their value and differentiation.

Want to be like the best? Focus on building value before and during the negotiation.

Lead the negotiation: Set the agenda, kick off the meeting right, go first, and manage the flow of the negotiation. If you don't, the buyer will, and it gives them the upper hand.

Top Performers are 1.9X more likely to take the lead. Notably, sellers who make the opening offer are more likely to be very satisfied with the outcome of the negotiation, and Top Performers strongly agree they do it 2.4X more often that The Rest.

Take the lead with your negotiations and guide your buyers down the right path.

Effect emotions: Negotiations are emotional affairs. The best negotiators draw out and elicit certain emotions from buyers, and from themselves. They need to inspire others while controlling their own emotions.

For example, most sellers experience buyers reacting emotionally to price. The difference is that Top Performers are 2.2X more likely to be prepared to manage these emotions and respond effectively.

Trade. Don't cave: The majority of sellers cave on price. When the buyer says, "Your price is too high, what can you do?", don't give in and simply lower the price.

Always trade for value. Top Performers are 2.6X more likely than The Rest to be prepared to trade. It's an important negotiating philosophy to subscribe to.

Plan to win: Sellers who are prepared for negotiations perform better. Know what you want, know what's important to you, and plan for buyer tactics you might face.

This includes preparing for how you might respond to buyer requests, planning what you're willing to trade, and brainstorming ideas for adding value to the agreement ahead of time.

Top Performers are 1.7X more likely than The Rest to be prepared to negotiate.


The 6 Essential Rules of Sales Negotiation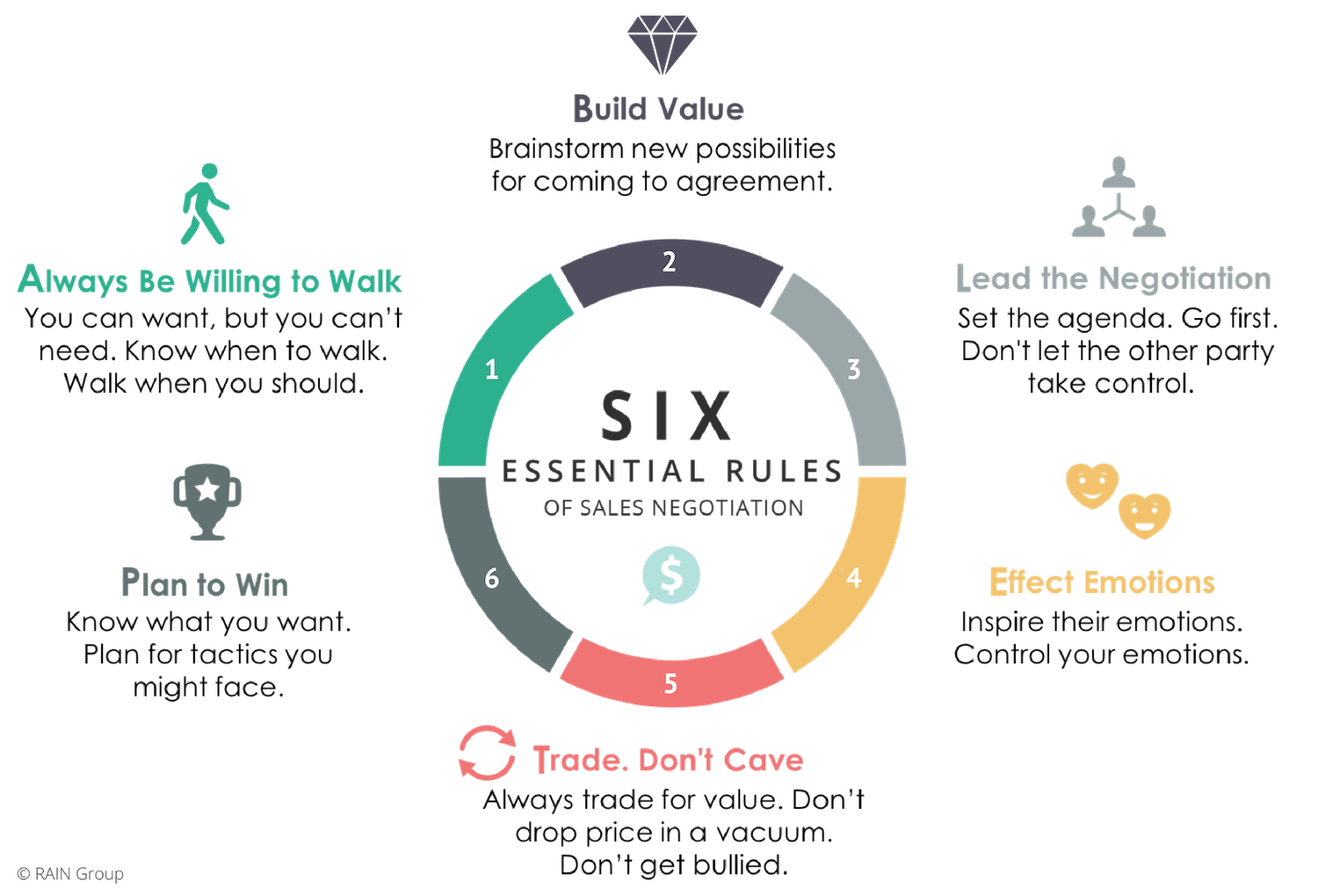 These 6 rules are not only more commonly practiced among Top Performers, but also valid to a high degree of statistical significance.
If you want to be more successful in your sales negotiations, learn and practice the 6 Essential Rules of Sales Negotiation.
Get resources and tools to improve your negotiation outcomes in our Mastering Sales Negotiations Toolkit.
Download Now >>