To succeed in sales, you need a steady stream of new opportunities entering the pipeline, whether it's with new clients or existing accounts.
That's not as easy as it used to be, given that people are now working, buying, and selling virtually, and many organic opportunities to create sales opportunities have disappeared.
In a virtual world, if you want to fill the pipeline, you need to be proactive and deliberate in your efforts. You can no longer rely on trade shows or networking events to meet people, so you have to take the lead to create conversations and make the most out of the opportunities you have. You need to work hard to understand your buyers so you can be more valuable to them.
If you want to be successful in creating new sales conversations virtually, follow the four-step WAVE method:
Winner's Mindset: Your attitude directly correlates with your success or lack thereof.
Attraction Campaign: Create an organized sequence of outreach across multiple channels to break through to buyers.
Value: Have a compelling, value-based reason for buyers to want to meet with you.
Execution: Manage your time, energy, and focus on crushing your prospecting goals.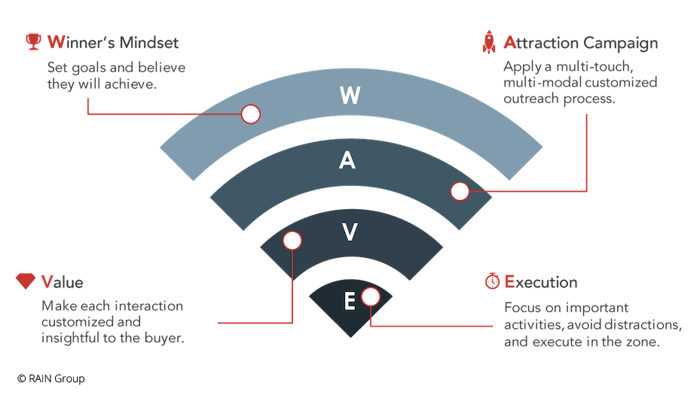 Let's dig a little deeper into each one of these steps.


1. Winner's Mindset
Having the right mindset and focus when it comes to proactive outreach (prospecting or account development) is a key aspect of success. Top Performers—winners—know you need to set goals and believe you can achieve them.
In Top Performance in Sales Prospecting, we found that the top challenge sellers face is not dedicating enough time or energy to their prospecting efforts. Not surprisingly, motivation to be proactive, reach out, and generate new conversations is a huge challenge.
To fix this, you have to think differently. Consider that 82% of buyers accept meetings at least sometimes with sellers who reach out. And when account managers reach out to buyers proactively, client satisfaction shoots up. (They report 83% significantly better satisfaction.)
But most importantly, 71% of buyers want to hear from sellers at the earliest part of their buying process when they're forming ideas. That's right: buyers want to hear from sellers.
So what's stopping you?


2. Attraction Campaign
How do you get the attention of a buyer? You need an organized sequence of outreach deployed across multiple media with a strong value-based offer that will compel buyers to act.
First, identify the list of people and businesses you want to secure a meeting with. This should include existing buyers and accounts, past buyers, past opportunities, members of your network, and high-value targets. Once you know who you're targeting, you can organize them appropriately and create an offer tailored to each buyer, their industry, and their business situation.
Next, identify how you'll reach out and how often. According to our research, 43% of buyers who accept meetings say it's okay for sellers to contact them five or more times before getting through. Devise a sequence that uses multiple touchpoints, including email, LikedIn, and phone.
Finally, make sure you do your research ahead of time to ensure you're adding value when you do make a connection. A tool like LinkedIn Sales Navigator can provide key pieces of information about your buyer that you can use to customize your messages, making them relevant to each buyer. Remember: knowledge is power.


3. Value
It's important to understand value from the buyer's perspective and what they're looking for. Essentially, value boils down to each buyer's thoughts on the 4 Whys:
Why act?
Why now?
Why us?
Why trust?
The more effectively you can build a case that answers these questions, the better you'll be able to grab buyers' attention and compel them to meet with you.
To do this well, you need a customized message that will resonate with the buyer, differentiate you from other sellers, and substantiate why the buyer should trust you. And you need a hook that will give you a reason for reaching out, a trigger event, such as a mention of the account in the news, or a changed role, or simply a piece of content shared on LinkedIn. (Again, Sales Navigator can provide this kind of information.) Referencing the trigger event will demonstrate that you pay attention, understand the buyers' situation, and can provide specific value.


4. Execution
Now that you've done the groundwork, you need to act. It's in the execution where most outreach efforts tend to fall apart. That's because many sellers lack the focus and discipline to consistently reach out and create conversations with buyers.
To do so, you need to make proactive outreach a regular, measured part of what you do. Maybe you need to build your list, develop an offer, or create an outreach sequence. Whatever it is, put the specific task in your calendar and add a reminder for it. If you do this, you can't say you don't have time; the time will already be blocked off, so it'll become a habit, and you'll be more likely to do it.


Setting You Up for Success Now and in the Future
The WAVE method is a strategic, multi-touch approach that ensures the buyer is at the center of your outreach and that your execution stays on track and on schedule. Following these four steps will allow you to consistently fill your pipeline with qualified leads, setting yourself up for success now and in the future.
To learn more about virtual prospecting, download our free guide, 4 Steps to Fill Your Pipeline with Quality Opportunities.