Most sellers have a quota, or a sales performance target, that is set by the sales leaders at their organization.
When it comes to setting these sales goals, there are two general philosophies organizations tend to take:
Set low goals, with the expectation that most sellers will meet their quota, resulting in a positive psychological and cultural effect.

Set more challenging goals, expecting sellers might not hit them, but due to the Pygmalion Effect, they will achieve better results overall.
Download our complimentary Goal Setting Worksheet.
The core message of the Pygmalion Effect is that, once an expectation is set, people tend to act in ways that are consistent with that expectation—the greater the expectation, the greater sellers will perform.
Which philosophy makes the most sense? Which is more likely to drive not only sales goal achievement, but higher revenue?
To find out, the RAIN Group Center for Sales Research launched our Top-Performing Sales Organization Benchmark study and collected information from 472 sellers and sales executives on this topic. We wanted to know three things: how challenging their sales goals are, whether or not they believe they are achievable, and if their sales team meets their goals.
We separated the 472 respondents into 3 groups based on a number of factors related to overall sales results—Elite Performers, Top Performers, and The Rest. Of course, we were looking to see which sales quota philosophy each group would subscribe to.
As it turns out, the differences in sales goal-setting and achievement are surprising.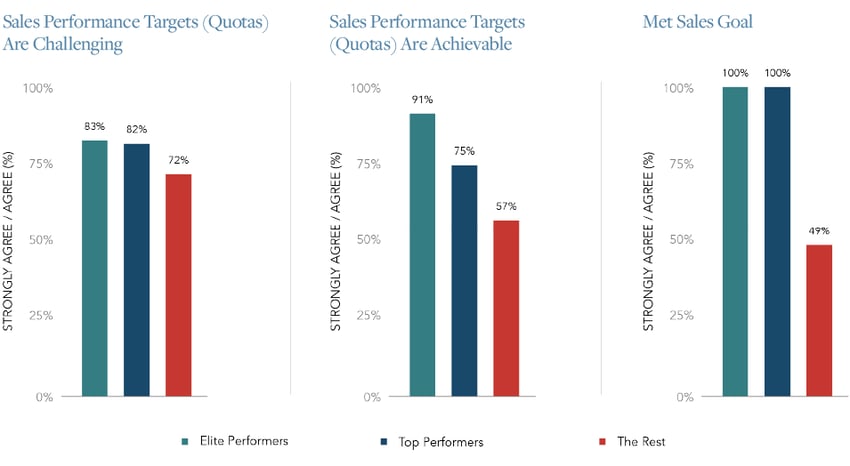 100% of Elite and Top Performers meet their sales goals, compared to only half of The Rest. At the same time, Elite and Top Performers are also more likely to set challenging targets. They're shooting higher and still achieving.
It looks like the Pygmalion Effect rings true in sales—the data proves that sellers are compelled to reach higher goals, even if they seem less realistic. Read this article for specific goal setting examples.
So if you're wondering which sales goal setting philosophy you should use to set seller expectations, consider doing what the Top Performers do and aim high.