Retaining current customers costs 6-7x less than acquiring news ones,1 and improving customer retention rates by a mere 5% can increase profit per customer by 25%-95%.2 So it makes sense that top companies focus on building relationships, increasing loyalty, and selling more to current customers as a growth strategy.
Based on our extensive research in strategic account management, we've identified 10 steps you can take to replicate their successes:
Get leadership buy-in
Implement a strategic account management process
Know your company's full suite of products and services
Develop a strategy and action plan to grow key accounts
Select the right accounts
Use an account management tool
Build a solid account team
Communicate value
Maintain and build the relationship
Get account management training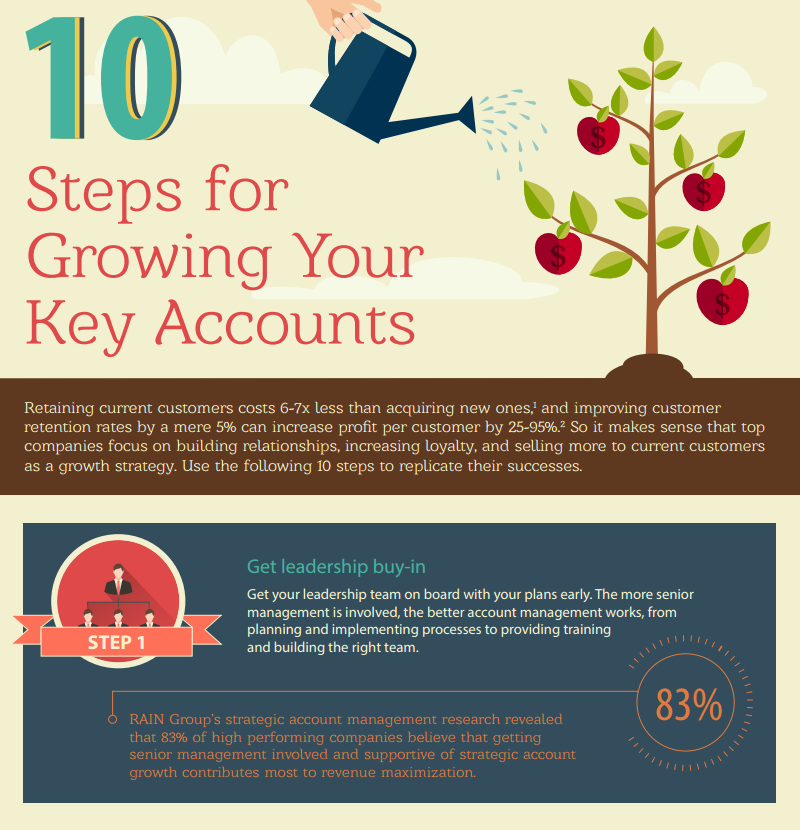 Click to enlarge and view the full infographic.

After taking a look at the infographic, evaluate your own account growth strategy. Chances are there are a few places you can improve. That's where we come in.
With RAIN Group's strategic account management training, your team will gain the skills needed to systematically review, grow, and protect your most profitable accounts. Whether in-person or online, we have a training program that can be customized to fit the needs of your organization. Contact us to learn more.

1 Christopher W. Hart, James L. Heskett and W. Earl Sasser, Jr, "The Profitable Art of Service Recovery," Harvard Business Review 68, no. 4 (1990), http://hbr.org/1990/07/the-profitable-art-of-service-recovery.
2 Frederick F. Reichheld and Thomas Teal, The Loyalty Effect: The Hidden Force Behind Growth, Profits, and Lasting Value (Boston: Harvard Business Review Press, 2001).