Revenue Growth Potential Greater than 25%2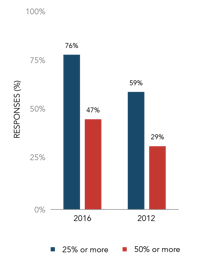 As part of our research this year, we have learned:
The number one priority of sales leaders for the upcoming year is to "increase business with existing accounts."1


Since 2012, there has been a marked increase in growth potential within existing accounts (see graph to the right).
Our study of 397 organizations with formal strategic account management processes sheds light on what separates Top Performers from The Rest to help sales leaders better understand how they can take advantage of their organization's growth potential.
In Competencies of Strategic Account Managers, Mike Schultz, President of RAIN Group, Ago Cluytens, EMEA Practice Director, and Mike Jones, UK Practice Director, reveal the most surprising findings from our Top Performance in Strategic Account Management research initiative, including:
The 6 Strategic Account Management Roles that every organization needs
The role of customer service in strategic account management
The #1 skill difference most separating Top Performers from the Rest
The three competencies that make the biggest difference for Top Performers
If you're looking for stronger revenue growth, margin growth, and satisfaction growth in your named accounts, this report will help you build a foundation that will put you on par with Top Performers.


Click here to download it now—no email required! >>
1 Mike Schultz, John Doerr, and Mary Flaherty, Top-Performing Sales Organization Benchmark Report (RAIN Group, 2016).
2 Mike Schultz, Mary Flaherty, Ago Cluytens, and Mike Jones, Top Performance in Strategic Account Management (RAIN Group, 2016).