Leaders at nearly every company we speak to agree that there is significant opportunity to grow their accounts, and they are looking for ways to capitalize on this opportunity.
In fact, growing your accounts is one of the fastest and most profitable ways to grow sales. The first and most basic step to growing accounts is reaching out to them to proactively create new sales opportunities.
Yet when we speak to sellers, they give all sorts of excuses for why they don't reach out to their existing clients to get them to buy more. Aside from the "I have no time for that" excuse, the most common one we hear is that they don't want their buyers to perceive them as self-interested sellers. If they reach out proactively to their longstanding buyers, sellers tell us, it might hurt their relationship and trust.
Seems logical, however in the Top Performance in Strategic Account Management Benchmark Report, we found the opposite is true.
Download: 5 Sales Prospecting Myths Debunked
Clients are looking for ideas and want sellers to reach out to them. Those sellers that do, have significantly better client satisfaction.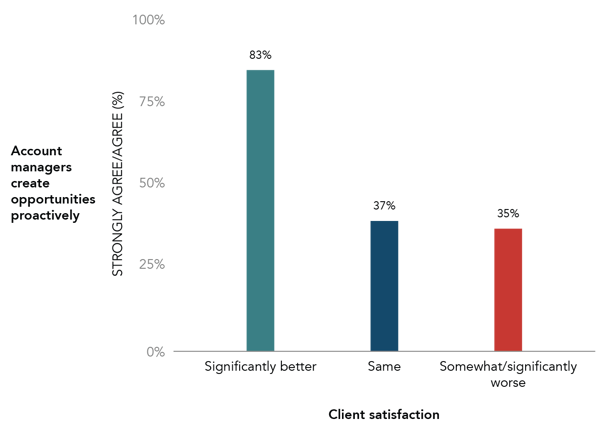 Think about it. Which would you rather work with:
Someone who is reactive to your needs, who sits back and waits for you to tell them what to do, and who is an order taker, or
Someone who reaches out with ideas for how they can help you achieve your goals, who understands your biggest challenges and comes up with ways to help you solve them, and who proactively pushes you and drives initiatives forward.
Which of these relationships would you find more valuable?
Buyers are Looking for Ideas
The opportunity for sellers to reach out proactively to clients is tremendous. In another The RAIN Group Center for Sales Research study, What Sales Winners Do Differently, we found that buyers view 75% of purchases as "strategic opportunities," meaning the buyer isn't required to buy, but is making a purchase as an investment. Yet only 14% of buyers report discovering these strategic opportunities from sellers versus other people and personal research.
What does this mean?
Buyers are not only open to your ideas and insight, they want them. They are searching for them. The sellers that proactively bring these ideas to the table and create these opportunities with buyers not only have more satisfied clients, they grow their accounts and their sales.