Technology sellers lament how impossible it is to get their buyers on the phone more than any other industry.
Phone is one of the top ways sellers say they connect with buyers, yet sellers in the technology industry report extreme difficulty using it to reach their buyers.
In our study on Top Performance in Sales Prospecting, we studied 488 buyers responsible for $4.2 billion of purchases and the prospecting habits of 489 sellers. We looked at results across buyer and seller sets, top performers, and industry. As part of our research, we compared how buyers prefer to be contact by sellers across multiple industries.
Surprisingly, results show technology buyers favor being contacted by sellers via phone more than their peers in other industries. It ranks second only to email when it comes to how they prefer to be contacted by sellers overall.


Buyers Who Prefer to Be Contacted By Phone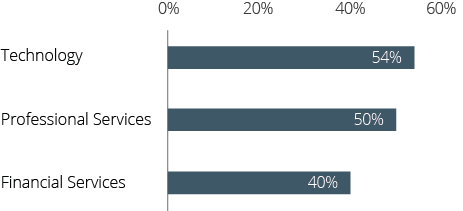 As much as sellers may not like to use it for prospecting, the phone and cold calling is essential for technology sales success.
The following are 4 keys to cold calling to help technology sellers become more successful in their outreach efforts.
4 Keys to Cold Calling for Technology Sales Success
Adjust the goal of your calls. Think of the value proposition for the meeting from the buyer's perspective: what can you offer to get the prospect to agree to a meeting? It might be new research findings, insight on best practices, a case study, a demo, or something else that provides value to them by agreeing to speak with you. At first, you aren't selling your offering, you're selling time. You have to ask yourself what would make it worthwhile for the buyer to take 20 minutes, 45 minutes, an hour, etc., to meet with you.

Take the relationship one step a time. First, intrigue the buyer with your expertise and provide value in your conversation. Then you can work on uncovering needs, sharing your value proposition for what you sell, and discussing potential opportunities to work together.

Bring the value. 58% of buyers in our study report the majority of their sales meetings are not valuable. This isn't good! After you sell value in the meeting, you need to actually bring value in the meeting.

For example, when offering a demo of your technology, you should first ask questions to understand what parts and features are most relevant to the buyer. Ask them what technologies they currently use, what they're happy with, and what they think could be improved.

Then tailor your demo to the buyer's individual needs and desires. No two demonstrations should be exactly the same. If you show up expecting to run the same dog and pony show with each buyer, you should also expect to have limited success.

Use multiple touches and methods. It takes more than a single call to generate a meeting with a technology buyer. According to our Top Performance in Sales Prospecting research, it takes an average of 8 touches to secure an initial meeting (or other conversion) with a new prospect. Don't give up after 2, 3, or even 5 touches.

Use an integrated campaign that includes multiple touches and multiple offers over time to break through and stay top of mind. The phone is part of this, but don't forget to use email, social media (especially LinkedIn), direct mail, and other methods.

Research buyers and customize your messages. Nothing bothers tech buyers more than bulk emails, spammy-looking LinkedIn messages, and auto-generated voicemails.

Buyers want to know you've researched them and know their business. Research what technologies they're already using, follow the company and individuals to understand what's important to them, and then tailor your outreach to include these findings. It's important to make your communications relevant to the buyer and their business.

(Note: Beyond looking up individuals on LinkedIn, a great way to research target companies is to set up Google alerts. This can help you be aware of anything new going on with the company.)
You can break through to technology buyers and generate meetings.
Is it easy? No.
Can you send a few mass emails and expect to fill your calendar with meetings? No.
The good news is that tech buyers are willing to meet with new providers and accept meetings over the phone. Remember, technology buyers prefer being contacted via phone more than their counterparts in other industries! Follow these 4 tips, and you'll start having much greater success in your technology sales.



These tips were originally shared in our article, Is Cold Calling in Technology Sales Dead?, published on CustomerThink.