What is it that strategic account managers must do to grow their accounts? Surely, most would agree SAMs should be proactively driving strategic sales opportunities rather than simply waiting and reacting to buyer queries. That is to say: to make new sales, SAMs should be prospecting inside their accounts. Yet, in most organizations, this doesn't happen.
In our research on Top Performance in Strategic Account Management, we found that account managers at fewer than half of the organizations studied were effectively creating new business opportunities in their accounts. Yet, this is something that Top Performers—those organizations with increased profits in strategic accounts, increased annual revenue, and better levels of client satisfaction and overall SAM success—do significantly better than The Rest. In fact, 76% of account managers at top-performing companies effectively create new business opportunities in their accounts compared to only 47% of The Rest (Figure 1).


Figure 1. Account Managers Create New Business Opportunities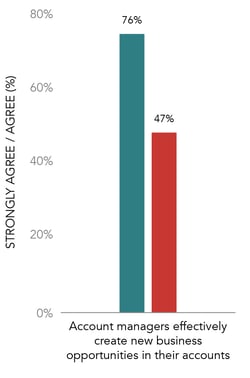 Through our research, we've uncovered a series of factors that help drive significantly more new business opportunity among the Top Performers in Strategic Account Management.
They have more people playing the Results Driver role, proactively driving teams to find new opportunities for growth.
Their teams create compelling and effective account plans that have specific ideas for the additional value they can deliver to their accounts. And, they hold themselves accountable, meaning they're more likely to take actions to fill the pipeline at their named accounts.
They're more process oriented, so they build and execute plans systematically, which ensures they're driving new revenue opportunities.
Their Relationship Leads are more likely to gain access to and develop strong relationships with enterprise-level decision makers—which is necessary for driving new opportunities.
They're more likely to have an effective process to evaluate the additional value they can provide to accounts—both internally, with their own staff, and externally, collaborating with their account stakeholders.
So, what can your company do to join the ranks of Top Performers when it comes to creating new business opportunities in your strategic accounts?