With 2020 less than a month away, it's time to think about what sales success looks like for you in the new decade.
Are changes in buyer behavior affecting your sales success? Are your accounts buying as much or as often as they could be? Are you losing big in negotiations?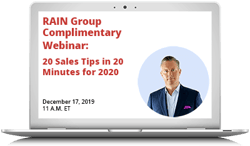 What do you need to do that you aren't already doing to reach your highest potential?
In this on-demand webinar, Ago Cluytens, RAIN Group Practice Director for EMEA, shares 20 sales tips in a rapid-fire style webinar to get you thinking about ways to optimize your time, pursue your best opportunities, and win more sales in 2020 and beyond.
You'll learn:
Important buying trends and their impact on how you sell
The #1 way to beat out other sellers and win the sale
Key habits you can adopt that drive productivity, performance, and success
How to differentiate from your competition and set yourself apart from the pack
The one (and only) prospecting method that works for existing, prior, and potential customers
If you're looking for 20 things you can do starting today to make the best of the next decade, this webinar is a must-watch.