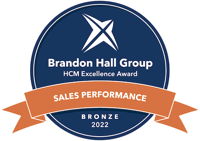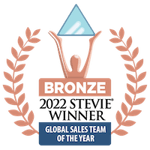 BOSTON – December 7, 2022 – RAIN Group, a global sales training company helping clients improve sales results through training, coaching, and reinforcement, announced two of its clients, Google Cloud and Covetrus, recently received awards for remarkable sales results.
"We work closely with our clients to develop sales improvement initiatives that are highly customized, industry-specific, and designed to get the best results. We're extremely proud of Google Cloud and Covetrus for winning these awards," Shared Andy Springer, Chief Client Officer at RAIN Group.
Google Cloud won a bronze Brandon Hall Award for Best Sales Onboarding Program.
In the face of COVID and fatigue around virtual learning, Google Cloud needed to stand up an enablement program to navigate customer engagement changes, including prospecting and customer meetings.
To help from both a quality perspective and to enable global scale, Google Cloud sought out a partner who had an established sales methodology that could speak to their experienced sales audience.
Google Cloud partnered with RAIN Group, leveraging its methodology to produce a key component of their sales onboarding program, Prospect Like a Pro. The results have been phenomenal, and participants have raved about the program.
"Each week I picked up 2 or 3 things that I will practice and use in my day-to-day going forward. I liked the break-out sessions which gave us the opportunity to share experiences and sense-check our own methods of working."
"The last productivity session was very useful because it gave me the tools I needed to really think about how I can improve my day-to-day and remain task and goal-oriented."
"Probably the best training I have done to date, it was amazing!"
In addition, Covetrus, a global animal-health technology and services company, won bronze in the Stevie® Awards for Global Sales Training Team of the Year and Achievement in Sales/Revenue Generation.
The company was on a mission to transform its U.S.-based sales force, further transforming account managers into consultative sellers for the company's broad product and service portfolio.
Covetrus partnered with RAIN Group to develop the program. The virtual training kicked off with a pilot program for sales leaders and then 400+ account managers and product specialists were divided into two groups, totaling 20 cohorts.
"To organize 20 cohorts using five different facilitators and have it work as well as it did was remarkable. We had strong, dynamic facilitators. They were the best of the best," shared Todd Fach, Director of Sales Learning and Development at Covetrus.
Covetrus is not only growing each quarter, but also having a record-breaking year. The training has assisted in its quarter-over-quarter growth. They've seen remarkable growth in their Partners Program, which was one of the goals of the training. Customers participating in the program are delivering significant cumulative sales growth vs. customers not in the program—and receiving greater overall value in return.
"Survey results were great. Comments were highly positive for newer and seasoned account managers stating this was better than any other training they had received and felt it was immediately applicable to daily practice. One account manager shared that it was 'much better communication, collaboration, and direction than most training I've received in over 22+ years,'" shared Fach.
About RAIN Group
Founded in 2002, RAIN Group is a Top Sales Training Company that delivers award-winning results through training, coaching, and reinforcement. The firm has helped hundreds of thousands of salespeople, managers, and professionals in more than 75 countries significantly increase their sales results. Headquartered in the greater Boston area, office locations include Bogotá, Geneva, Johannesburg, London, Mexico City, Mumbai, Santiago, São Paulo, Seoul, Sydney, and Toronto. To learn more about the sales training programs RAIN Group offers, visit this page.