Productivity is often misunderstood.
One person might think being productive is conquering their never-ending inbox by the end of the day, while another perceives it as working as many hours as possible.
Here's the thing: it's not about getting through your email, and it's not about being a workhorse and cranking out eight or more hours of work every day.
It's about working smarter. (Cliché, yes, but still true.)
How can you take your productivity to the max?
Meet Extreme Productivity.


The Research Behind Extreme Productivity
In our global productivity study of 2,377 sellers and business professionals, we sought to answer the question: Do those who achieve—those who get the most done—work differently?
Respondents were placed into two groups based on their response to the statement, "I am extremely productive."
The Extremely Productive (The XP): Rated themselves a 5 out of 5.
The Rest: Rated themselves 1-4 out of 5.


"I'm Extremely Productive" on a 5-Point Scale


Extraordinary differences were found between these two groups.
It's important to note the significance between a 4 ("mostly like me") on this question versus a 5 ("very much like me"). The most surprising findings from our research were the large differences between The XP and the next level down.
In fact, our research yielded similar result to a study shared in the Harvard Business Review article "Putting the Service-Profit Chain to Work."
In the early 1990s, Xerox surveyed its 480,000 customers on their feelings about Xerox. Until this time, they had sought satisfaction scores of 4s and 5s (satisfied and very satisfied). That is, until they did an analysis of the difference between 4s and 5s. It turns out that a 5 rating was six times more likely to repurchase from Xerox than a 4.
In our research, we found The XP are anywhere from 1.7x to 3.5x more likely to exhibit the 12 key behavioral drivers of Extreme Productivity compared to the 4s.
Respondents who rated themselves a 4 have a long way to go when it comes to being Extremely Productive. They should strive to rise to the level of The XP—anything short of this leaves them in the pack with The Rest.


The Extreme Productivity System
RAIN Group's Extreme Productivity System (XPS) provides a framework for driving maximum personal effectiveness through the application of the 3 Keys of Extreme Productivity (The XP3) and 9 Habits to manufacture motivation, take control of your TIME, and get in the zone when working toward your goals.


The 9 Habits Correlate to Extreme Productivity
Our productivity research validated the Habits in the Extreme Productivity System. All 9 Habits positively correlate with Extreme Productivity.
The XP score was significantly higher than The Rest for each of the 9 Habits, with the biggest gaps appearing in the Habits of:
Say No: The ability to say no to people and activities that try to derail you from what you should be working on
Obsess Over TIME: Knowing where your time goes and devoting time to Investment activities that will give you out-sized returns
Reengineer Your Habits: Understanding habits, employing productive work habits, and having the ability to change habits as you wish
Indeed, The XP approach work very differently than The Rest, and those differences contribute significantly to their productivity.


Performance, Job Satisfaction, and Happiness
Data was also analyzed in conjunction with job performance, job satisfaction, and overall happiness.
The XP are significantly more likely to strongly agree they are Top Performers, satisfied with their jobs, and very happy.


Performance, Satisfaction, and Happiness
(The XP and The Rest)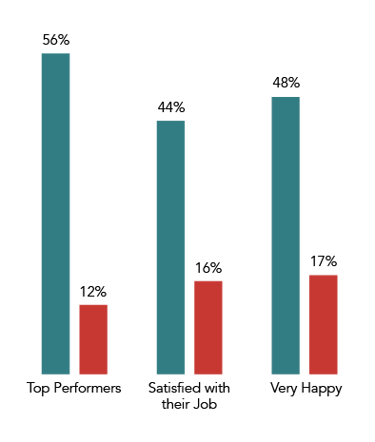 With nearly half of The XP reporting they strongly agree they are very happy compared to only 17% of The Rest, that alone should make people strive to join The XP.
If you're looking to take control of your TIME, feel more fulfilled in work and life, and become a top performer who is satisfied with their job and very happy, work on getting yourself to the point where you can confidently respond to the statement, "I am extremely productive," with a 5 "very much like me" rating.
These resources will help you get there: