In our study, The Top-Performing Sales Organization, 40% of respondents said "Improving sales opportunity approach and planning" is a top priority for the next year. Along with two related initiatives—improving ability to communicate value (41%) and optimizing sales processes (32%)—these represented three of the top four sales initiative priorities altogether.1
No two ways about it: sales leaders are planning heavy focus on their sales process and activities directly related to it.
Recently, however, there's been backlash against sales leaders focusing on improving their sales processes. The following was published in the Harvard Business Review:
| | | |
| --- | --- | --- |
| | Sales leaders have long fixated on process discipline...But recently sales has been caught off guard by a dramatic shift in customers' buying behavior. Even as leadership has tightened compliance with the processes that have served so well, sales performance has grown increasingly erratic…The sales machine is stalling…. Leaders must abandon their fixation on process compliance and embrace a flexible approach to selling driven by sales reps' reliance on insight and judgment.2 | |
Bold statement! If it's true, sales leaders should dramatically change their priorities. The question is, is it true? Should sales leaders abandon focus on process? (And secondarily, does focusing on process somehow hinder seller ability to apply insight and judgment? Are these mutually exclusive?)
We can all have our opinions on this, but we wanted to find out what story the data tells us. In our study which analyzed data from 472 sellers and executives representing companies with sales forces ranging from 10 sellers to 5,000+, we defined Top Performers as winning more than 40% of their opportunities, meeting their annual sales goals, setting challenging goals, and mostly capturing maximum prices in line with the value provided.
We found that Top Performers are much more likely to focus on, and have more mature, sales processes.
We analyzed sales process on 5 levels of maturity.
Ad Hoc (Chaos): No consistent process or framework for planning to win opportunities.

Emerging: Some consistency and planning framework, but still work to do to standardize it and make it complete.

Defined: The opportunity management process is defined with a tool to guide sellers to win opportunities.

Managed (Adoptive): Number 3, plus it's easy to use, includes specific details and guidance for selling, the process is managed well and helpful to sellers.

World-Class (Adaptive): Number 4, plus it's always being measured and improved, it includes best practices for strategies and tactics across the sales cycle, and the process and planning tools are embedded in sellers' workflow and technology.
Top-Performing Organizations are much more likely than The Rest to have more mature sales processes: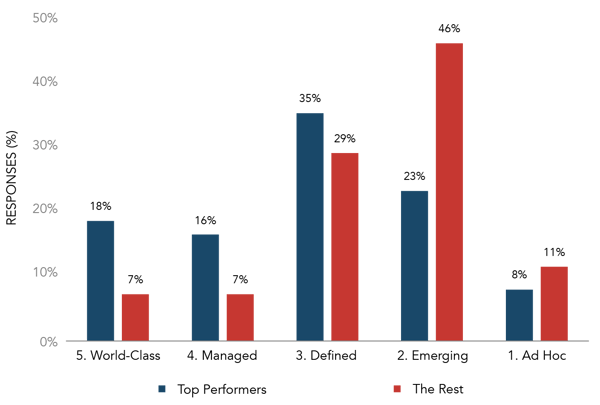 In fact, only 18% of Top Performers had a World-Class (5 out of 5) sales process. Still, should you care?
Organizations who have a World-Class sales process enjoy much higher proposal win rates (57%) than those who have only a Managed process (52%). Those who have a Managed process have a much higher win rate than those who have only Defined their sales process (44%).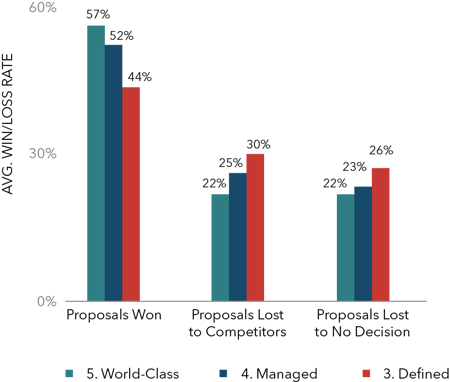 If your sales process is at a 5 out of 5 with continuous improvement in place to keep it there, sure, pick a new fixation. For the majority of us, we'd be served best to skip the Harvard Business Review article altogether.
To the point about whether focusing on processes hinders seller insight and judgement, we have found the opposite to be true. Focusing on sales process, employing good process management techniques (including guides and checklists), and then applying discipline to follow the process doesn't hamper insight and judgment. It unleashes them.
If you want to find yourself in the upper echelons of companies with a strong and effective sales process, and enjoy the win rate and revenue increases that come with it, take the following steps to drive your sales process maturity as close to 5 as you can.
Here are some ideas to help you along on the journey.
Get to level 3: Going from undefined (1 or 2) in maturity to 3 is often the most difficult because, culturally, people don't believe they need process. Resistance is often high. All good sales organizations, however, at some point define their sales and opportunity management processes. After all, you can't raise the bar on sales success across the board until everyone has a shared roadmap. It's up to you to lead a resistant sales organization through the change.

Get to level 4: While reaching level 3 is a change effort, level 4 is a resource effort. Create playbooks, checklists, and job aids in critical areas. These tools make it so sellers don't have to keep reinventing the wheel, and don't have to remember long lists off the tops of their heads. Take away that stress, and sellers can focus on unleashing creativity and judgment.

Get to level 5: Committing to continuous improvement requires leadership vision, ongoing development, and ongoing tactical management to make it all come together. A sales process at this pinnacle level supports maximum value for buyers and consistently helps sellers win sales and develop deep relationships.
1. For our study The Top-Performing Sales Organization Benchmark Report, we gathered research data from 472 respondents (80% executives, 20% sellers) representing companies with sales forces ranging from 10 sellers to 5,000+. Respondents were located in the Americas, EMEA, and Asia-Pacific regions, and represented 26 industries. Download our new white paper, Increase Win Rates & Beat Your Sales Goals in 2016, to see more highlights from the study.
2. Brent Adamson, Matthew Dixon, and Nicholas Toman, "Dismantling the Sales Machine," Harvard Business Review (Nov. 2013).