Becoming more productive can make a dramatic difference in your work, sales success, and overall happiness.
Think about it. How do you feel after a day where you've been exceptionally productive and pushed important projects forward?
You feel invigorated, motivated, engaged, and ready for the next challenge.
Compare that to an unproductive day where you couldn't focus or spent the entire day working on tasks for others. You feel drained, overwhelmed, frustrated, and irritable.
The good news is you can control how productive you are and in turn how you feel at the end of each day.
Through our work with clients, extensive research, and our own proprietary Extreme Productivity Assessment, we've developed a productivity system made up of the 3 Keys, 9 Habits, and 27 Hacks of Extreme Productivity.


Extreme Productivity Defined
The system of driving extreme productivity through the application of the 3 Extreme Productivity Keys (XP3) and 9 Habits to manufacture motivation, take control of your TIME, and maximize focus and effort.


The XP3, 9 Habits, and 27 Hacks of Extreme Productivity
In the Extreme Productivity System (XPS), each of the 3 Keys is comprised of 3 habits, which in turn have 3 hacks, making the system easy to apply.
Manufacture Motivation

Recruit Your Drive
Choose your New Reality
Plan actions weekly
Track progress weekly


Ignite Your Proactivity
Calendar Investment TIME
Talk to yourself
Say "3...2...1...Go!"


Reengineer Your Habits
Say "When I, Then I, Will I?"
Change your environment
Make your morning routine sacred


Control Your TIME
Obsess Over TIME
Take T, Increase I, Minimize M, Eliminate E
Put your GIA first
Track your TIME


Say No
Do less: If it's no gung ho, it's no
Derail the derailers
Keep a To Don't list


Play Hard to Get
Be free from the shackles of alerts
Signal "Do Not Disturb"
Be someplace else


Execute in the Zone
Sprint into the Zone
Establish a daily routine of obsessed, planned sprints
Relay: Do 4 successive sprints
Sprint through distraction. Don't task switch.


Fuel Your Energy
Mind: Practice positive self-talk and mindfulness
Body: Eat and sleep for energy, be active
Spirit: Take Treasured TIME, find your spiritual path


Right the Ship
Say "3...2...1...Stop!" Practice Free Won't
Make micro change
Sign a commitment contract


The Extreme Productivity ModelTM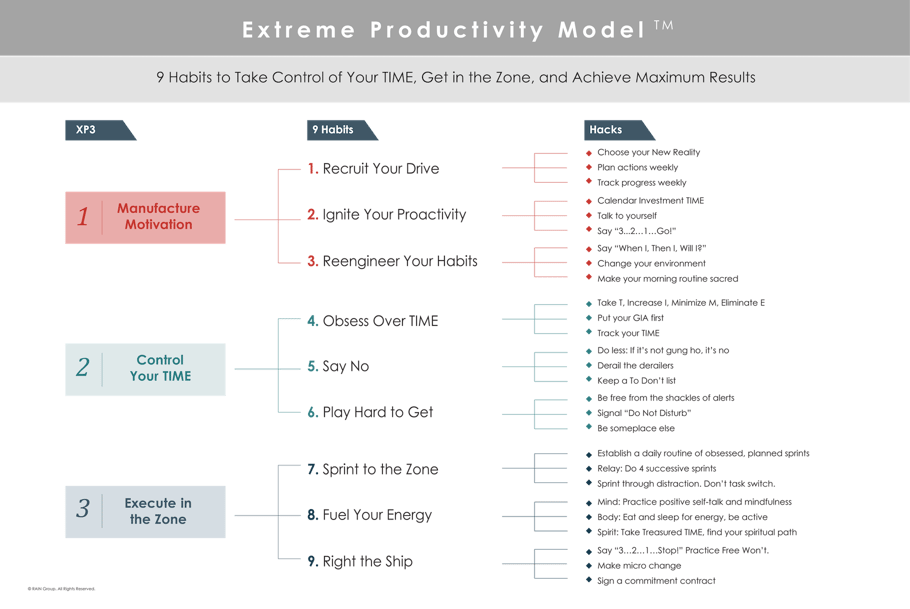 Download this image, print it out, and hang it in your work area. This is a great reminder and will help keep you focused.
Individuals and sellers who adopt the Extreme Productivity System and make it part of their daily work habits have been proven to achieve maximum results.
To learn more about these keys, habits, and hacks download the ebook, The 9 Habits of Extreme Productivity.