What do sellers see as challenging?
What do sales leaders see as challenging for sellers?
Where are these two groups aligned in their thinking and where are they divided?
Do these differences matter?
To find out, we asked 423 sales leaders and 129 sellers about the challenges sellers face and compared their answers.
Here's what we found:
Challenges Sellers Face
By Percentage Point Difference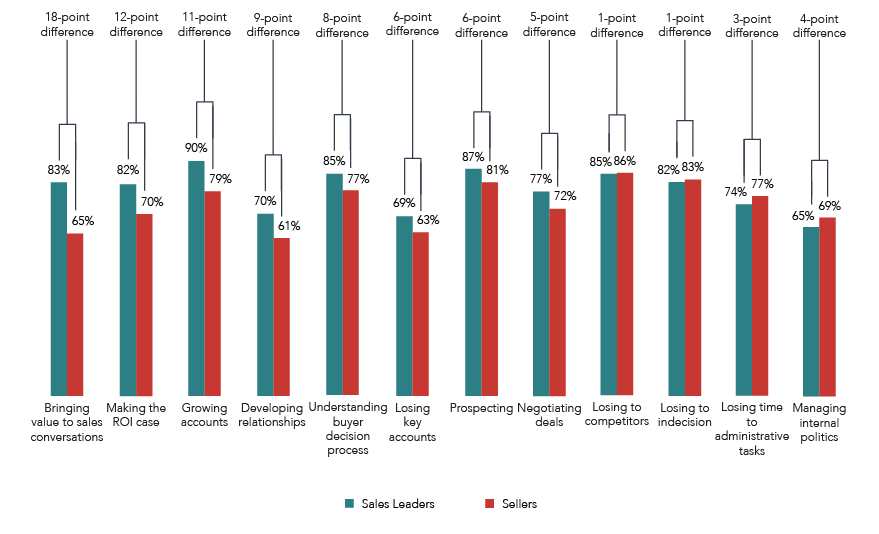 Overall, sales leaders rate the challenges sellers face more strongly than sellers themselves, with the biggest gaps being in:
Bringing value and ideas to buyer conversations
Making the business case for your solution
Growing accounts
Developing relationships
Understanding/gaining information on the buyer decision process
Mostly these are skill areas.
Here's what is interesting in the data:


Sales Skills
When it comes to skills, sellers think they're better than sales enablement and leadership think. 65% of sellers report that bringing value to their sales conversations is very challenging. 83% of sales leaders think it is.
79% and 70% of sellers say that growing accounts and making the business case for the solution is challenging compared to 90% and 82% of sales leaders, respectively. In fact, growing accounts tops the list for sales leaders in regards to how challenging it is for sellers.

Clearly, there's a disconnect between the skills sellers think they have and the skills sales leaders think their sellers have.
Get used to it: if you roll out a skills initiative, some of the team will probably say, "We don't need that." In fact, they do.
The challenge is getting sellers to see this and to buy into skill development initiatives.


Excuses
When it comes to the other areas: administrative duties, internal politics, and losing to indecision, sellers are essentially blaming others. Sellers might say, "Well, the company makes it difficult to succeed because…" and, "We sold it well, but they couldn't get out of their own way to buy it."

These may have kernels of truth, may be very true, and are probably somewhere in between. However, it's possible many times they're excuses. If sellers were better at selling value, more buyers would buy. If they were more personally productive, they would achieve despite the always easy to blame administrative challenges.

In our Extreme Productivity Benchmark Report, we found that some people, even when they have the same administrative environment, internal politics, corporate culture, technology, and sales managers, can get a lot more done with their time than their peers based on their work habits.

Improving sales productivity is one of our three recommendations for overcoming sales challenges and achieving priorities, presented in the complimentary report Top Sales Leadership Challenges and Priorities.


Understanding the Buyer Decision Process
One of the biggest gaps between sellers and sales leaders is in understanding and gaining information about the buyer decision making process. 77% of sellers find this very challenging, compared to 85% of sales leaders.
We see this repeatedly in deal reviews with sellers. When we ask them where they are with a particular sale, generally the answer is, "I'm feeling really good about this one."
However, when we dig deeper and ask about the decision process, the decision roles, relationship strength, the buying criteria and importance, competitive positioning, and what specific actions they will take to win the sale, it's a much different story.
There are 6 phases in the buying and selling process, with specific things sellers must do in each phase to win. Sellers must understand this and attend to each phase properly.


Prospecting
Everyone agrees prospecting is difficult!
It's hard to get through to buyers and to set appointments. Not impossible, but hard.
We've written a lot about what it takes to succeed in prospecting and a few of our best prospecting tips are here. Suffice it to say, sellers need a good plan and strong skills to achieve in this area.


Negotiation
It's rare to hear a seller say they lost the deal during the negotiation. It's much more common to hear sales leadership talk about how their sellers get beaten up in negotiations and discount too often.
While sellers may "win," they could and should be winning at much higher margins or by selling a much broader solution set.


Losing to Competitors and Indecision
Everyone agrees losing to competitors and indecision are top challenges. In our What Sales Winners Do Differently research, we looked at what the winners of actual sales opportunities do differently than the closest second-place finishers. The #1 difference was the sellers who won educated buyers with new ideas and perspectives.
This makes a strong case for improving sellers' skills around bringing value and ideas to buyer conversations.


Who Cares?
Whether you're about to undertake a sales skills initiative, install a new sales process or technology, work to improve seller productivity, it's important to understand that sellers and sales leadership are going to have different perspectives on the core challenges they face and how to address them.
The more you can get leadership and sellers themselves on the same page and working towards a shared goal, the more successful you will be. It all begins with understanding where these differences are and addressing them head-on.