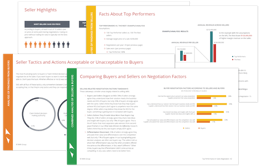 What are the best strategies for success in sales negotiations? What do buyers really want? Which tactics work best for buyers? For sellers? How is negotiating with procurement different?
The RAIN Group Center for Sales Research recently studied 713 buyers and sellers in a major global study to answer these questions and more. We analyzed data from 449 buyers representing $2.59 billion in annual purchases and 264 sellers in over 26 industries across the Americas, EMEA, and APAC.
We've compiled our findings in an 81-page report containing 100 graphs and charts and analyst commentary that will give you fresh insights into what's working today in sales negotiation.
In it, we answer:
What do Top Performers do differently to win more sales at higher prices?
What are the most effective negotiation tactics for sellers? How about for buyers?
What are the average discounts in various industries?
How important are budgets, and can buyers pay more than their stated budget?
Should sellers really go first when it comes to sharing price? Or is it better to ask for budgets?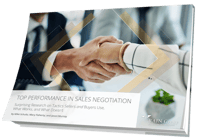 This report includes the key findings of this study and sheds light on what actually happens in negotiations between buyers and sellers.
If you're getting beaten up in negotiations, want to know which tactics to expect, and which strategies actually work, this report will help you get there.