In our Top-Performing Sales Organization research, the RAIN Group Center for Sales Research assessed what the Top Performers—those with the best sales results—do differently than the Rest. We analyzed data from 472 sellers and executives representing companies with sales forces between 10 and 5,000-plus sellers.
There are numerous findings that point to the central role played by strategic account management (SAM) in Top-Performing Organizations:
Top priority: The number one sales priority for the year ahead for all organizations is to increase business with existing accounts.

The greatest difference between Top Performers and The Rest: The number one factor with the greatest separation between Top Performers (61%) and The Rest (32%) is "Our sales organization is effective at maximizing sales to existing accounts."

Top Performers are almost 2X more likely to be effective at selling to existing accounts.

Skills: Sellers in Top-Performing Organizations are also significantly more likely to be skilled at driving account growth to win business consistently and at a high level compared to The Rest: 65% vs. 43%, respectively. This means that for 80% of respondents (The Rest), only about 4 in 10 believe their sellers have the skills they need to drive account growth.

Mature Process: Companies with a more mature account management process are significantly more likely to:

Maximize sales to existing accounts

Have sellers skilled at driving account growth

Have effective training strategic account management training
To define SAM process maturity, we asked survey respondents, "How would you describe the organization's process for sellers to maximize sales, profits, and retention at existing accounts?' The answer range included:
Ad Hoc: No consistent process

Emerging: Some norms and consistency, but still work to do to standardize and complete it

Defined: We have a defined approach for SAM with major actions/outcomes defined

Managed: Same as #3, plus it's easy to use

World-Class: Same as #4, plus it's always being measured and improved

Account Growth Effectiveness, Skills, and Training Correlate with Account Management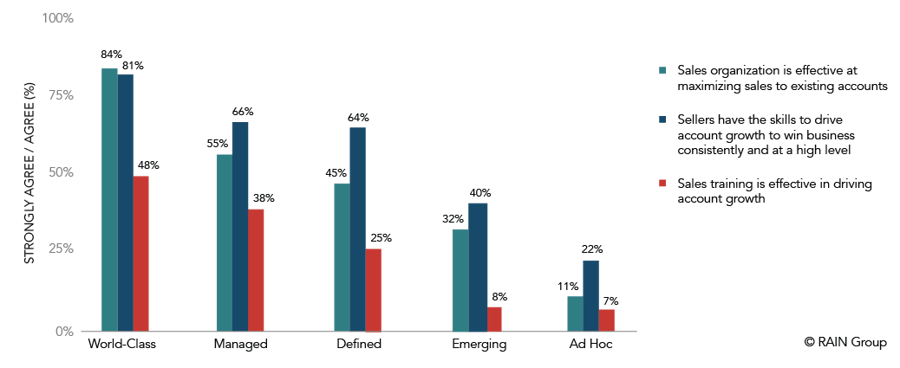 It's a common assumption that organizations that are effective at strategic account management and growth do, indeed, enjoy stronger business results. Our research supports this, and shows just how much of a difference a focus on strategic account management makes.
While SAM improvements are the top priority of our study participants—mostly leaders and decision makers—many of their companies have woefully inadequate SAM organizations and sellers with inadequate skillsets to grow their accounts.
There is a huge opportunity for improvement that, if implemented properly, should lead to significant business growth and results for most organizations.