In the Benchmark Report on High Performance in Strategic Account Management, we studied more than 370 companies that engage in formal strategic account management. We looked at what sets High Performers apart from the rest, and what you need to do to become a high-performing organization.
Among other areas, we asked about the challenges companies face when it comes to account development. We found that High Performers report fewer challenges and issues in a host of different areas, including:
Finding time to focus on strategies and actions to maximize growth at strategic accounts
Getting funding or resources needed to maximize growth at strategic accounts
Gaining support from company leaders to focus on strategic account management
Here's the hard truth: In our most in-depth research to date, we've discovered that all companies—High Performers and the rest—have the same amount of hours in each day (24) and the same amount of days in each week (7) in which to execute their priorities. (Insightful, yes?)
We've observed companies that have made huge investments in product development, technology, people, global expansion activities, mergers and acquisitions, property, plant and equipment, and a host of other areas, and all report challenges with garnering the resources they need for account development.
As with many corporate initiatives—and business success in general—it's not competition, market factors, or some other external factor getting in the way.
We are our own greatest obstacles.
One of the top reasons why account development at many companies fails is a lack of leadership support driving strategic account management.

Account Development as a Leadership Priority Pays Off


It's interesting that the companies that report challenges in resources and time don't report a statistically significant difference in opportunity to grow strategic accounts. The opportunity is universally understood.
However, until company leadership focuses on account development , the common excuses will be all-too-convenient for why things aren't working out how they want.
Indeed, High Performers report 20% or more revenue growth (60% vs. 26%), 20% or more profit growth (54% vs. 18%), and a higher level of "significant year-over-year" client satisfaction improvement (28% vs. 8%) in their strategic accounts than the rest of companies.
High Performers Compared to Average/Below Average Performers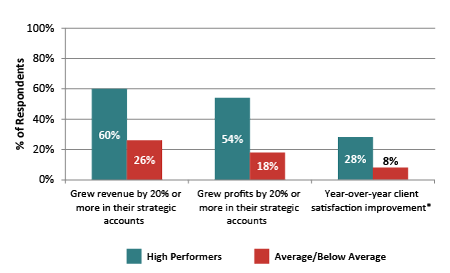 The questions we must all ask ourselves, then, are:
Are there significant growth opportunities in our strategic accounts?
What will it take to capture these opportunities?
Are we willing to do what really needs to be done to turn these opportunities into results?
The answers you come up with will drive everything else.
If you want to be successful in capturing these opportunities, account development must be a leadership priority to succeed.