Companies take lots of actions to grow accounts. Some work better than others.
However, none of them work very well if you don't take care of one important action up front.
We at RAIN Group studied more than 370 companies that engage in formal strategic account management, and published the results in the Benchmark Report on High Performance in Strategic Account Management.
We asked: What ACTIONS do you believe contribute most to your efforts to maximize revenue from accounts? We then split the results into 2 groups: high performers and below-average/average performers in SAM.
Here's what the high performers do to maximize revenue at their accounts: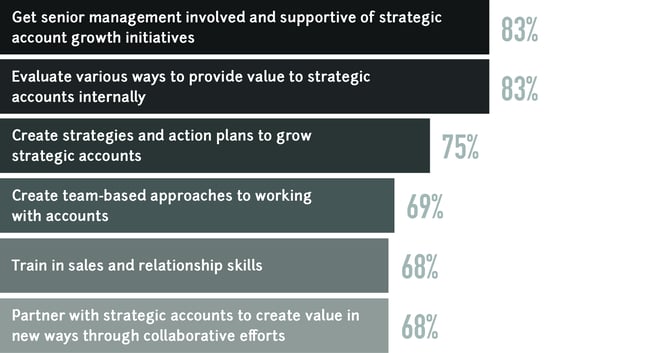 It starts at the top. Without senior management support, you won't:
Get the resources you need to execute your strategic account plans. Sure, you can develop a plan—but if senior management won't invest in that plan and provide you with the resources you need, it's going to be hard to execute.

Assemble the team necessary to grow accounts. As we've shared before, there are 6 strategic account management roles that must be played in order to grow accounts. If management does not buy in to your account growth initiatives it will be hard to assemble the team you need and get resources to work with you.

Get the training your team needs. Without the right sales and relationship skills, it's tricky for account teams to lead the complex conversations necessary for account growth. Strategic account managers also need skills in driving growth at their accounts overall. High-performers invest in training so their teams will have the skills and knowledge necessary to drive account growth.
If you can get the leaders on board, you can do the rest. If not, your efforts will be all sound and fury, but they will signify nothing. Meanwhile, it's not difficult to get growth-oriented leaders on board once they know the difference that excellence in strategic account management yields.
High-performers are:

If you want to experience this type of growth, start at the top. Get the commitment you need first, then you can do everything else.