Client loyalty is tough to earn.
Fred Reichheld, author of The Loyalty Effect and creator of the Net Promoter System, found that most corporations lose 50% of their customers every 5 years, 50% of employees in 4 years, and 50% of investors in less than one year.
It's not surprising. It isn't easy to achieve the highest levels of satisfaction and relationship strength needed to keep clients loyal at a higher clip than average.
There's a lot of research out there supporting the link between overall client satisfaction after they buy and their loyalty.
It's not, however, just about what happens after the buyer buys. The RAIN Group Center for Sales Research has found a link between loyalty and satisfaction with the buying process itself.
Loyalty doesn't only come from the buyer's satisfaction with your product or service. Satisfaction before they buy is just as important.
"Loyals" are buyers who definitely or probably will not switch providers in the future. "Switchers" might, definitely, or probably will switch.
Satisfaction with the Buying Process Impacts Loyalty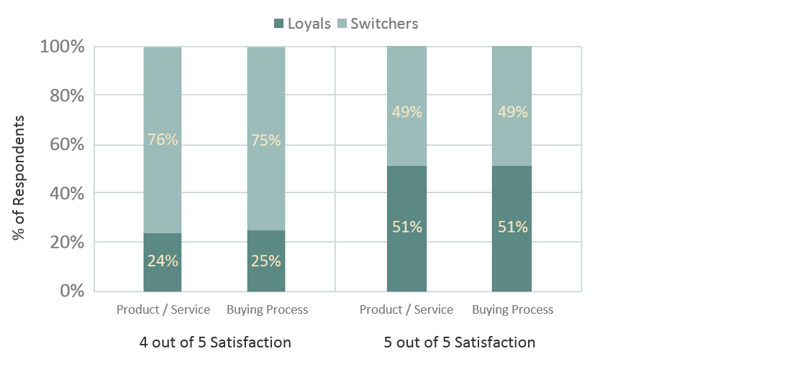 As you can see, the buyer's experience in the buying process is just as predictive of ongoing loyalty as product or service satisfaction.
So how do you ensure that clients are content with both the buying process and the end result?
You add value. And that is what insight selling is all about.