Sales training is often approached with a car wash mentality: You're in, you're out, and you're ready to sell.
But this isn't how real learning happens. This isn't how you help sellers raise the bar and change how they sell.
It's time for an entirely new approach to sales education; an approach that overhauls the way sales training is conceived, designed, and executed over the long-term.
An approach that drives real behavior change and results.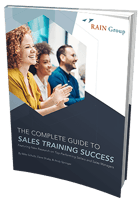 In this sales training guide, we walk you step-by-step through developing a sales education system that not only builds sales team capability, but also enables sellers to apply those capabilities and transform the way they sell.
You'll learn:
Why sales training fails
3 stages of the most successful sales training initiatives and what you need to do in each
7 core training modalities, including when to use each and why
20 metrics critical for sales organizations to track
The single most important factor for enabling your sales team
The end result: a team of top performers who not only meet, but consistently exceed, quota.
If you want to build a comprehensive sales education system for your organization—no matter your company's size—this guide is a must-read.