Prospecting is a challenge for even the most experienced sellers, and with the shift to working, buying, and selling virtually, organic opportunities to make new connections and create conversations have disappeared.
There aren't any in-person networking events, tradeshows, travel, or opportunities to grab dinner, a cup of coffee, or attend a sporting event together.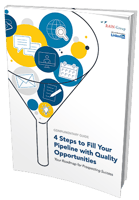 Filling the pipeline, while hard before, is increasingly difficult now.
In 4 Steps to Fill Your Pipeline with Quality Opportunities, RAIN Group, with contributions from LinkedIn, provides you with a proven roadmap for creating conversations and filling your pipeline in the new normal.
You'll learn:
A proven framework for creating conversations with new and existing accounts, virtually
How to use trigger events to reach the right people at the right time
6 outreach approaches proven to generate conversations
How to harness the power of LinkedIn to make your efforts more productive and effective
What Top Performers do to generate the most meetings and convert those meetings to clients
If you want the most effective prospecting strategies that work in today's environment, download this free guide now.