With increased product and service commoditization, sellers in almost every industry complain about price pressure and shrinking margins.
At the same time, there are some sellers and sales organizations who are consistently winning sales against lower-priced competitors and growing their margins.
One major difference we've found in our work with sales organizations, and in our research, is the companies that are able to maintain prices focus on driving maximum value for their customers.
It may sound trite: if you want to maximize price, focus on value. Still, it's true.
In our research, The Value-Driving Difference, we found that Value-Driving Sales Organizations are 2x more likely to agree that their pricing strategy allows them to capture maximum prices in line with the value they provide.
Our experience supports this. By focusing on customer value over price, companies are able to maximize prices and improve margins.


Value-Driving Sales Organizations Capture Maximum Prices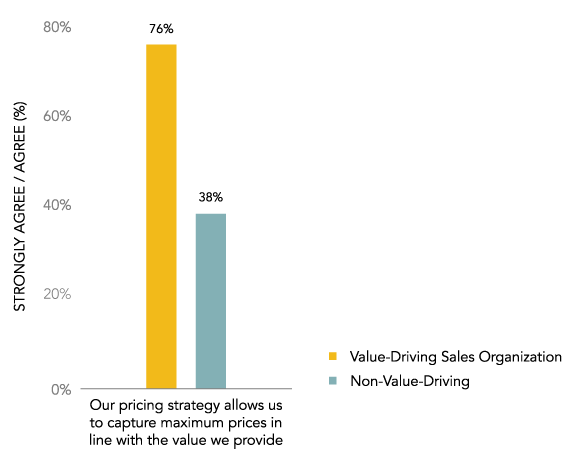 "Can You Do It for Less?"
Buyers today are programmed to push back on price—it's the most common objection sellers face. Price objections come up for any number of reasons, many of which have nothing to do with the price actually being too high. Having the skills to properly handle these objections is where many companies and sellers fail.
Read: 7 Ways to Deal with Price Objections
In fact, sales negotiation was reported as one of the weakest skills across all sales organizations.
Yet, Value-Driving Sales Organizations reported having much stronger skills in this area.


Sales Negotiation Skills of Value-Driving Sales Organizations vs. Non-Value-Driving Sales Organizations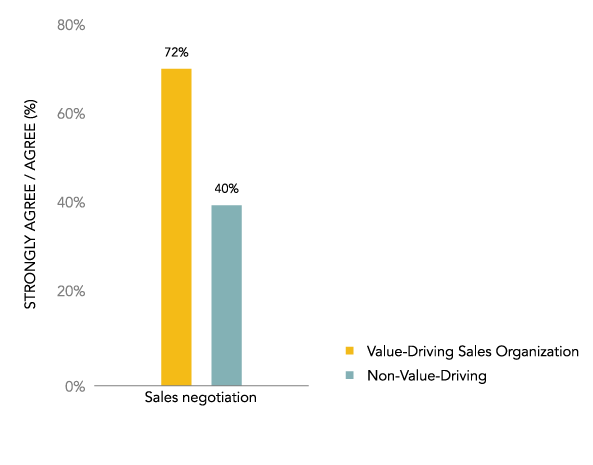 Value-Driving Sales Organizations are better able to focus their conversations on value, maintain their prices, and grow margins. For tips on how to do this, read 4 Things to Do When Clients Pressure You for Lower Fees.
Focus on driving value for your buyers and know how to negotiate to maintain price. Do this well and you'll not only maximize prices, but also improve margins.