This is Ari. If it weren't for the innovative research and doctors at Boston Children's Hospital, he wouldn't be here.
That's why, this year, on behalf of our clients and business partners, RAIN Group is pleased to make a financial contribution to the Heart Center at Boston Children's Hospital.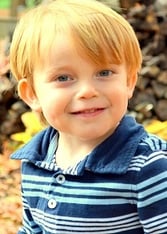 Ari is my son and at just 18 weeks gestation he was diagnosed with a life threatening heart defect. The doctors at Boston Children's Hospital performed 2 in utero heart procedures to allow his heart to grow during my pregnancy—he is the only person in the world to have 2 successful heart procedures before he was even born.
He's endured 3 open heart surgeries and was the 5th person ever to have an innovative new valve (not yet FDA approved) placed in his heart when there were no other options. This is a lifesaving procedure that his doctor invented and only BCH had performed at the time. At just 2 ½ years old, he was honored as the featured heart warrior at the American Heart Association's annual gala Heart Ball this past year.
I am forever grateful to the doctors and all of BCH for everything they've done to give me the greatest gift—the gift of life for my son. But they can't do it without our help. It's the generous donations of others that allow them to do innovative research, make medical breakthroughs, and ultimately save the lives of children like Ari.
As we celebrate this holiday season, I urge you to hug your loved ones a little tighter and be thankful for doctors like ours who work tirelessly to find news ways of saving lives.
And if you're so inclined, I encourage you to make a donation so they can continue their fantastic mission. Click here to give.
Wishing you the best this holiday season,
- Erica Stritch, on behalf of the RAIN Group team