From all of us here at RAIN Group, we wish you Happy Holidays and a Happy New Year.

We hope you'll embrace the giving spirit of the season by joining us in a donation to a cause near and dear to our hearts, Team IMPACT. Team IMPACT is a non-profit organization that connects children facing serious and chronic illnesses with local college athletics.
Through Team IMPACT, children are drafted onto athletic teams and student athletes join the child's support team—a relationship that gives children the camaraderie and support they need while facing their illness and helps teach courage and resiliency to student athletes.
Read on to learn how I, personally, have been touched by Team IMPACT.


Why Team IMPACT?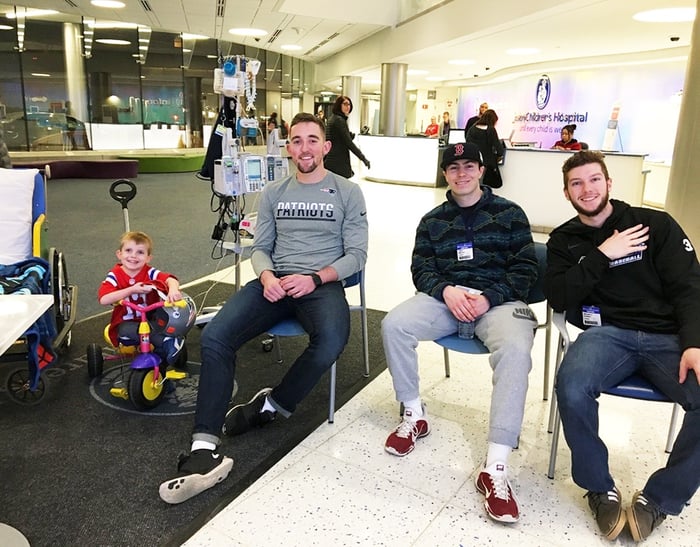 My son, Ari, and his best friends from the Assumption College Baseball Team watch the Super Bowl in the lobby of Boston Children's Hospital.
On Wednesday, November 9, 2016 my four-year-old son Ari Schultz—an avid baseball player and heart warrior—was drafted onto the Assumption College baseball team. This was an experience that was made possible by Team IMPACT.
Team IMPACT is a national nonprofit that connects children facing serious and chronic illnesses with local collegiate athletic teams, forming life-long bonds and life-changing outcomes.
Ari and the members of the Assumption baseball team certainly did just that. After the draft, these young student athletes embraced Ari as a full member of the team. In just 4 short weeks, Ari and I joined the team for movie night (which turned into Celtics night because Ari wanted to watch the game), video game night, an Assumption basketball game (which turned into playing football with Ari night), the homecoming football game, and a hockey game.
On December 10, I had rushed Ari to the hospital with what turned out to be a severe blood infection. We didn't leave until June 16, 2017. 189 days later.
During this time Ari battled for his life, waited for a heart transplant, received one, and then battled for his life several more times as his body rejected his new heart.
As he battled, the men of the Assumption College baseball team stood guard tirelessly at his bedside. Ari was so fragile he was not allowed visits from other children—often not even his siblings. His Assumption teammates became Ari's best friends. They played video games with him, read him stories, and even came to watch the Super Bowl with him because that's what guys do with their best friends.
When Ari finally came home in June, the guys came over all the time to play baseball (and football, hockey, golf, and basketball). No matter how sick or tired Ari was, he always found a well of energy to play with his teammates.
Indeed, they were Ari's best friends.
Ari was so looking forward to playing his first season as starting shortstop for the Assumption Greyhounds, but it was not meant to be. He died on July 21, 2017.
When he was alive, nothing was more important to him than his team.
Vince Lombardi said, "Build for your team a feeling of oneness, of dependence on one another and of strength to be derived by unity." In the last year of his life, their unity with Ari was his strength. He depended on them for so much. And they delivered.
This year, RAIN Group will be supporting TEAM Impact with our annual charitable donation. If you so choose, please join us in helping TEAM Impact connect more seriously ill children with local collegiate athletic organizations, so they may experience the power of team and have joy be brought into their lives.
- Mike Schultz