Today's sellers have never been more distracted. Emails, text messages, Slack, Facebook, Instagram, WhatsApp, sport sites, news sites, online shopping, and more are all vying for your attention and interrupting your workflow every few minutes.
The result: Your productivity is suffering and so are your sales results.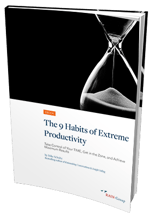 If you want to get more done in the time that you have, change your work habits, and maximize your motivation, The 9 Habits of Extreme Productivity will get you started.
In this ebook, you'll be introduced to the Extreme Productivity System (XPS), a simple yet powerful system proven to help sellers achieve exceptional increases in productivity and results.
You'll learn:
Productivity hacks you can start applying today
The XP3 and 9 Habits of Extreme Productivity
Step by step how you can change your habits to become more productive
How to maximize your motivation and bring your A-game day in and day out
The simplest and most effective way to maximize effort per work hour
This ebook is your guide to changing the way you work so you can reach your goals while improving your happiness. You'll be able to take control of your TIME, get in the zone, and achieve maximum results.
Plus, you'll want to check out page 4 for an offer to take our proprietary XP Assessment. You'll learn your Productivity Quotient and where your greatest opportunities for improvement lie.