There's simply not enough time in the day to focus on every essential skill needed to succeed in sales. While sales teams must prioritize skills development, it's important to identify which skills could have the biggest impact on your sales results.
In our recent global study of 1,004 sellers and sales managers, we identified 21 top skills and behaviors that represent the biggest gaps between Top Performers—those who are more likely to meet their annual sales goal, have higher win rates, and achieve more premium and less discount pricing—and The Rest.
Read on to ensure your sellers and sales managers have the skills they need to join the ranks of Top Performers.
Standout Skills of Top Performing Sellers
1. Advanced Consultative Selling

Top Performers are 88% more likely than The Rest to excel at inspiring buyers to reach out for ideas and advice. This is the #1 sales skill most separating Top Performers from The Rest.

How do you inspire buyers? It starts with insight selling.

Insight selling is focused on the buyer and the value the seller can deliver to them. Insight sellers take the long view and provide new ideas and perspectives throughout the entire sales process. They strive to educate buyers and establish themselves as authorities. In this way, sellers act as advisors and encourage sellers to approach them for guidance.




2. Staying Focused

The modern work environment is oversaturated with distractions and demands, but the best sellers don't let this derail them from their goals. Top Performers are 73% more likely than The Rest to focus on their own agenda and not get derailed by other people's.

Smart sellers don't waste time on:

Meetings they could be briefed on later or by email
Repeated status updates
Taking over a project they don't own
Talking to unqualified prospects




3. Sales Coaching

Top Performers are significantly more likely to have managers who motivate them for high productivity and performance. Plus, sellers with the combination of an effective manager, a regular ongoing rhythm of coaching, and effective training are 63% more likely to be Top Performers.




4. Employing Productive Habits

Changing habits can be challenging, but Top Performers are 1.7x more likely than The Rest to change their habits when that's what it takes to improve results. Pair this with their ability to stay focused and a manager who is motivating and you have a recipe for excellence.

What habits, specifically, can drive sales productivity? Our research on productivity identified 12 of them.




5. Growing Accounts

It costs more to acquire a new customer than to retain an existing one. One of your biggest growth opportunities—and an area where Top Performers are 1.7x more likely to excel—is finding and capitalizing on cross-selling and up-selling opportunities.

To excel here, you need to:

Know enough about the other offerings in your organization
Uncover additional opportunities
Trust other areas of the organization; don't be territorial about your accounts
Bring your internal teams together to explore ways to add value to your accounts
Have the facilitation skills to fully explore value you can offer clients




6. Leading Persuasive Sales Presentations

Leading persuasive proposal presentations is a final step to winning the sale and it's something Top Performers are 65% more likely to do well.

Presentation preparation is essential to your success.

You should:

Know who'll be involved on your team and the buyer's and plan accordingly
Know how you'll involve everyone
Find out who your competitors are and when their presentations are happening
Prepare and tell a convincing story
Make it a conversation, not a one-way pitch
Practice your presentation

Download the How to Make Persuasive Sales Presentations Toolkit. >>




7. Seeking Referrals

Getting referrals from buyers and other relationships can kickstart your prospecting efforts and lead to fewer dead ends.

However, many sellers are uncomfortable asking for referrals. Top Performers are 63% more likely than The Rest to receive referrals, often because they have a system in place to generate them.

Outside of simply asking, you can take steps to make yourself referral-ready.

Update your LinkedIn Profile and stay engaged with your contacts
Give referrals to contacts in your network
Provide valuable content your referral sources can share with their networks




8. Relationship Building

Top Performers build strong, long-term relationships with buyers that buyers consider essential, and are 63% more likely to do so compared to The Rest.

Essential relationships go well beyond rapport, and they're measured based on the buyer's perspective, not yours.

How do your buyers view their relationship with you? Do they see you as a partner? How do they view the value you provide? Do they reach out to you proactively when they're looking for guidance? Or do they only interact when you contact them first?

Use The Relationship Strength Meter to gauge how essential you are to your clients and what you can do to reach the essential level. >>

You'll find it's easier to expand accounts and get referrals when you have strong relationships with your buyers.




9. Making a Strong ROI Case

Once you've led a thorough needs discovery, you need to convey the impact of your solution to the buyer. Top Performers are 1.6x more likely than The Rest to communicate strong ROI and financial cases for buyers.

When you know what matters to buyers, you can make a strong ROI case that takes into account factors such as:

Time to market
Profitability
Waste
Cost savings
Quality improvements
Brand recognition or preference
Employee productivity
Revenue growth




10. Leading Effective Sales Conversations

From the first call through closing a sale, leading strong sales conversations is necessary for success. Conversations require the right balance of asking questions and talking—Top Performers are 62% more likely to excel in this area compared to The Rest.

It's not always easy to know what this balance is. You need to ask great questions, but it's just as important to know when to talk and advocate for a solution. Identify opportunities in your sales conversations to share your point of view, tell a story, or give your analysis of a buyer's problem.




11. Time Management

It's not just about sales results—according to our research, more productive people are also more satisfied with their jobs. The key is to be deliberate about where you spend your time and prioritize tasks with the most outsized return on investment. Make use of tools to track your time and be honest with yourself about where you're spending it.

It's not surprising that Top Performers are also skilled at managing their time. In fact, they're 62% more likely than The Rest to maximize time spent on sales activities that drive the best results.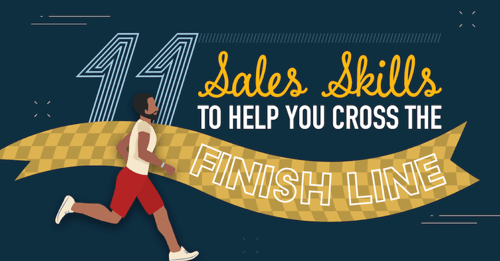 See our results visualized and get resources to hone these skills further in our infographic, 11 Sales Skills to Help You Cross the Finish Line.
View now. >>



12. Changing Buyer Thinking

If buyers think they know everything about their current situation and how to move forward, they're simply looking for solutions to get to their destination. Top Performers know this and are 60% more likely to excel at changing buyer thinking about how to approach their challenges.

You can disrupt and alter buyer thinking by reframing their problems and guiding them toward new and better possibilities. Changing buyer thinking starts with asking yourself what needs to change in the buyer's world and what steps they should take to get there.




13. Making the Most of Time

Top Performers are 60% more likely to say they get the most done and produced in their available time compared to The Rest.

But how can you know your time is well-spent?

We think about time management in four levels using the acronym TIME:

Treasured: Time you hold dear.
Investment: Time that generates the greatest returns.
Mandatory: Time you feel you must spend.
Empty: Time you waste.

These four levels can mean different things to different people, but you generally want to take Treasured time, increase Investment time, minimize Mandatory time, and eliminate Empty time.




14. Aligning to the Buyer's Buying Process

It pays to have a proven selling process, but it's critical to adapt. Top Performers are 60% more likely than The Rest to excel at adjusting their selling process to the buyer's buying process.

This means accommodating for the buyer's needs, being flexible with their team, and understanding their buying process. By doing so, you'll take the frustration out of buying and differentiate yourself.




15. Presenting a Compelling Value Case

Knowing your buyer's needs means nothing if you can't convince them of the impact of your solution. Note that value doesn't necessarily mean ROI. In addition to the business impact, there are many non-financial factors that can tip a sale in your favor. Don't underestimate the power of emotion when it comes to buying.

Top Performers realize this. They're 60% more likely than The Rest to present an overall value case compellingly and persuasively.




16. Collaborating with Buyers

Selling is a two-way street. If you can't work with a buyer to find a solution that works for them, your sale will go nowhere.

The buyer should feel involved in the process, not like an audience member at your sales pitch show. It's never a bad time to collaborate—Top Performers are 59% more likely to collaborate deeply with buyers throughout the buying process.




17. Leading a Thorough Needs Discovery

The best sellers lead thorough needs discoveries that are appropriately broad and deep. Top Performers are 58% more likely to excel here.

When you identify a buyer's problem, it's tempting to jump straight to a solution. But if an issue is more of a symptom than a problem, your solution will only be temporary.

Instead, ask why. Don't stop at the first need you uncover; keep digging and uncover why things are the way they are. Don't be afraid to conduct a more thorough analysis if the situation calls for it.




18. Storytelling

Insight selling is the top sales skill differentiating the best sellers (see #1 above)—but the process of insight selling requires the fundamental skill of storytelling. Good storytelling helps a seller effectively communicate ideas and their importance, something Top Performers are 57% more likely to do.

The basic structure of sales storytelling is simple and repeatable:

Change is Undeniable: Regardless of industry, a buyer's organization is going to change. The question is whether they're prepared.
Success vs. Failure: What are the stakes? Help the buyer imagine the benefits of moving forward with you and the consequences if they don't.
Tantalizing Opportunity: This is the impact case. Demonstrate real results, justify the cost, and communicate the financial and emotional impact of your solution.
Breakthrough: Introduce the steps to make the buyer's desired change a reality. Be honest about opportunities and risks, and collaborate to refine your solution.
It'll Work: Establish concrete next steps and get the buyer involved in seeing them through. Moving forward is a big deal, so make it as painless as possible for the buyer.

Download the Change the Buyer Conversation with Insight Toolkit. >>




19. Influencing Buyer Thinking

The seller's job is to help buyers make the best decisions, which often means making different decisions. You need to influence buyer thinking about the solutions they need. Top Performers are 57% more likely to do this.

To influence in sales means taking the lead and guiding a buyer along the buying path, ultimately arriving at a decision that's in their favor, as well as your own. It's a subtle process the buyer doesn't even notice until the end of the journey when they realize just how much you've contributed to an engaging, informative, insightful purchase decision.

There are 11 principles of influence in sales you can use.




20. Developing Buyer Champions

The best sellers are 57% more likely to proactively develop buyer champions to advocate for them.

Trust strengthens sales relationships and empowers buyers to advocate for you within their organization. If you're trying to access high-level decision makers, they're more likely to listen to someone they already know than a seller calling out of the blue.

You'll seldom be in the room where buyers make important decisions, but you can build trust and make sure someone—a champion—is speaking on your behalf.




21. Differentiating

With buyers more informed than ever, it takes work for sellers to stand out. Top Performers do the work—they're 55% more likely than The Rest to excel at making a compelling differentiation case for their offerings.

A cookie-cutter sales pitch just doesn't cut it: you need to proactively generate value for your buyers. It helps to learn what a buyer's past experiences have been with organizations similar to yours.

The best sellers differentiate in four areas:

Themselves
Their offerings
The company
The eventual results the buyer can achieve


Master These Key Sales Skills
Master these skills to gain an edge over the competition and help you hit your goals.
Be honest about your own strengths and weaknesses, prioritize the most impactful skills for you, and plan your development efforts. Time spent improving yourself is never wasted.